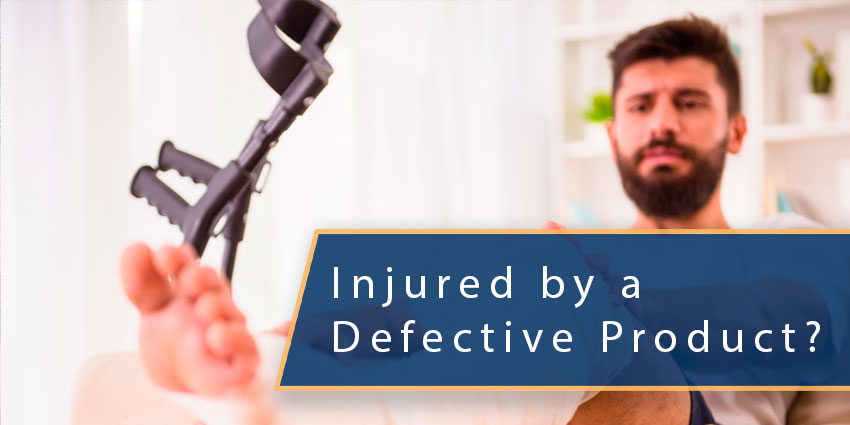 Defective product injuries are never the consumer's fault and victims deserve compensation. If a defective product has hurt you, there are some steps you can take to ensure you have enough evidence to win a product liability claim.
What Should I Do After Being Injured by a Defective Product?
Receive Medical Care
The first thing you should do is get medical care. Even if you believe you can treat the injury yourself, a doctor's report and diagnosis will be critical evidence in your product liability claim.
Plus, if you need immediate care, you don't want to cause further complications by delaying treatment.
Follow Your Treatment Plan
Following a doctor's recommendation is an essential step in protecting your rights after a defective product injury. You should fill prescriptions you receive and attend follow-up appointments as recommended.
If you don't follow your medical treatment plan, the opposing side may argue that your lack of effort to mitigate your damages means you don't deserve the monetary damages you are claiming.
Collect and Preserve Evidence
In addition to medical records, you will need to collect and secure as much evidence as possible.
Every product liability claim must have evidence to prove the product caused the injury.
Do not discard anything.
Even the packaging and instruction manual for the product is crucial. For example, the product may have failed to warn you about its dangers or been advertised for improper use.
Retain the product and any broken parts, regardless of how small they are.
Take photos and videos of the product, your injuries and any damage to the area where the accident happened.
Write down a report that details your experience – including the location, time date, how you were using it, for how long and how you saw the accident happen.
Preserve all receipts, warranties, registration and other documents for the product.
Check the Consumer Product Safety Commission Recall List to see if your product has been recalled.
Never Admit Fault
Do not admit you did something wrong. Whether it's in a doctor's report, on an insurance call or to the manufacturer, never admit fault. Even if the truth is that the product hurt you, one misstatement of "I think I used the product incorrectly" can be enough to jeopardize your case.
Determine the Type of Defective Product Claim You Have
There are several types of product liability claims you can make. Your attorney will help you identify what type you need to make. Defective product claim types include:
Manufacturing Defects – The defect was specific to your model and caused an error during manufacturing.
Design Defects – The defect was inherent in all products due to an error or mistake in the design process.
Failure to Warn Defects – The packaging did not provide sufficient warning of risks or how to use the product safely.
Breach of Warranty Defects – The product did not operate as designed or for its intended use, which resulted in injury.
Contact a Product Liability Lawyer
Next, it's time to take action. To make a product liability claim, you'll need the assistance of an experienced personal injury lawyer.
They can take on the opposing lawyers and insurance companies while aggressively fighting on your behalf. This will also ensure you build a robust case. With resources to bring in specialists, they will win you the money you deserve.
Identify At-Fault Parties
Many defective product victims assume that the manufacturer is solely to blame. In reality, several parties are often liable for your injuries.
From designer to the distributor, your personal injury attorney will consider who was at fault and who could have done more to prevent the injury. These parties will then be listed in your product liability claim.
Calculate Your Damages
Damages are losses you've suffered as a result of the injury, either economically or non-economically.
It is vital that you carefully calculate the cost of the injury, to receive sufficient compensation.
Damages may include:
Economic Damages
Medical Bills (since the date of the accident)
Rehabilitation Costs
Treatment Costs
Lost Wages
Loss of Future Earnings
Childcare Costs
Medical Device and Equipment Costs
Transportation Expenses
Future medical costs
Non-Economic Damages
Loss of Consortium
Depression
Pain and Suffering
Mental Anguish
Scarring or Disfigurement
Examples of U.S. Defective Product Claims
1. Philip Morris Tobacco
Back in 2022, Philip Morris, was hit with a product liability claim filed by a consumer who suffered lung cancer due to her use of cigarettes and tobacco addiction.
The company was sued for failing to warn her about the risks of smoking and eventually was forced to pay her $28 million.
2. General Motors
GM faced a product liability claim in 2008 that resulted in a class-action suit worth about $35 million. The claim was based on dangerous chemicals leaking from the engine. Customers in the claim received payments of between $50-$800.
3. Dow Corning
In 1998, Dow Corning agreed to pay $3.2 billion in a class-action suit for customers injured by rupturing silicone breast implants.
Each claimant received between $12,000 to $60,000.
4. Owens Corning
Owens Corning Corp. paid $1.2 billion for asbestos-related product liability claims in 1998.
With over 237,000 people claiming they suffered mesothelioma cancer and death, the company was forced to file for bankruptcy.
5. Johnson & Johnson
In October 2020, Johnson & Johnson paid $100 million in over 1,000 product liability claims for talc-based baby powders that caused cancer.
This case is still ongoing today and any victims who have used the product for many years should contact a product liability attorney.
Contact a Defective Product Attorney in Florida
If you or your child have been injured due to a defective product in Florida, then our defective product attorneys can help.
We will fight aggressively on your behalf to win the compensation you deserve and to get your life back on track.
Free Consultations
Personal Injury Attorneys McQuaid & Douglas have been providing exceptional legal assistance to Florida residents for personal injury claims for decades. Our consultations are compassionate and free of charge.
Personal Injury Attorneys McQuaid & Douglas is the personal injury and wrongful death division of Battaglia, Ross, Dicus & McQuaid, P.A. Our firm was founded in 1958 and is a U.S. News and World Reports Tier 1 Law Firm.
With decades of legal experience and resources, they are equipped to give you the best chance of receiving the compensation you deserve. Serving the state of Florida with offices in St Petersburg and Riverview, they are here for you.