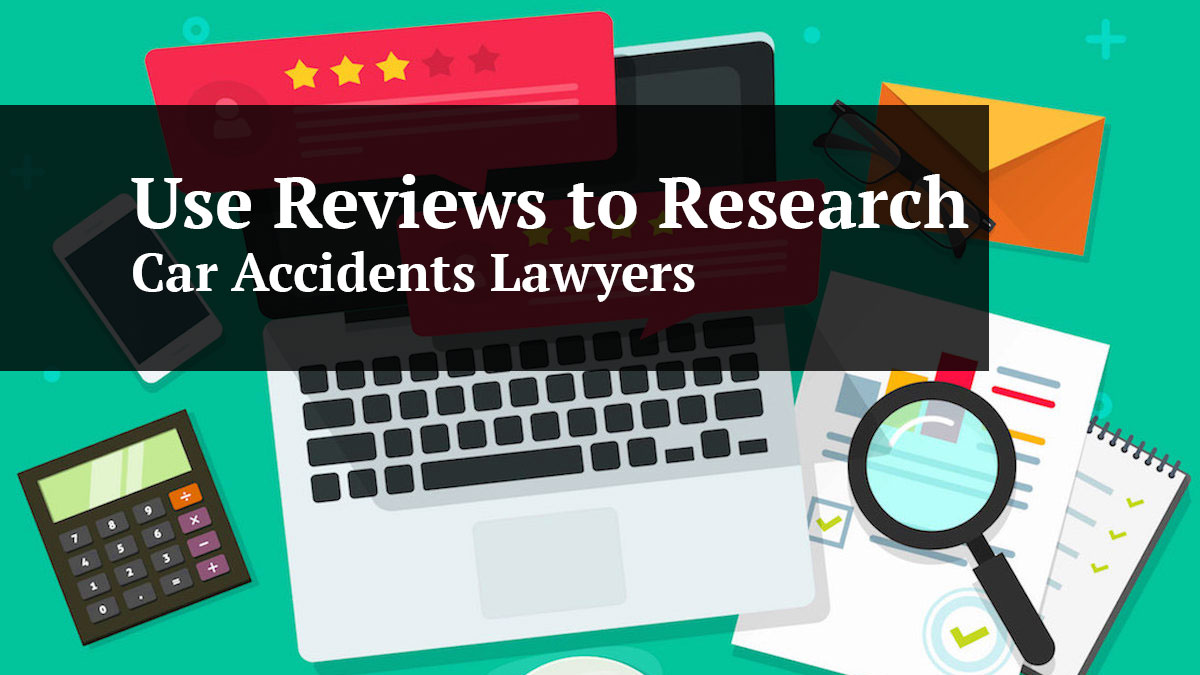 If you have been injured in a car accident, you will need to hire a car accident lawyer immediately. You may be given the name of someone from a friend or even have seen an ad that interested you. Whatever the case, you will want to perform some due diligence before you call the lawyer to set up an appointment. Online research of a lawyer who has the best or top reviews is often the best way to verify that you have found the right person.
During our initial phone call or meeting, I ask all of my clients how they got my name. Despite the fact that the word of mouth referral triggered the client's interest in hiring me, I am always amazed at how many clients have gone online and read the many reviews about me and my law firm before our contact. In fact, the Florida Bar requires each lawyer, in the Statement of Client's Rights, to tell a prospective client that he or she has the right to know about my education, training, and experience. See Florida Rules of Professional Conduct Rule 4-1.5(1)(3). Every time I go through this paragraph with clients and ask them if they have any questions about my education, training, or experience, the response is almost always that we have already looked you up online and reviewed your credentials on www.727injury.com.
For clients who are conducting online research prior to contacting a lawyer for a car accident case, top lawyer reviews are always a good place to look. There are various resources to find good reviews for lawyers and this article is an attempt to steer you in the right direction toward the most reliable sources.
Top Google Business Reviews
Google Business Reviews are usually the best reviews to find with minimal effort. They appear in the lawyer's business profile and are usually left by satisfied clients after a case has concluded. Google does not allow for anonymous reviews, so these reviews are usually very reliable. Take a look at some of the top reviews for Personal Injury Attorneys McQuaid and Douglas.
Top Avvo Reviews
Avvo.com has emerged in the last few years as a top-rated site for lawyers. While Avvo allows lawyers to pay for top spots, as a means of marketing, which makes it challenging to find a qualified lawyer, the site itself is full of helpful information on the lawyer's credentials and history. This site is unique in that it not only permits clients to leave reviews but also fellow lawyers to leave endorsements. You can view the top client reviews for Sean McQuaid or view the top lawyer endorsements for Sean McQuaid from Avvo.
One word of caution when searching Avvo. These profiles are free for car accident lawyers to set up, so there is no excuse why a lawyer would not have claimed an account and been rated unless they do not care or are trying to hide something. If you find a lawyer who either has not claimed an Avvo account or has a poor rating, please use caution.
Top Martindale-Hubbell Reviews
Martindale.com is one of the oldest and most prestigious sites to find top lawyer reviews. It is historically the site that lawyers use to research other lawyers. In order to obtain a rating from Martindale, a car accident lawyer must be rigorously rated, reviewed and researched. A top rating of AV is very difficult to receive. The rating of the car accident lawyer is actually sent to top lawyers and judges in the area to be vetted. If a lawyer is not AV rated by Martindale, you should think twice about that lawyer. Sean McQuaid has held an AV, or the top rating possible by Martindale for over a decade. If you would like to see the top rating by clients, judges and other lawyers, please click on this link.
Top Facebook Reviews
In recent years, Facebook has become a quality tool for clients to rate the top car accident lawyers. Facebook can be a quick and easy place to visit for some information about the car accident lawyer who you are researching. I would not suggest that you base your decision solely on Facebook reviews as it is not always as reliable as other peer-reviewed sites. Check out the Facebook reviews for St. Petersburg Personal Injury Attorneys McQuaid and Douglas.
Researching a car accident lawyer based on top reviews can be done quickly and efficiently using the above-referenced sites. I always recommend to search multiple sites and compare the top rated comments. Hopefully, you are not in a car accident, but the general rule of thumb is that the more top rated reviews a lawyer has, the happier the client is with the results.
Contact a Car Accident Attorney
If you or a loved one are looking for a car accident lawyer, then you should take the proper measures to ensure you receive the best representation you can find. Contact St. Petersburg Personal Injury Attorneys McQuaid & Douglas today and speak with an attorney. For over 60 years our firm has been successfully helping people who have been injured due to someone else's carelessness. We have been nationally ranked for decades by US News and World Reports as a Tier 1 law firm, which is the highest ranking that can be received. Sean McQuaid and Jonathon Douglas have dedicated their careers to continuing the firms legacy of superior legal representation.
Remember that we never charge a fee, unless we win. Call us today at 727-381-2300 so that we may answer your questions, help you navigate the complexities of insurance claims, and recover the compensation that you deserve.
We work hard to make sure each and every client gets the attention that they deserve. We appreciate feedback from our clients and reviews are validation of our work. Every 5 star review that we receive lets us know that our services were appreciated by our clients.
St. Petersburg Personal Injury Attorneys McQuaid & Douglas
5858 Central Ave suite a
St. Petersburg, FL 33707
(727) 381-2300