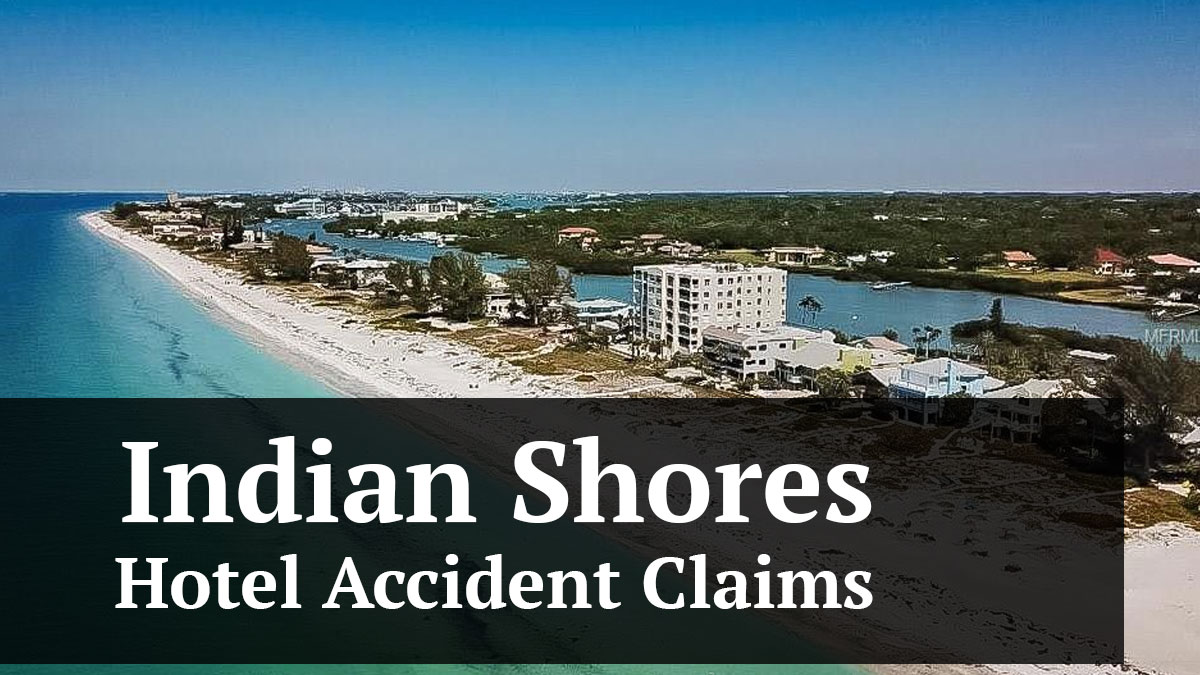 Indian Shores is a small, but beautiful beach community on the Gulf of Mexico. Other than by boat, there are only two ways to get to the town; via Park Blvd N or by Gulf Blvd. Indian Shores is a tourist destination due to its central location and access to the beach. However, Indian Shores is full of condos. Most of its residents live in these condos and may rent them out throughout the year. Most of the visitors to the area stay in these condos instead of hotels. But, there are some hotels on Indian Shores. Some of these include Legacy Vacation Resort Indian Shores, Barefoot Beach Resort, and Sun Burst Inn.
Due to the high volume of guests, tourists and visitors to Indian Shores, accidents are more likely to occur. Because our office at St. Petersburg Personal Injury Attorneys McQuaid & Douglas is only a 15-minute drive from Indian Shores, we are constantly contacted for representation after serious accidents in the town. We are intimately aware of the types of hotel accident claims that occur, where our clients get treatment for their injuries, the value of these claims, and how to recover appropriate compensation for damages.
What to Do After a Hotel Accident on Indian Shores?
After an accident at a hotel on Indian Shores, the most important thing to do is to receive medical treatment for your injuries. If you need emergency medical care, the nearest hospitals are Palms of Pasadena Hospital https://palmspasadena.com/, St. Pete General Hospital https://stpetegeneral.com/, and Largo Medical Center https://largomedical.com/. If you do not need to go to the hospital, then it is advised to seek a local urgent care center.
Another important step is to make sure the accident is reported to the hotel manager or to the security department. While reporting the incident may seem like common sense, I regularly see this mistake made. If the hotel is not aware of the incident and does not have an opportunity to investigate, the insurance claims management department is less likely to accept responsibility for the claim.
Lastly, I always advise clients to gather evidence of the cause of the accident. That means to take pictures of the scene and get contact information for any witnesses. Also, if you have any visible injuries, pictures should be taken as well.
How Do I Know If I Have a Claim Against the Hotel for My Accident?
Remember, just because you were injured does not mean that you have a claim for damages. In order to bring a claim against the hotel, you must show some negligence. This means that the hotel had a duty of care to you and breached it. This duty of care means that the hotel must prevent dangerous conditions. Or, if there are dangerous conditions, to warn you of them. The hotel also has a duty to properly maintain its premises. If the hotel breaches this duty to keep you safe from harm, you may have a claim.
Contact an Indian Shores Accident Attorney
If you have been injured in an accident at a hotel on Indian Shores and have questions about your next steps, please contact us for a free consultation. We will be able to advise you about how to get your medical bills handled and the appropriate medical providers for your claim. Once you have completed your treatment, we will make a claim for damages against the insurance company for the hotel. Most of our cases are settled without having to go to court because we prepare our cases well. We take great efforts at explaining why there is liability and how much the damages are worth. While we hope that you do not suffer an accident while visiting Indian Shores, accidents do happen and it is good to be prepared and educated.