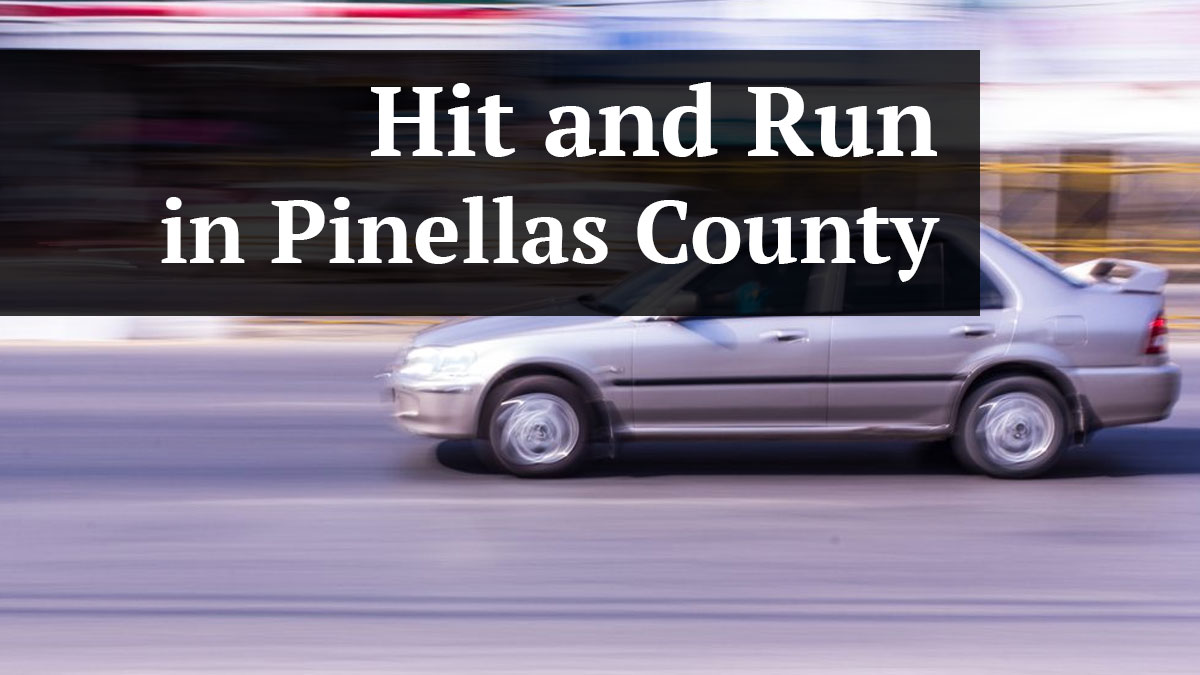 Being injured from a hit and run driver is one of the most frustrating situations people in Pinellas County experience. Not only do you have to deal with the pain of the injuries that were caused, but the person who inflicted the damage did not even have the courtesy to stick around and accept responsibility for what he or she did. When you add to the list that now your insurance company will have to pay for the damages, it just adds insult to injury. These factors are why hit and run accidents justifiably cause so much anger to the victim.
Pinellas County Hit and Run Attorney
Pinellas County has several law enforcement agencies with officers devoted solely to investigating hit and run accidents. The St. Petersburg Police Department, the Pinellas County Sheriff's Office, and the Clearwater Police Department are among the agencies with these units. At St. Petersburg Personal Injury Attorneys McQuaid & Douglas, we specialize in representing victims of hit and run accidents. Because we have handled countless of these cases, we are familiar with the process and the methods used to recover compensation for our clients. If you or a loved one has been injured by a hit and run driver, you will certainly have questions that only an experienced personal injury lawyer will be able to answer. If you find yourself in the unfortunate position of being injured as a victim of one of these incidents, we will be able to help.
What Are the Hit and Run Laws in Pinellas County, Florida?
This article will only address laws related to hit and run incidents involving injury. Under Florida Statute 316.027, described as "Crash Involving Death or Personal Injuries," all drivers involved in a crash involving injury or death must remain at the scene until he or she has provided their name, address, registration and driver's license. The statute also requires a person to render reasonable assistance to anyone injured at the scene. Reasonable assistance includes carrying an injured person or making arrangements to have the person carried to a doctor or hospital for medical assistance. The violation of this law is either a misdemeanor or felony depending on the injury level. All hit and run charges involving death are serious felonies. But, simply because a hit and run is a crime does not mean that you can recover compensation from the person. Please see below as to how a hit and run accident lawyer can achieve that goal on your behalf.
Why Do People Leave the Scene of the Accident?
Obviously, the reasons why people flee the scene of an accident are numerous. But, it has been my experience that it is human nature to try and avoid the consequences of the accident, especially if there are no witnesses around. This means that the first response after the crash is to flee. Those who are able to overcome the shock of the accident and realize that the right thing to do is to not flee are the ones who stay.
However, the people who make the decision to flee the scene are normally in the following categories: they are either DUI, don't have a driver's license, don't have insurance, or are driving a stolen car. DUI hit and runs are by far the most common.
What Should I Do After a Hit and Run Accident?
While you should never chase the car that hit you, if you do not at least get a tag # off the car, it is likely that person will getaway. So, make your own judgments about what the best course of action is to identify the vehicle.
Other than trying to find out the identity of the at-fault vehicle, there is nothing different between a hit and run case and a regular accident case about what you should do. In other words, you should cooperate with law enforcement, document the damage to your vehicle, document your injuries, seek emergency medical care if necessary, and then treat with a doctor who specializes in accident-related injuries.
If the At-Fault Vehicle Cannot be Found, How do I Recover Compensation?
If the vehicle that fled the scene is never identified, then the reality of the situation is that you can only rely on your own insurance company to pay for the damages. This means your own insurance company will have to pay for the repairs to your vehicle if you were in one. And, it means that you will be responsible for paying a deductible, which is normally $500. Since Florida is a no-fault, PIP state, there is no effect on this aspect of the claim. This means that regardless of whether the other driver left the scene, your insurance company would have paid up to $10,000 for your medical bills and lost wages anyway.
But, the biggest effect on your case in a hit and run is your ability to get the compensation that covers your injuries, pain and suffering, lost wages, medical bills, etc. Since there is no at-fault vehicle to pursue, your only ability to actually put dollars in your pocket is if you carry Uninsured Motorist Coverage (UM). This is often a pool of money of last resort and hit and run accidents causing injuries are exactly why everyone should carry UM insurance. Sadly, most people do not carry UM because they are not given proper advice by their insurance agent or have purchased insurance online without proper information as to the consequences of their decision. The good news is that if you carry UM, this will be the path to recovering compensation by your hit and run attorney.
Contact a Hit and Run Accident Attorney
At St. Petersburg Personal Injury Attorneys McQuaid & Douglas, we specialize in injury cases caused by hit and run drivers. Whether you were injured while in a car, as a pedestrian, on a motorcycle, or on a bicycle, we can help answer your questions and assist in recovering compensation. Whether we need to speak to law enforcement or hire a private investigator to find the person responsible, we will leave no stone unturned on your behalf. Also, due to our significant ties to the Pinellas County Office of the State Attorney, if the hit and run driver is found, we can relay your requests for harsh punishment. Hit and run cases can be challenging, but with our assistance, you will greatly increase your chances at recovering the compensation you deserve for what happened to you. If you have any questions about a hit and run accident injury case, please contact us for a free consultation.