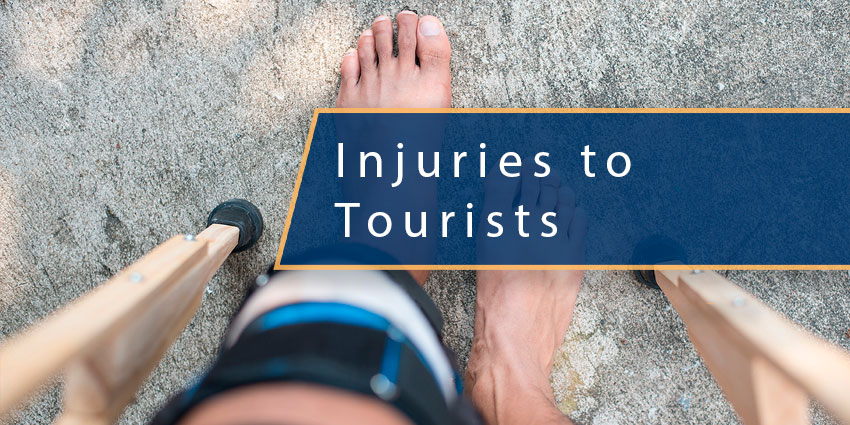 'Tis the season for accidents to visitors to Floridians. On the west coast of Florida, the St. Pete/Clearwater area is the most popular destination with at least 6.5 million overnight visitors per year. 2022 is breaking tourist records for the second straight year. If you have driven down Gulf Blvd. along the beaches, you know what I mean. There are people everywhere crossing the roads to the beach, walking to stores, and hanging out at roadside bars and restaurants. With all of these people flooding the area, accidents are inevitable.
Were You Injured While on Vacation in Florida?
I have handled all types of injury accidents for people visiting Florida. I always feel bad for people because it ruins their trip. I also notice that people are very rattled because they are unfamiliar with the area. They don't know where to go for medical treatment, they are away from home, and most have to change their travel plans. All of this leads to anger and frustration at the cause of the accident.
Immediate Steps to Take After an Accident While on Vacation
Seek Emergency Medical Treatment
If you have any injuries at all, you first need to be seen by a doctor in Florida. If you wait to go home, you will have a gap of time between the incident and your medical care that will significantly hurt your case. It is fine to be seen by a doctor in Florida and then continue your medical care once you get home. But, never wait.
Make a Report of the Incident
Tourists who are unfamiliar with how claims work in Florida often don't realize that all accidents must be reported. If the accident involved an automobile, then call the police. If the accident occurred in a store or a business, then make sure you file an incident report with the manager.
The best way to protect yourself and your case is to document it. This means taking a lot of photos of the scene of the accident. If you have any visible injuries, these should be documented as well.
Speak to a Lawyer As Soon as Possible
There are a lot of accidents in Florida and the insurance companies can be ruthless. If they find out that there is an accident, they might even try to offer you money without any proof. They try to buy you off before you even realize what your case is worth. I advise you to avoid speaking to the insurance companies until after you have consulted with a lawyer.
Common Tourist Accident Cases:
The overwhelming majority of accident to tourists fall into the following categories:
Will You Have to Return to Florida to Handle this Claim?
Most likely not. You don't need to return to Florida for a couple of reasons. First, most claims settle without the filing of a lawsuit. That means that we can process your entire case while you are home. Second, the rules have changed since the pandemic and now Zoom is permitted for everything except trial. This means that if you wind up filing a lawsuit and having to give a deposition, it can be taken via Zoom. This has made the whole process much easier. In reality, the only time that you would ever have to come back to handle the case is if it went to trial. Since trials are extremely rare, this should not be a concern of yours.
Can You Get Medical Treatment From Your Home?
Yes. In fact, I encourage my clients to follow up with doctors where they live. Continuing medical care and rehabilitation is vital for any injury claim involving a tourist. We can help you find doctors who are willing to treat your injuries and get paid out of the settlement of your case.
Where Should You Hire a Lawyer for Your Accident?
If you are a resident of another state (or country), you will need to hire a lawyer where the accident occurred in Florida. Every claim that you bring must take place where the accident occurred. This is called jurisdiction.
But, there are many other benefits to hiring a lawyer in Florida. Local lawyers are familiar with these types of claims. They have handled tourist cases in the past. Because they are close, they are able to investigate the accident much more easily. And, if the case winds up going to court, the local lawyer will know the court system.
How Much Do Personal Injury Lawyers Charge in Florida?
Don't worry, you won't be charged more because you are not from Florida. There is no special price for tourist accident claims. The good news is that all personal injury lawyers charge the same way. It is called a contingency fee agreement. This means that the lawyer charges a percentage of the money that is recovered for you. There is no need to pay a retainer, pay for costs, or make a payment plan. The lawyer takes on the risk and the expense of the case. The fees charged are 33.33% if the case is against a private person or company and 25% if it is against a government body. The costs also come out of the settlement money. Costs are usually nominal. They include expenses for certified mail, to get copies of medical records, and the like. The amount of the costs should not be a concern to you.
How Does Insurance Work if You Are Not From Florida?
Tourist accidents fall into two categories- auto accidents and premises liability accidents. For auto accidents, we normally find doctors who will provide medical care based on a Letter or Protection (LOP). An LOP is a promise that you will pay the bills out of the case. For premises liability accidents like slip and falls or trip and falls, we try to have the medical bills handled by health insurance. We do not like to run up high bills on premises liability cases because they can be more difficult to be paid in full. I always look at the facts and circumstances of each case to determine what is the safest and best approach for my clients' medical bills.
Contact a Tourist Injury Lawyer
If you have questions about how to set up a claim, please contact me as soon as possible. Accidents involving tourists can be complicated because of the different insurance policies and doctors in different locations. The first few days after the accident are the most important to set up your case for success, so please do not delay.