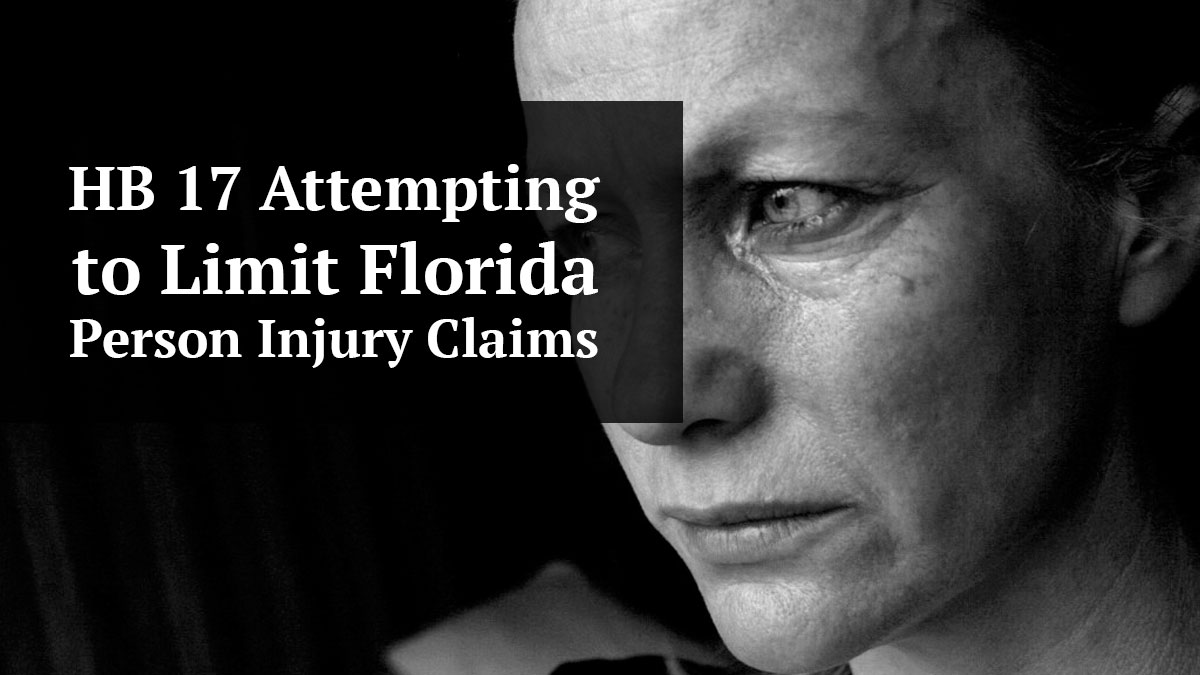 The most recent attack on the citizens of Florida by Insurance Company lawyer and Republican Representative Tom Leek is in the form of HB 17, seeking to impose huge limits on what can be recovered in personal injury cases. Rep. Leek, who has spent his entire career representing big businesses and being paid by insurance companies is returning the favor in the form of a draconian bill set to be considered by the Florida Legislature.
Rep. Leek has been practicing at Cobb, Cole in Volusia County, since 1997 specializing in labor and employment defense cases where he represents large businesses and is paid by their insurance companies. He is on a mission to limit Floridian's ability to recover compensation when they have been injured by no fault of their own. Rep. Lee has filed many bills to limits personal injury claims, but the most disturbing is the most recent bill, HB 17 which seeks to limit the recovery of medical bills and noneconomic damages, such as pain and suffering.
According to a report by The Tampa Bay Times, Rep. Leek referred to our system in Florida as a "judicial hellhole." It is speculated that Rep. Leek and other legislators during the 2019 session have been emboldened to overturn Florida precedent with a newly stacked conservative Supreme Court. Despite the fact that caps on noneconomic damages for personal injury cases were ruled unconstitutional in 2014, it is believed that Florida legislators want another crack at re-imposing the cap by having this or any new law heard by a stacked Supreme Court. Currently, there is not a single Florida Supreme Court Justice who was appointed by a Democrat governor, which has contributed to the boldness of these legislators.
In addition to limiting the recovery of non-economic damages, the new bill also seeks to limit what can be recovered for medical bills by claimants. Currently, there are very few doctors who specialize in personal injury cases in Florida due to the difficulties with PIP insurance requirements. Thus, many doctors, chiropractors, physical therapists, and MRI companies, will treat patients on a letter of protection or LOP. These LOPs are to be paid out of the proceeds of the result of the personal injury claim. LOPs provide access to medical care for those who either don't have insurance or don't have the financial ability to pay their co-pays or deductibles. LOPs are a risk for the doctor because there is no guarantee that the bill will ever be repaid. HB 17 seeks to limit the number of bills that can be recovered in a Florida personal injury claim to the equivalent of what would have been paid by Medicare. As is well known, Medicare payments are significantly less than what the standard cash or insurance payment of would normally be. No quality doctor is going to agree to treat a patient on a letter of protection when they already have taken a risk by agreeing to an LOP and then have to take a huge pay cut on the bill. Thus, this bill is a direct attack on the people of Florida and a clear attempt to chill providers from assisting people who have been injured in personal injury accidents.
While Rep. Leek and others claim that these bills are a way to limit unscrupulous or fraudulent claims, it is clear that the main goal is to help big businesses and insurance companies and prevent those who have been injured by no fault of their own from getting treatment or recovering compensation. Please contact your local representatives to vote against this bill. If these limits on recovery become law in Florida, everyone's ability to recover compensation is going to be drastically reduced.
Contact an Auto Accident Injury Attorney
If you or a loved one have been involved in an auto accident, then you should take the proper measures to ensure you receive the compensation you deserve. Contact St. Petersburg Personal Injury Attorneys McQuaid & Douglas today and speak with an attorney. For over 60 years our firm has been successfully helping people who have been injured due to someone else's carelessness. We have been nationally ranked for decades by US News and World Reports as a Tier 1 law firm, which is the highest ranking that can be received. Sean McQuaid and Jonathon Douglas have dedicated their careers to continuing the firms legacy of superior legal representation.
Remember that we never charge a fee, unless we win. Call us today at 727-381-2300 so that we may answer your questions, help you navigate the complexities of insurance claims, and recover the compensation that you deserve.
We work hard to make sure each and every client gets the attention that they deserve. We appreciate feedback from our clients and reviews are validation of our work. Every 5 star review that we receive lets us know that our services were appreciated by our clients.
St. Petersburg Personal Injury Attorneys McQuaid & Douglas
5858 Central Ave suite a
St. Petersburg, FL 33707
(727) 381-2300