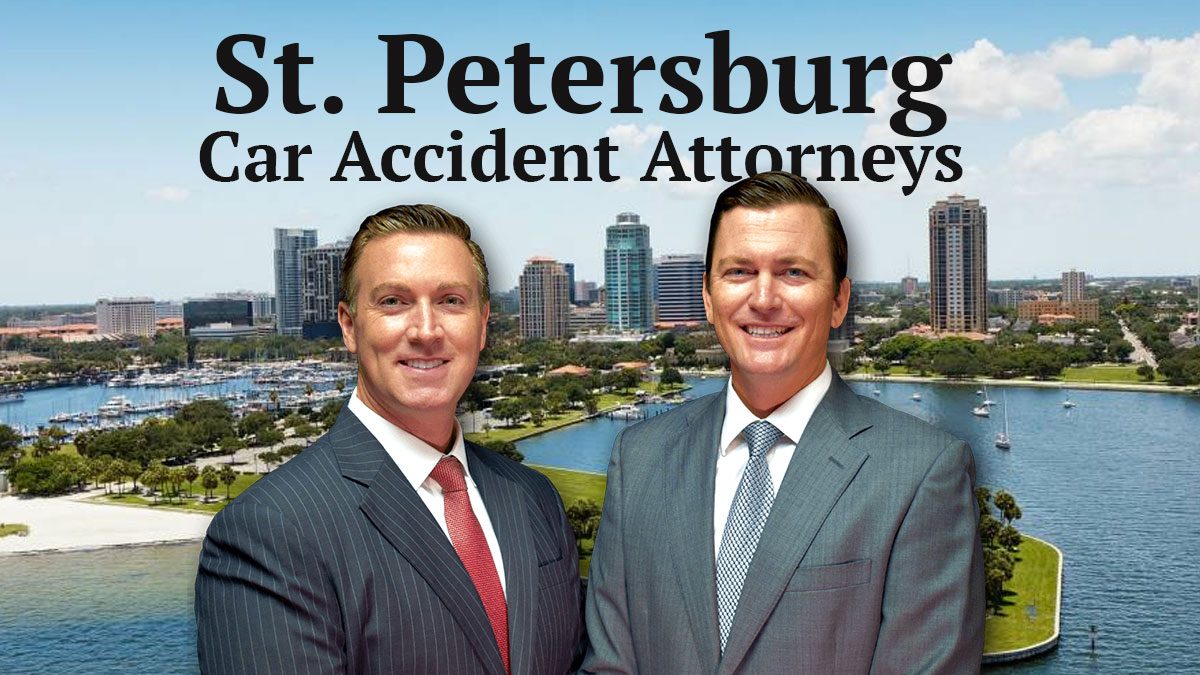 Ask These Key Questions:
The National Highway Traffic Safety Administration reports that there are over 3 million people injured in car accidents annually in the United States. At St. Petersburg Personal Injury Attorneys McQuaid & Douglas, we see first hand how these injuries affect people. We specialize in car accident cases in St. Petersburg and have a proven track record of success.
We understand that after an accident, you may be confused about what to do and who to talk to. Fortunately, since we handle so many of these cases, we can answer your questions and steer you in the right direction. Often, you may simply need reassurance from an experienced eye that what you are doing is correct.
Once you are comfortable to speak to a lawyer, this article seeks to address some questions that you should ask your St. Petersburg car accident attorney during the consultation. While there are many excellent lawyers in town, choosing the person who is the best fit for you and your family is an important decision.
One word of caution, however. If you have chosen a large law firm based on advertisements and do not speak to a lawyer, find someone else. If a lawyer cannot meet you at the first consultation, you cannot expect that lawyer to be involved in your case. So, unless you want to hire a paralegal or case manager, find an actual lawyer to speak with.
What Areas of Law Do You Specialize In?
There are many areas of law and there are few lawyers in St. Petersburg that have enough cases to specialize in car accident cases. In fact, many lawyers have broad practice areas and only dabble with car accident cases on the side. As part of your questions for your potential lawyer, ask him or her what percentage of his cases are devoted to car accidents. If the answer does not satisfy you, look for another lawyer. You should be able to determine very early on if the lawyer does not devote enough time to cases like yours. Our suggestion is to find a lawyer located near you and who handles cases like yours on a daily basis. This question is probably one of the most important that should be asked.
Have You Handled Cases Like Mine?
Even lawyers who specialize in car accidents may not have seen a case like yours. For example, we have noticed that many of the older lawyers in town are out to date and confused with Uber and Lyft cases. Regardless of what type of car accident case you have, it does not hurt to simply ask the lawyer if he or she has handled the same or similar cases in the past. Their answer may be telling you about whether you should sign the contract.
Who Else Will Be Working on My Case?
Finding out the team at your lawyer's office is important information. In larger law firms, there may be another lawyer whom you have not met, that is passed your case. Again, if you want to avoid a bait and switch situation, ask these questions up front. Additionally, while you may have met with a car accident lawyer during the initial consultation, the leg work of the case will likely be sent to a staff member. Learning who you are supposed to pass information to, including case updates, bills, records, lost wages, etc, is important to know. Developing a rapport with the staff at your lawyer's office will assist communication.
How Do Your Fees and Costs Work?
Almost all car accident attorneys work on a contingency basis, but you will need to confirm this information before signing the engagement contract. The typical fee arrangement is controlled by Florida Bar Rule 4-1.5. A contingency means that a lawyer's fee is paid out of the money that is recovered in your case. The contingency fee is capped for pre-suit at 33% for most cases and 25% for cases against a state or government entity. Costs are normally paid by the lawyer and then reimbursed out of the settlement. Examples of costs are for faxes, photocopies, postage, etc. Always keep an eye on your costs because they can be a hidden way for lawyers to make money off your case.
How Long Will My Case Take?
You should be skeptical of any lawyer that tells you how long your case will take in the initial meeting. But, you still are entitled to an answer. How the lawyer answers this question should give you a glimpse into their experience level. At St. Petersburg Personal Injury Attorneys McQuaid & Douglas, we tell our clients that in a conservative treatment case, their case should be ready for demand within 6 months. If injections or surgery is needed, then add a few more months. If the case goes into a lawsuit, it could be another couple of years. We have found that the longer a case takes, the less valuable it becomes, so your car accident lawyer should have the same level or urgency to get your case resolved.
Are You Willing to Go to Trial?
There are actually very few car accident cases that go to trial. But, that fact does not mean that a lawyer should not be willing, ready and able to go to trial. The insurance companies know which lawyers are reputable and capable of taking a case to trial. If they know that your lawyer cannot or will not take the case to a trial, then there is nothing to hold them accountable. Thus, ask your car accident lawyer questions about whether they will go to trial if the situation presents itself.
Is There Anything That I Can Do to Improve My Case?
Having a client that is willing to help out with the claim is an invaluable resource. We have found that when clients assist us and regularly communicate, we can avoid mistakes and delays in the case. Fore example, when a client is willing to help us get medical records or bills, that speeds up the claim. We have found that in every case, working with our clients to prepare the case greatly increases the amount of money recovered in the end. What you can specifically do for your car accident lawyer will depend on the circumstances of your claim.
Are There Any Risks to Me Involved in This Car Accident Claim?
Every client deserves to know what risks are involved with their claim. Sadly, many lawyers do not discuss risks in their haste to get hired. We discuss the risks of the claim in every consultation and so should the lawyer you are meeting with. Normally, there are no risks to pursuing a claim, but that does not go for every case. We have found that keeping track of medical bill debt is a risk that all clients need to be cognizant of. Regardless of the situation, knowing your risks will assist you in making decisions about how to handle your claim.
Have You Been Disciplined by the Florida Bar?
If you feel awkward asking a lawyer if he or she has a record of discipline, you can simply locate this information on the Florida Bar website. You should understand that the insurance companies know if your lawyer is reputable and will view your claim accordingly. Since your lawyer is your advocate, his or her reputation will be imputed to you. It has been our experience that the more reputable and honest your lawyer is, the faster your case gets resolved and the more money the insurance company is willing to pay.
How Much is my Case Worth?
Similar to the above question about how long will your case take, no decent lawyer will be able to give you this answer during the initial consultation, nor should they. There are many factors that go into the value of a case, including the amount of insurance available, the diagnostic findings of injuries, your medical bills, need for future treatment and lost wages, to name a few. So, without access to all of this information, the lawyer will be simply guessing to determine a value. If your lawyer attempts to put a value on the claim during this initial meeting, be suspicious.
Do You Have References or Reviews?
Finding out references, prior case results, and reviews from previous clients is a great tool to learn more about the car accident attorney and what other clients' experiences have been. If you have not done so prior to the appointment, look at the lawyer's website and any reviews that have been posted on the business page. If you don't see any client testimonials or reviews, be suspicious. All quality car accident lawyers in St. Petersburg should be getting reviews on either Google, Facebook, Yelp and the like. With a little bit of research about the lawyer in advance, you can save yourself a lot of aggravation later on.
Hire a St. Petersburg Car Accident Attorney
At St. Petersburg Personal Injury Attorneys McQuaid & Douglas, we do our best to volunteer the above information to our clients during their initial consultation. We have found over the years that when our clients are well informed, we have less issues throughout the representation. We are transparent with our clients and always put their physical and financial interests first. We believe that the accolades that we have received from numerous professional organizations, as well as our dozens of reviews from satisfied clients, confirms this fact. If you or a loved one is looking to hire a St. Petersburg car accident attorney, we hope that you will give us an opportunity to handle your claim. Our consultations are always free and we will travel to your home to meet if you do not have transportation.