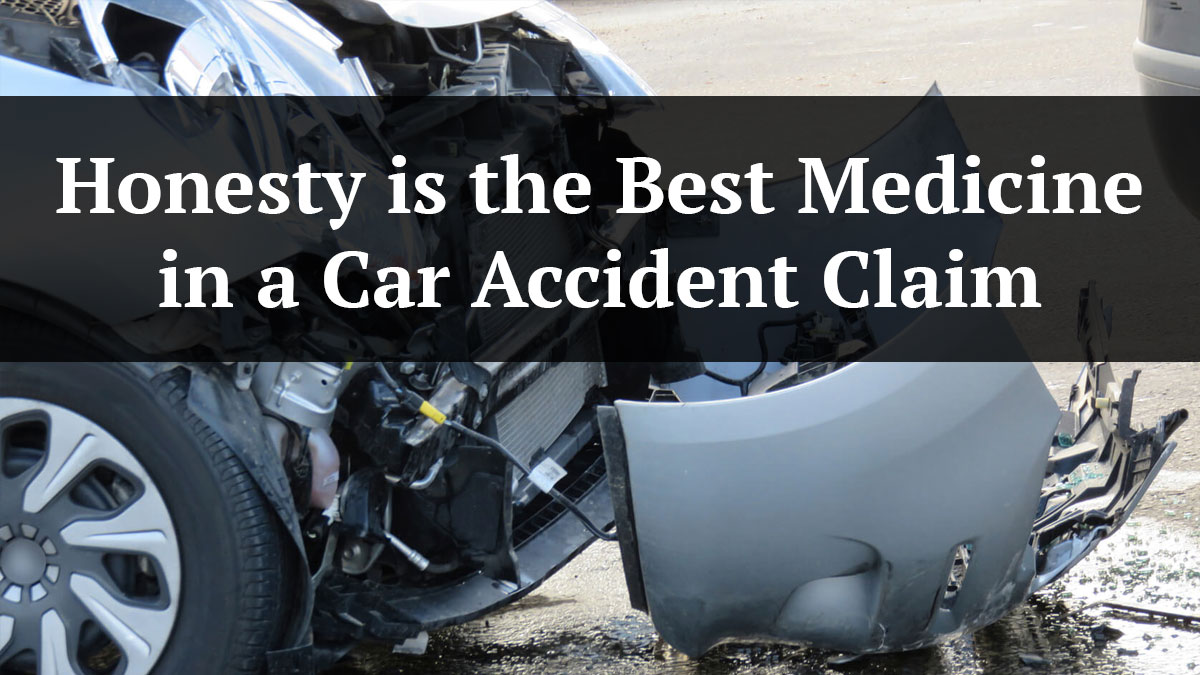 Many clients come to me asking for help after being involved in a car accident caused by the carelessness of another. At this point, the client is often emotional and confused about what the next steps are. At our firm, we do our best to give an honest assessment of the car accident claim in order to manage the client's expectations. But, it isn't always easy because many of our clients are flooded with misleading or inflated advertising by big law firms. As a result, we sometimes sound negative and this can be a difficult line to walk when trying to compete in a very competitive industry. The following article details my approach to handling the expectations of a client following a car accident claim.
Honesty is the Best Medicine in a Car Accident Claim
Many of my car accident clients come to me after being referred by someone who knows me or has been a client in the past. Sometimes, clients find my reviews and are impressed. I have found that regardless of how a client comes into my office, giving them a frank and honest assessment of their case is always the best approach. Now, not all cases are created equally. You may have the best case ever, but there's no insurance available and the person who injures you is broke. So, because there are so many variables at play in a car accident claim, I try to explain each one in order.
There are three factors that I look for when conducting a client interview: liability, damages, and collectability. Liability means who was at fault for causing the car accident. Damages mean what are your injuries and other losses. Collectability usually means what insurance is available to pursue. You must have all three factors in your favor in order to pursue a claim.
At many of the large firms, either a paralegal or investigator meets with you and has you sign the fee contract. There is no legal advice given and no analysis of the strength of the car accident claim. These firms take every single case and then deal with the consequences on the back end. I find this to be terribly misleading and unfair to clients who believe that they may have a viable car accident claim and then are dumped by that law firm at some later date. In this situation, the client may have made certain financial decisions based on their expectations of the car accident claim or even incurred debt in the form of loans or medical bills that they otherwise would not have. I know that if I was a client and was not honestly informed about what should be expected, I would be very upset. Therefore, I do not employ that approach. I tell every client what the strengths and weaknesses of the car accident claim are from the start. In fact, I do not even open a file for a client unless I have confirmed that there is either insurance coverage or other collectible assets by the at-fault party. I have found that this approach gives my car accident client realistic expectations from the start and ultimately saves them time and money.
Expectations Over the Value of a Car Accident Claim:
One of the most challenging aspects of any car accident claim is advising a client about the value of their claim. Most of my clients have never been in a car accident before so they rely on my advice for how to proceed. My job is to eliminate the emotional and subjective elements from the claim and advise on what can be proven. Many of my clients have painful and life-changing injuries. Their complaints of pain and how the car accident has affected them sometimes makes it difficult to explain what can actually be proven. While many of my clients simply defer to my advice, some become emotionally attached to a case. These clients often believe that their case is much more than what can be proven in a court of law. These situations are why I try in every case to manage a client's expectation from the start. Once a demand is made or a lawsuit is filed, clients with unrealistic expectations often become disappointed.
For example, I have a client who was in a car accident and is in a lot of pain in his back. Unfortunately for his case, he had been recommended for back surgery only a few months before the accident. The diagnostic changes from the prior injury compared to the car accident are minimal. He authorized me to demand $100,000, which if paid, would put about $60,000 in his pocket. When the insurance company offered much less than the demand, he now wants to put $100,000 in his pocket. That means we would have to get him about $160,000. While I attempt to manage expectations, clearly there are exceptions when someone is in pain and not thinking logically.
If you are in a car accident and have questions about your case, the best advice I can give is to communicate with your lawyer. If your car accident lawyer will not return your calls, then find another lawyer. Find a lawyer that you can trust and that you get along with. Car accident claims are stressful and time-consuming but your interaction with your lawyer should not be.
Contact a Personal Injury Attorney
If you or a loved one have been injured in an accident, then you should take the proper measures to ensure you receive the compensation you deserve. Contact St. Petersburg Personal Injury Attorneys McQuaid & Douglas today and speak with an attorney. For over 60 years our firm has been successfully helping people who have been injured due to someone else's carelessness. We have been nationally ranked for decades by US News and World Reports as a Tier 1 law firm, which is the highest ranking that can be received. Sean McQuaid and Jonathon Douglas have dedicated their careers to continuing the firms legacy of superior legal representation.
Remember that we never charge a fee, unless we win. Call us today at 727-381-2300 so that we may answer your questions, help you navigate the complexities of insurance claims, and recover the compensation that you deserve.
We work hard to make sure each and every client gets the attention that they deserve. We appreciate feedback from our clients and reviews are validation of our work. Every 5-star review that we receive lets us know that our services were appreciated by our clients.
St. Petersburg Personal Injury Attorneys McQuaid & Douglas
5858 Central Ave suite a, St. Petersburg, FL (727) 381-2300
5 out of 5 based on 20 reviews
Sean McQuaid and Jonathon Douglas were voted best personal injury attorneys in Saint Petersburg, Florida for 2019.