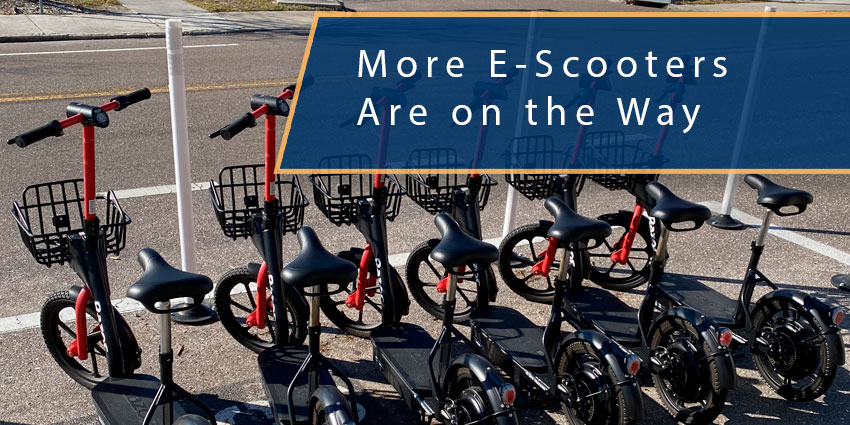 E-scooters are here to stay in St. Petersburg. The e-scooter program launched in October of 2020 has been wildly popular. This has led the City to increase the number of e-scooters on the roads and extend the operating hours. While there have been only eight reported accidents with injuries thus far, there is no doubt that with more e-scooters on the road and operating late into the night, more accidents will occur.
At Personal Injury Attorneys McQuaid and Douglas, we have handled e-scooter accident claims and are familiar with how they work. Because they are relatively new and rare, people have a lot of uncertainty. There are complicated insurance issues involved in these cases that are unlike any other type of accident. If you have been injured in an accident, we are happy to explain what to expect and how we can help.
The City of St. Petersburg E-Scooter Program
Since the program launched in St. Petersburg, Veoride (Veo) and Razor are the two authorized e-scooter companies. There are currently 975 e-scooters available for use in the City. In the last fifteen months, there have been 372,569 rides. This equates to 440,00 miles and 5 million minutes of use! There have been 8 reported accidents involving injuries. Only 2 of those accidents occurred at night. E-scooters are not allowed on the sidewalk (although we all know that happens). There is only one rider allowed per e-scooter and cannot ride with children. The permitted hours of operation are from 6am-10pm.
Plans for Expansion of the E-Scooter Program
St. Petersburg City Council has been asked to extend the e-scooter program for another three years. The main changes are the amount of e-scooters that will be on the roads and the hours of operation. The plan would allow Veo to have 600 e-scooters per day. Razor would be allowed to have 500 e-scooters. The hours of operation would be expanded from 5am-12am. The City would add more parking corrals near bus stops and for city events. So, expect to see e-scooters all over the city and at times that you would not expect.
Steps After an E-Scooter Accident in St. Petersburg
Because e-scooter accidents are relatively new, there's a lot for injured people to learn. The odds are that you will not know anyone else who has been in this situation before. Please rely on the following steps to assist you with the aftermath of the crash.
Contact St. Petersburg Police Department
The e-scooter accident must be reported to law enforcement. Because there is so little familiarity with e-scooter accidents, an independent investigation is very important to your case. You can rest assured that the car that hit you is going to claim that you did something wrong. The police investigation is key to combating any stigma against people on e-scooters rather than in a car.
Seek Emergency Medical Treatment
A key to any e-scooter accident claim is medical treatment. Most e-scooter accidents result in serious bodily injuries that require emergency medical care at a hospital. I recommend the trauma unit at Bayfront Hospital downtown. But, any injuries should be checked out at a hospital or Urgent Care. This medical treatment will diagnose any emergency conditions and will set the foundation of your injury claim.
Screenshot the Ride History
Like any app that is controlled by a third party, there is always the chance that the ride history will be lost. In order to protect yourself, simply screenshot the proof of the ride. Do not give the app the opportunity to delete crucial evidence.
Get Witness Information
Because you are on an e-scooter, there will always be a question about whether you were obeying the rules of the road. Unless the car driver admits to fault, you will need a witness. Fortunately, almost all of the roads in St. Petersburg, where an e-scooter will be traveling, should have other cars or pedestrians on them.
Look for Video
One overlooked piece of evidence is video on a home or business. I recommend to my clients to go back to the scene and look for cameras that may be in the direction of the accident. Time is of the essence though. Almost all cameras film over or delete footage after a certain time frame.
File a Report With the E-scooter Company
In the app, there will be information about how to contact the company about the accident. Unless there is something wrong with the e-scooter, like a mechanical defect, you are welcome to report what happened. If there is blame against the e-scooter company, you should speak to a lawyer first.
Contact an E-scooter Accident Lawyer
There are many important decisions that must be made immediately after the accident. An e-scooter accident attorney must determine how the medical bills are going to be paid and where you should go for medical treatment. There are often multiple layers of insurance coverage to decipher. Setting up these claims can be complicated because e-scooter accidents simply do not happen every day and the insurance companies are not used to dealing with them. Getting a lawyer involved immediately can be critical to the success of the claim.
How Much is an E-Scooter Accident Claim Worth?
The value of an e-scooter claim depends on many factors. There are three types of accidents- those caused by the e-scooter driver, those caused by the car driver, and those caused by a mechanical failure of the e-scooter.
Accidents Caused by the Driver of the E-scooter
Now, an accident vs a car caused by an e-scooter is not going to cause any injury to anyone in a car. But, I have heard of pedestrians being injured by e-scooters. In these situations, the pedestrian may only have a claim against the e-scooter's homeowner's insurance. I would have to read the policy to see if there was an exclusion. But, it seems unlikely that there would be any insurance available to pursue by the pedestrian in an e-scooter vs. pedestrian accident.
Accidents Caused by the Driver of the Car
In this situation, the injured driver of the e-scooter has PIP available to pay for the first $10,000 in medical bills. If the car carries bodily injury (BI) coverage, there may be a claim for any outstanding bills, future medical expenses, lost wages, and pain and suffering.
Accidents Caused by the Mechanical Failure of the E-scooter
This is a frequent situation, but difficult to prove. The e-scooter must be preserved and inspected to determine the cause of the failure. The claim for the injuries caused by the faulty e-scooter are for product liability against the e-scooter company.
Because most e-scooter accidents involve serious injuries like broken bones, they can be very valuable. The key is to be able to find enough insurance to fully compensate the injured person.
Contact an E-Scooter Accident Lawyer in St. Petersburg
If you have been injured in an e-scooter accident in St. Petersburg, please call us immediately for guidance. You do not want to call a lawyer who has no clue about e-scooters. All of our lawyers handling your claim have used e-scooters. We know how to set up a claim and what to expect.
The first few days after the accident are the most important for your claim, so please do not delay. If you have any questions about an e-scooter claim, please contact us for a free consultation
This article was researched and written by attorney Sean McQuaid. Mr. McQuaid is the head of Personal Injury Attorneys McQuaid & Douglas, the personal injury department of Battaglia, Ross, Dicus & McQuaid, P.A. The firm was established in 1958 and while e-scooters are a new area of law, they have been helping injured people in St. Petersburg for over 60 years. Mr. McQuaid is President of the law firm and served as President of the St. Petersburg Bar Association in 2020-21. He currently serves on the Executive Committee of the Bar Association.