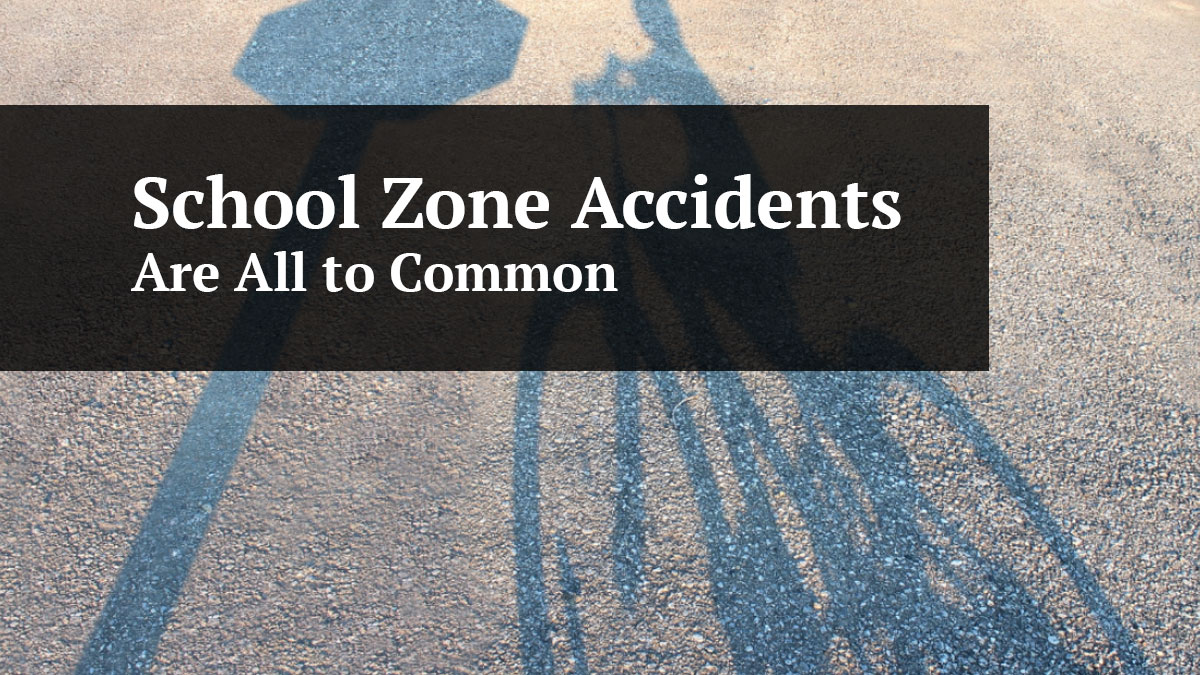 According to recently released statistics, approximately 25,000 children are injured in some manner nationwide in school zone accidents every year. The accidents occur from a combination of pedestrians being struck while walking or cycling as well as vehicle collisions. It is estimated that 100 children are killed every year simply walking to or from school nationwide. As a parent, these statistics are startling considering that school zones were created to make these designated areas safe for our children. In Pinellas County, crossing guards have played an important role in directing traffic, but sadly, due to a number of factors, school zones are still dangerous.
What are the causes of this high number of accidents in school zones?
Most professionals who have studied the issue of school zone accidents attribute them to the increase in distractions for both students and drivers. For students, the rise of the use of headphones while walking to and from school is suggested as a lead cause for lack of attention, and inability to hear dangers such as cars. For drivers, again, the distraction of cell phones and other electronic devices such as GPS is believed to be the main contributor for their own negligence. Combine a distracted student and driver and that is a recipe for a serious accident.
Speed limits in school zones:
Under Fla. Stat. 316.1895, school zone speed limits must be between 15-20 mph. If you have traveled through a speed zone in Pinellas County, you may have noted that the posted speed limit is 15 mph. According to the statute, the speed zone speed limit is in effect while students are arriving or leaving school. The law also provides that the speed limit may be extended to 30 minutes prior to the students' arrival or departure.
Tips for Drivers:
It isn't always easy to navigate a school zone even though there is a low-speed limit. There can be distractions with people crossing from several directions and drivers can get confused. Some things to keep in mind when traveling through a school zone:
Always look for flashing lights, cones, and the speed limit signs;
Keep your eye out for school buses that may be stopping:
Put down your phone and eliminate distractions.
Tips for Parents:
If you have a child who walks to or from school please read the following:
Remind your child to walk only on a sidewalk or designated crosswalk;
Remind your child to look both ways before crossing a street;
Teach your child to make sure a car actually stops before crossing and not to assume;
Remind your child not to use headphones or their phone when crossing a street;
Forbid children under the age of 10 from crossing a street without adult supervision
Summary
Everyone's goal is to prevent children from being injured in accidents in school zones. It is important that both schools, crossing guards, children, and parents exercise caution in and around school zones. Schools should make sure that their parking areas, and the drop-off and pick-up areas are organized and properly supervised. Drivers should always observe the speed limit and eliminate distractions. Students need to pay attention and avoid headphone and cell phone distractions. While these measures are not conclusive, they should help decrease the number of accidents occurring in school zones in Pinellas County.
While I hope that your family never experiences the tragedy of an accident involving a child, should it ever occur, our firm has been handling these types of cases in Pinellas County for over 60 years. I would be happy to speak to you regarding your case whether you are a pedestrian, bicyclist or motorist.
Contact a Premises Liability Attorney
If you or a loved one have been involved an accident in a school zone, then you should take the proper measures to ensure you receive the compensation you deserve. Contact St. Petersburg Personal Injury Attorneys McQuaid & Douglas today and speak with an attorney. For over 60 years our firm has been successfully helping people who have been injured due to someone else's carelessness. We have been nationally ranked for decades by US News and World Reports as a Tier 1 law firm, which is the highest ranking that can be received. Sean McQuaid and Jonathon Douglas have dedicated their careers to continuing the firms legacy of superior legal representation.
Remember that we never charge a fee, unless we win. Call us today at 727-381-2300 so that we may answer your questions, help you navigate the complexities of insurance claims, and recover the compensation that you deserve.
We work hard to make sure each and every client gets the attention that they deserve. We appreciate feedback from our clients and reviews are validation of our work. Every 5 star review that we receive lets us know that our services were appreciated by our clients.
St. Petersburg Personal Injury Attorneys McQuaid & Douglas
5858 Central Ave suite a
St. Petersburg, FL 33707
(727) 381-2300