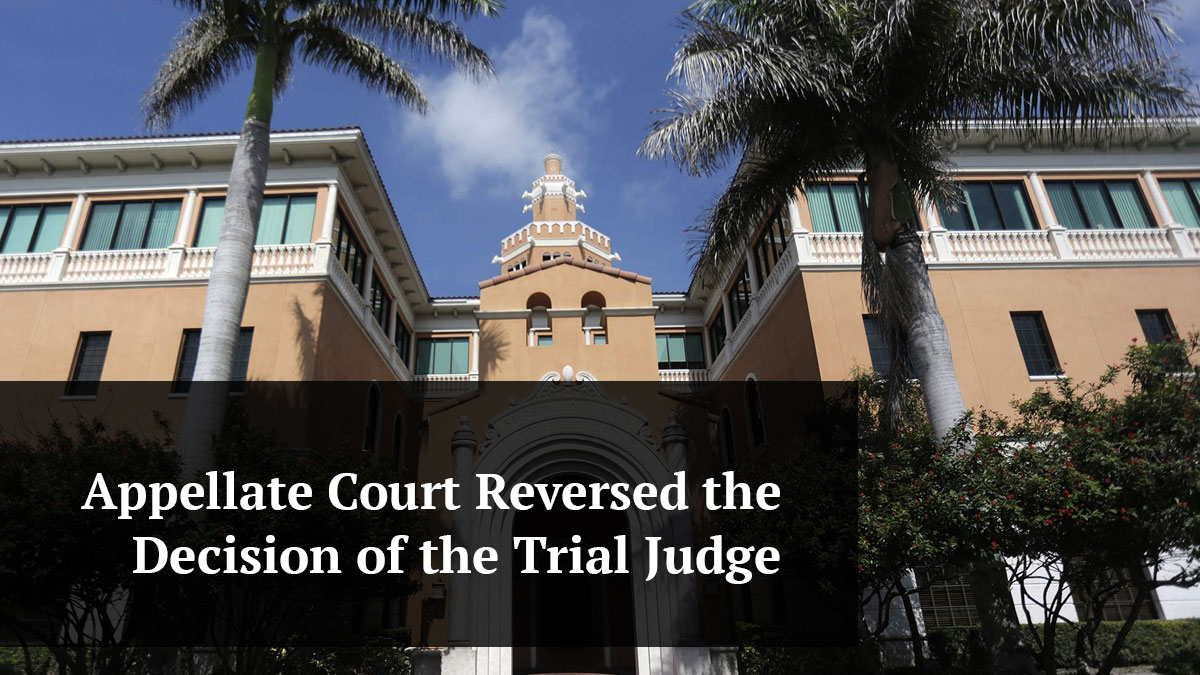 In a recent appellate court decision, the dismissal of a Pinellas County slip and fall case was reversed and sent back to the trial court for further proceedings. This decision was a major victory for all citizens who have been injured in slip and fall accidents at businesses due to no fault of their own.
Facts of the Slip and Fall Case
In Norman v. DCI Biologicals Dunedin, LLC and BPL Plasma, Inc, 2nd District Case No. 2D18-3065 decided on April 29, 2020, Norman fell in a plasma donation center (Plasma Center) operated by the defendants. On May 2, 2014, Norman went to Plasma Center in Pinellas County to donate plasma. After he completed the application in the waiting room, he went to use the bathroom. As he pushed open the bathroom door, he slipped and fell onto the sink counter and then onto the floor. He was taken to the hospital and diagnosed with a fractured orbital bone.
When Norman was on the ground, he noticed a cup of water on the floor and dirty/muddy footprints in the water. He also saw a foot or skid mark nearby. Some water even got on his shirt.
The medical advisor of Plasma Center inspected the bathroom after the fall and did not find any liquid. According to the employees of Plasma Center, the facility is very busy and noisy. The facility is open between 7am and 7pm where they would see 150-300 donors each day. Each night janitors would clean the bathrooms. There was no set schedule for inspections of the bathrooms, but if there was downtime, the receptionist would help to clean. The receptionist testified that she was not told that she was responsible for cleaning bathrooms and no one recalled inspecting the bathroom prior to Norman's fall.
Norman filed a lawsuit against Plasma Center in Pinellas County circuit court alleging that they were negligent and caused his damages.
Trial Court Decision
During the lawsuit many depositions were taken. The attorneys for Plasma Center eventually filed a Motion for Summary Judgment in front of Judge Jack St. Arnold. This motion asks the judge to essentially dismiss the case and never let the case reach a jury.
Plasma Center claimed in its motion that Norman's claim of seeing footprints in liquid on the floor of the bathroom was insufficient as a matter of law. It further claimed that Norman's claims were unsubstantiated. Norman's lawyers responded that his statement regarding the water combined with the lack of inspections of the bathrooms created an issue of material fact sufficient to defeat the motion for summary judgment. Circuit Court Judge Jack St. Arnold disagreed and granted the motion. Norman appealed the decision to the Second District Court of Appeal.
Appellate Court Decision
The Second District Court of Appeal is located in Tampa. Each side submitted briefs and argued their positions. The appellate court issued its written opinion on April 29, 2020. In the opinion, it first discussed what the elements of the negligence claim were. It went on to say what duties businesses like Plasma Center owed to invitees like Norman. Businesses owe a duty to take ordinary and reasonable care to keep its premises reasonably safe and to warn of perils that were known or should have been known. Because the water or liquid was alleged to have caused the fall is a transitory substance, it referred to Florida Statute § 768.0755. This statute states that where an invitee slips and falls on a transitory substance in a business, the injured person must prove that the business had actual or constructive notice of the dangerous condition and should have taken action to remedy it. In order to prove constructive notice, it must be shown that the condition existed for long enough that the business should have discovered it when exercising due care, or that it occurred with regularity, and thus was foreseeable. Norman contended that a cup's worth of dirty water located near the sink, coupled with the muddy footprints, skid marks, and the lack of evidence that the bathroom was inspected created enough of an issue that the water was on the bathroom floor long enough that Plasma Center should have noticed it and taken action to remedy it.
The appellate court went on to compare Norman's situation to previous cases. It looked at Zayre Corp. v. Bryant, 528 So.2d 516 (Fla. 3d DCA 1988) finding that a liquid that was dirty, scuffed, or had grocery cart tracks though it was sufficient to meet the notice requirements. It found a host of cases that found that if there was evidence that a liquid or substance had been on the floor for a longer period of time, then that was enough to meet the notice requirements in the statute.
The appellate court then discussed the facts of the Norman case. It said that the fact that the liquid was soiled was evidence that it had been on the ground long enough for it to get dirty. It said that the two footprints around the liquid suggested that they deposited dirt into the liquid to make it muddy. They said the fact that there were other skidmarks on the floor implied that others had walked through it too. The court finally said that because no one from Plasma Center testified that they inspected the bathroom, there was an inference that this task was not done. Thus, the Second District there were two separate ways that the liquid in the bathroom existed for a length of time that the business should have known of the dangerous condition. The appellate court reversed the decision of the trial judge and sent the case back for a jury trial in Pinellas County. Because jury trials are still on hold per an order by the Florida Supreme Court at least until the week of July 6, 2020, there is no way to tell when this trial will occur. But, Norman must be very happy that the appellate court agreed with his lawyer's arguments.
Contact a Slip and Fall Attorney
This case is an example of how difficult slip and fall cases can be. Two separate courts looked at the same facts and came to different conclusions. The fact that the trial judge in Pinellas County dismissed his case in the first place is troubling. Norman walked into a bathroom where he was there to simply donate plasma, slipped on the wet floor due to no fault of his own, and fractured his orbital socket. How could a judge dismiss a claim in light of those facts? Clearly Norman was seriously injured and there was insurance coverage available to pay for his losses. Yet, the judge decided to side with a business and an insurance company over an injured citizen of Pinellas County.
At St. Petersburg Personal Injury Attorneys McQuaid & Douglas, we specialize in all personal injury accidents, including slip and falls. We are located in Pinellas County and have handled countless claims against businesses who have failed to keep their premises in a safe condition. If you have been seriously injured in a slip and fall and have questions about the viability of a claim, please contact us. In our efforts to keep updated on recent court decisions, this newly released opinion reinforces the responsibility of businesses to keep their floors and premises clean and safe.
We understand the challenges that victims of slip and fall accidents face. Not only can it be difficult to get medical treatment, but it is obvious that the courts have problems with these cases. We closely follow all trends of newly established slip and fall law across Florida so that we can better advise our clients. If you or a loved one has been seriously injured like Norman from a slip and fall at a business, please contact us for a free case evaluation.