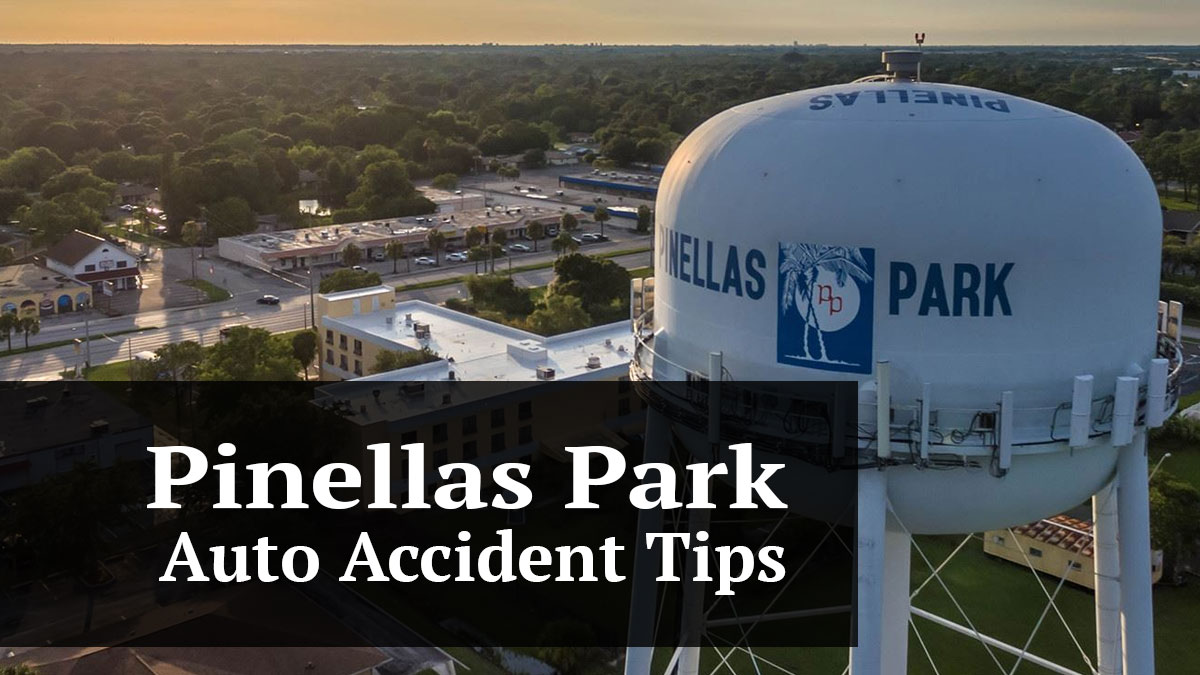 It can be very dangerous to drive in Pinellas Park. It is a densely populated city in the middle of the most densely populated county in Florida. The roads are full of commuters during morning and evening rush hours. When you add in the fact that Pinellas Park has US 19, Park Blvd, 66th St, Bryan Dairy Rd and several other busy streets, the volume of traffic increases the odds of an auto accident.
At St. Petersburg Personal Injury Attorneys McQuaid & Douglas, we specialize in Pinellas Park auto accidents. Our office is located only a few minutes from Pinellas Park and the majority of all of our cases are from the area. We have successfully handled countless Pinellas Park auto accident claims over the years. We are familiar with trustworthy doctors, how to handle the insurance companies, and understand that you deserve personalized attention. This article is devoted to providing tips if someone has been injured in a Pinellas Park auto accident.
Should You Contact the Police or Is Exchanging Info Good Enough?
Always contact the police after the auto accident even if it is a minor crash. The accident will be investigated by either the Pinellas Park Police Department or the Florida Highway Patrol. They will interview the witnesses and determine fault. Do not feel guilty about calling the police and the other driver getting a ticket. They can always elect to do online driving school and avoid points. But, having the police investigate the accident helps your injury claim. It shows the insurance company who caused the accident and lists the witnesses. The police will leave you with a driver's exchange so that you can set up your insurance claim. Within a few days, the full accident report will be available. Having an accident report is a very important tool that will be used throughout the rest of the claim when determining fault.
Should You Go to the Hospital or Should You Wait to See If You Feel Better?
I advise to always err on the side of caution and get checked out at the hospital. Northside Hospital or St. Pete General are close and can handle all but the most serious injuries. If your injuries are life threatening, you will be transferred to Bayfront.
A hospital visit is important because it allows you to get checked out and know more about the extent of your injuries. It also signals to the insurance company that you sustained a serious injury and they will put more value on the claim.
Which Insurance Company Should You Contact After the Auto Accident?
I recommend setting up the claim with both your company and the at-fault driver's. This allows you to get a claim number that will be used by your medical providers in the future. It also will trigger the insurance company to start an investigation, which will speed up the claim.
Technically, you are only required to speak to your own insurance company. Under the terms of your contract, you are required to report the accident within a reasonable time and to cooperate with their investigation. You have no requirement to speak to the at-fault driver's company. But, often there is no harm in doing so as long as you don't get into detail about your injuries.
Sometimes, both you and the at-fault driver will have the same insurance company. GEICO is so popular, that the chances that you both will carry this insurance are pretty good. In this situation, you will still need to cooperate with them, but keep in mind that they will be prying into the extent of your injuries. A rule of thumb is to use common sense and be honest. Once you hire a lawyer, he or she can require that all communication from the insurance company goes through their law office.
Who Pays for Your Medical Bills After the Auto Accident?
Florida is a no fault state. That means that all automobiles are required to carry Personal Injury Protection (PIP) insurance. This insurance pays for medical bills and lost wages up to $10,000. Thus, there should be a source of money to pay for some, or most of your bills.
Once PIP is exhausted, you have choices. If you have health insurance, you can find a medical provider that is covered under your plan and get treatment there. However, this is often difficult and not the best for your case. If you treat under your health insurance, they will impose a lien against the money that you receive in your injury case and you will have to reimburse them.
Instead of using health insurance, most people will enter into an agreement called a Letter of Protection (LOP). Under an LOP, a medical provider will continue to treat you and get reimbursed out of the settlement of the case. This arrangement is basically an IOU. This is the most common way to get treatment and have your bills covered.
How Quickly Should You Hire an Attorney?
I always advise to get a lawyer involved as soon as possible after the auto accident. There is no out of pocket cost to hire an auto accident attorney, so lack of money should not hold you back. Once an attorney is involved, the flow of information to the insurance company can be properly managed. Most importantly, the attorney can assist you with the medical management of the case. There is no downside to getting a lawyer involved quickly.
Contact a Pinellas Park Auto Accident Attorney
If you or a loved one has been injured in an auto accident in Pinellas Park, we can help. Our attorneys are smart, fair, and honest. Please take a moment to read our dozens of Five Star Reviews from other happy clients.
As mentioned in the above, more of our cases come from Pinellas Park than from any other area in Pinellas County. We know how to handle these claims and to maximize the amount of money that you will recover.