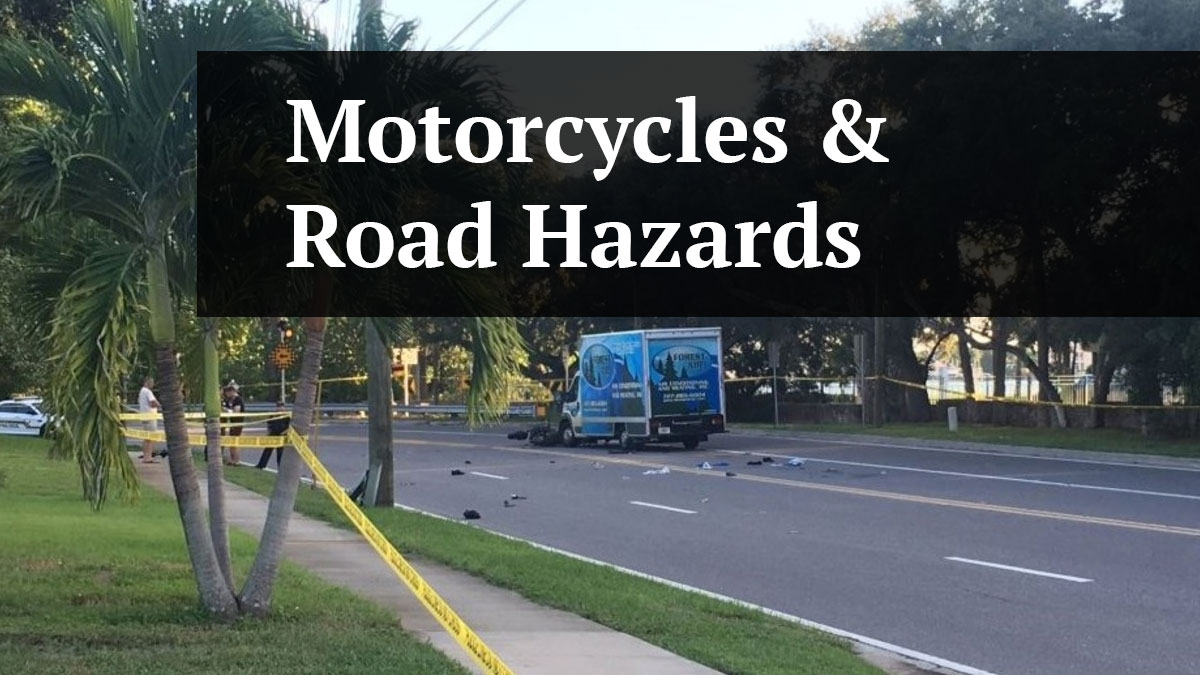 St. Petersburg, FL can be a dangerous place for motorcyclists. Not only are our roadways congested, but they are also full of tourists, snowbirds, and elderly drivers. Thus, the risk to motorcyclists is increased. While motorcyclists may not have much control over who else is sharing the road with them, they can take steps to reduce risk by avoiding certain road hazards. By implementing some or most of these techniques, the goal is to lessen the chances of a serious motorcycle accident in St. Petersburg, Florida.
Common Road Hazards:
Motorcyclists are at a higher risk of road hazards than cars or trucks due to their size. Many of these hazards are unexpected and may include:
Rough roads – While St. Petersburg's roads are quite good, other cities and municipalities do not always have the money or vigilance to keep roads safe. In many areas, roads can have bumps, potholes, or other poor maintenance issues.
Loose gravel – Again, we do not have many gravel roads in Pinellas County, but the edges of roads and especially near heavily worn turns, loose gravel can be an issue.
Uneven sides of roads – These uneven road areas are called edge breaks and can be dangerous if unseen.
Slippery surfaces – Especially after an extended drought, during that first rainstorm, roads because especially slippery due to oil build-up.
Standing water – As many of you are aware, Florida rains can deposit huge quantities of water in a short period of time. Once the sun comes out, the water doesn't always have time to dry or run-off the roads, causing standing water hazards.
Railway crossings – While rare in St. Petersburg, there are still some railway crossings that need to be observed. In fact, because trains run so infrequently in this area of Florida, many motorists are unsure how to react, thus causing confusion and increased the danger to motorcycles.
Road debris – Because we have so much congestion and truck traffic on the roads, debris is common. There are so many vehicles on the road that is impossible to promptly pick up all the debris. Pieces of tires, trash, and other debris are especially dangerous to motorcyclists.
How to Avoid Road Hazards:
Avoiding road hazards are potential injury and life-saving techniques that motorcyclists should employ. Some steps that motorcyclists can take include:
Keeping your speed to a reasonable level – High rate of speed equals less time to react to road hazards. Also the faster you are going, the harder it may be to get your motorcycle back under control if you experience a hazard.
Keep your distance from cars – The closer you are to other traffic on the roadway, the less likely that you are going to be able to observe a road hazard. Again, just because a car or truck is able to drive through a hazard, does not mean that a motorcycle will too.
Avoid distractions – Although it is very difficult to use a phone while on a motorcycle, changing song lists, using GPS or the radio can all increase the dangers for a driver.
Check the weather – While Florida rain can start and stop on a dime, knowing the potential for dangerous conditions can help reduce your risk.
Enjoying a motorcycle ride in St. Petersburg is popular and our weather is often perfect for riders. Road hazards in the area are a legitimate risk that needs to be taken seriously. Simply employing a few safety precautions can be the difference between making it home safely or being in a serious accident.
Contact a Motorcycle Accident Injury Attorney
If you or a loved one have been involved in a motorcycle accident, then you should take the proper measures to ensure you receive the compensation you deserve. Contact St. Petersburg Personal Injury Attorneys McQuaid & Douglas today and speak with an attorney. For over 60 years our firm has been successfully helping people who have been injured due to someone else's carelessness. We have been nationally ranked for decades by US News and World Reports as a Tier 1 law firm, which is the highest ranking that can be received. Sean McQuaid and Jonathon Douglas have dedicated their careers to continuing the firms legacy of superior legal representation.
Remember that we never charge a fee, unless we win. Call us today at 727-381-2300 so that we may answer your questions, help you navigate the complexities of insurance claims, and recover the compensation that you deserve.
We work hard to make sure each and every client gets the attention that they deserve. We appreciate feedback from our clients and reviews are validation of our work. Every 5 star review that we receive lets us know that our services were appreciated by our clients.
St. Petersburg Personal Injury Attorneys McQuaid & Douglas
5858 Central Ave suite a
St. Petersburg, FL 33707
(727) 381-2300