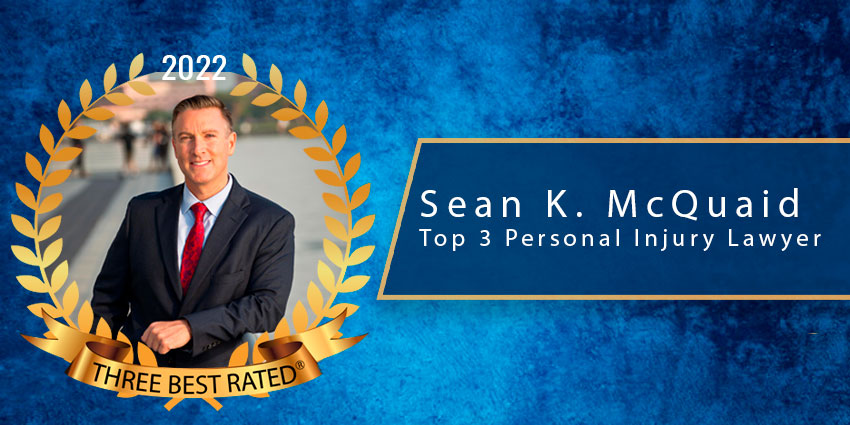 Personal injury attorney Sean K. McQuaid, of Battaglia, Ross, Dicus & McQuaid P.A., has been named one of the Best 3 Personal Injury lawyers in St Petersburg, FL. This will be the fourth consecutive year that ThreeBestRated® has awarded Mr. McQuaid. ThreeBestRated® recognizes Sean for providing consistent, high-quality service in his business area.
ThreeBestRated® is a local website whose goal is to find the best local businesses and professionals. Using analyst teams, they select local companies based on a rigorous 50-point inspection with criteria including the business's reputation, history, complaints, ratings, proximity, satisfaction, trust, cost, general excellence, reviews, and more. They then share these expert recommendations with a community of over 4.5 million people because they believe customers deserve only the best. "Other places will call this 'hard work' and 'unnecessary.' We call it 'due diligence' and 'the right thing to do.'" – ThreeBestRated®
Attorney Sean McQuaid has achieved some of the highest honors available to personal injury attorneys in Florida. The Top 3 Personal Injury Lawyers Award by ThreeBestRated® is just one of many accolades that Mr. McQuaid has earned this year alone. A few other recent awards include the 2022 Expertise Award for Best Personal Injury Lawyers in St. Petersburg and 2022 Best of St. Petersburg Award for Best Local Business.
Personal Injury Attorneys McQuaid & Douglas
Personal injury attorneys McQuaid and Douglas are a winning team that can get you the results you want. They are distinguished for their personalized, custom-tailored recovery strategies. McQuaid & Douglas are committed to giving accident victims a voice in the legal system and will fight tirelessly to win their clients justice. Their hard work is evident in the results they produce, having recovered over $150 million in damages for their clients. A truly outstanding team with distinct and unique skill sets, McQuaid and Douglas are sure to deliver results and are qualified to advocate on your behalf through the process of personal injury claims.
With extensive experience under their belts, personal injury attorneys McQuaid and Douglas have dealt with numerous cases, fighting aggressively on behalf of victims. They represent clients throughout Southwest Florida and have an impressive track record of client success stories.
They offer legal services in the following areas of practice: Auto Accidents, DUI Accidents, Hit & Run Accidents, Uber & Lyft Accidents, Bicycle Accidents, Burn Injury, Dog Bites/Animal Attacks, Motorcycle Accidents, Pedestrian Accidents, Brain Injury, Spinal Cord Injury, Personal Injury Claims, PSTA Accidents, Sexual Abuse, Premises Liability, Slip and Fall Injuries, Truck Accidents, Scooter/Moped/Motorized Bike Accidents, Wrongful Death, and Product Liability.
Contact Award-Winning Personal Injury Attorneys McQuaid & Douglas
If you or someone you love has endured an unfortunate event, you may need to hire a personal injury attorney. McQuaid and Douglas are among the highest caliber of personal injury attorneys practicing in Florida. Their exceptional legal counsel is highly sought after because of their commitment to helping every client achieve the best possible outcome in legal matters. For more information about Personal Injury Attorneys Douglas & McQuaid, you can visit their website www.727injury.com or contact the firm at 727-381-2300.