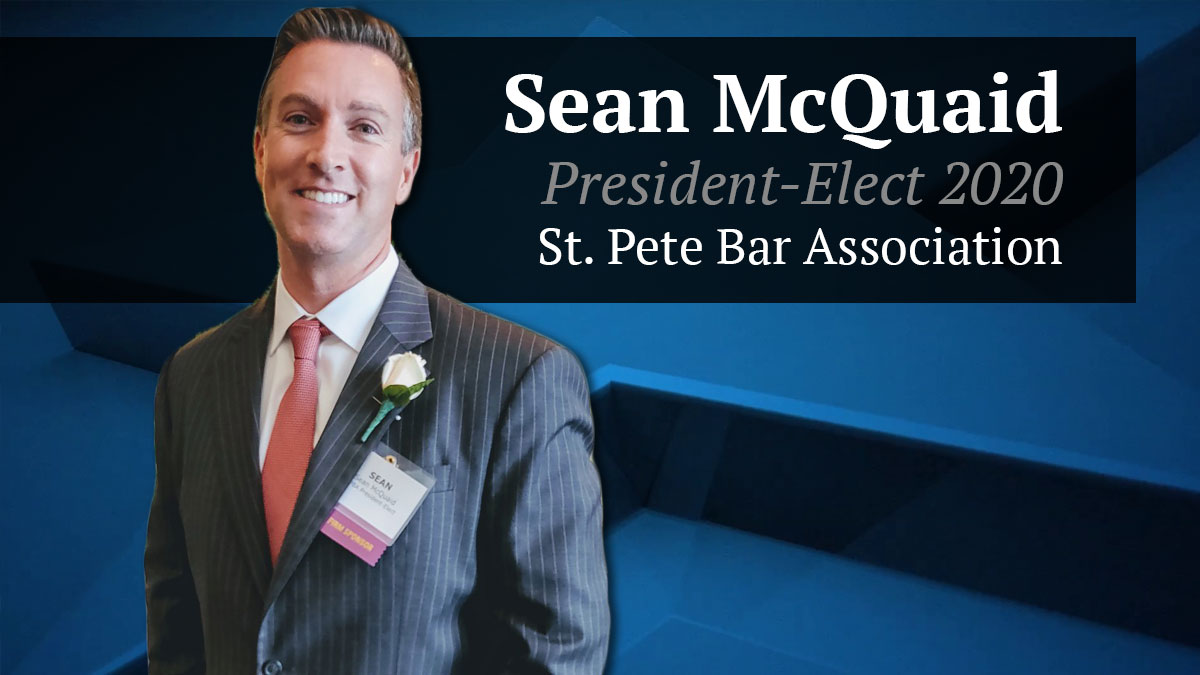 On June 6, 2019 at the St. Petersburg Yacht Club, Sean McQuaid was sworn in as President-Elect of the St. Petersburg Bar Association. He will begin his term as President in June, 2020. Mr. McQuaid takes over as President-Elect after serving four years on the Executive Committee. The St. Petersburg Bar Association is a professional organization consisting of approximately 1,200 lawyers and judges in the area. The mission of the St. Petersburg Bar Association is to serve the legal community, to strengthen the noble calling of the practice of law, and to foster excellence in the profession.
Mr. McQuaid will serve for one year as President-Elect. He then will serve as President from 2020-21. During that time, his goals will be to focus on the new technology of the court system and how to train the members on how to use it. He will also focus on increasing referrals among the membership by educating about what practice areas each lawyer does. He will also focus on increasing the diversity of the membership and of the executive committee. Finally, he will study the role of the Bar in calls for social justice reform.
Mr. McQuaid practices in the field of personal injury law throughout the State of Florida and specifically in Tampa Bay. He focuses on wrongful death claims, auto accident, motorcycle accident, pedestrian accidents and premises liability. Over the years, his personal injury practice has grown dramatically and is one of the area's largest. His record of success with his clients and his accident injury claims is impressive.
Mr. McQuaid has been names as Florida Super Lawyer, Florida Trend Legal Elite, AV rated by Martindale Hubbell and has received top ranking by virtually every lawyer ranking site that exists. He is committed to fighting for his clients and his results reflect the hard work and dedication he puts into each case.