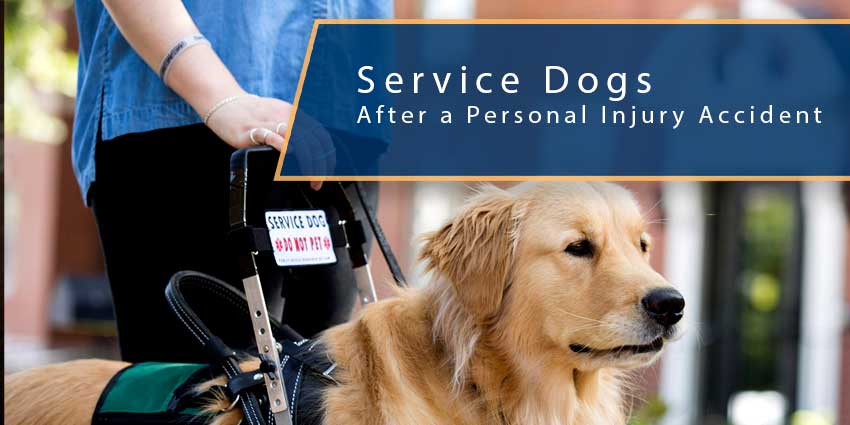 A personal injury accident can happen to anyone at any time. While we cannot turn back time, we can help you obtain resources and some comfort in your life. This article is written for victims of personal injury accidents who are interested in obtaining a service dog. Many injured people do not realize that service dogs can be a great benefit. Because our law office sees so many injured people in need of service dogs, we felt it was important to discuss the topic.
Many times our personal injury clients suffer from seizures, traumatic brain injuries, spinal cord injuries, neurocognitive disorders, post traumatic stress disorders, anxiety, depression, cardiovascular disorders, etc. According to the Americans with Disabilities Act (ADA), you have a disability if you have a physical or mental impairment that substantially limits a major life activity. Thus, a serious injury from a personal injury accident is entirely appropriate for a service dog.
What Is a Service Animal?
Under the Americans with Disabilities Act (ADA), a service animal is defined as a dog that has been individually trained to do work or perform tasks for an individual with a disability. The task(s) performed by the dog must be directly related to the person's disability.
What Tasks Can a Service Animal Provide After an Injury?
Service dogs are very helpful for those who have been injured in a personal injury accident. Service dogs are able to provide help with mobility issues by providing physical support and assistance with balance and stability. Service dogs may also push or pull a wheelchair, alert and protect a person who is having a seizure, retrieving objects from the floor or across the room, and complete tasks such as turning lights on and off or covering their handler with a blanket. Service dogs can also help prevent emergencies by reminding their handler to take prescribed medications.
What Is the Difference Between an Emotional Support Animal and a Service Animal?
Emotional support, companion, comfort, or therapy animals are not considered service animals under the Americans with Disabilities Act (ADA) guidelines. However, there is a distinction between psychiatric service animals and emotional support animals. If the dog has been trained to sense an anxiety attack is about to happen and take a specific action to help avoid the attack or lessen its impact, that would qualify as a service animal.
How Can You Obtain a Service Animal After a Personal Injury?
The first thing we do in every personal injury case is make sure our clients are receiving the best medical treatment possible. Our firm is able to quickly assess your injuries and find a doctor that understands how to properly document your injuries. Having proper documentation of your injuries is a key point when applying for a service dog (and for your personal injury claim).
What organization you apply for a service dog from will depend on your specific needs. Our firm is very familiar with the different organizations in the area and will help you through the application process. We will work with your doctors to understand if you would be best suited for a mobility dog, to help with balance or an alert dog to remind you when to take your medication, or maybe you're now in a wheelchair and need a dog to help push/pull you. We are able to pinpoint in your medical records what documentation the organizations will need from your treating physician in order to get you approved.
Some options for service dogs are Paws4people, Guardian Angels (nonprofit), and New Horizons Service Dogs. If you find an organization, we will be happy to discuss or research it with you.
Frequently Asked Questions About Service Dogs
Does a Service Dog Add Value to My Personal Injury Claim?
Having to obtain a service dog as a result of someone else's negligence shows the insurance company that you have a life long injury that requires assistance. Having a permanent injury and needing 24/7 assistance shows extreme pain and suffering, this can increase the value of your claim.
Who Pays for the Service Dog?
The price of your service dog will vary depending on the exact service it provides to you. There are several non-profit organizations that provide service dogs at no cost. However, if you are injured as a result of someone else's negligence, we may also be able to get you reimbursed for the cost of your service dog.
Will Health Insurance Pay For a Service Dog?
No. Unfortunately, no health insurance covers service animal expenses. However, we are hopeful that as service dogs become more acceptable, this will change.
How Long Does It Take To Get a Service Dog?
The time it takes to actually obtain your service dog depends on the specific type of service the dog will need to provide and the availability of the organization you choose. For example, you may be able to obtain a mobility dog within a couple months, as they are considered easier to obtain, while it may take years for you to locate a dog that is equipped to sense an upcoming seizure and know how to take an action to help lessen its impact. As your personal injury attorneys, we will assess your injuries, work with your doctors to understand what kind of service dog would most benefit you, and review the availability of each organization to locate one to suit your needs.
Contact a Personal Injury Attorney
At Personal Injury Attorneys McQuaid & Douglas, we specialize in serious personal injury cases. Our goal is to help our clients get the resources that they need to live a more comfortable and better life. Service dogs can be a part of the solution. Our staff is familiar with the process to obtain the service dog and can assist you every step of the way. We then will attempt to maximize the value of your injury claim.
If you or a loved one has been injured in a personal injury accident, please contact us for a free consultation.