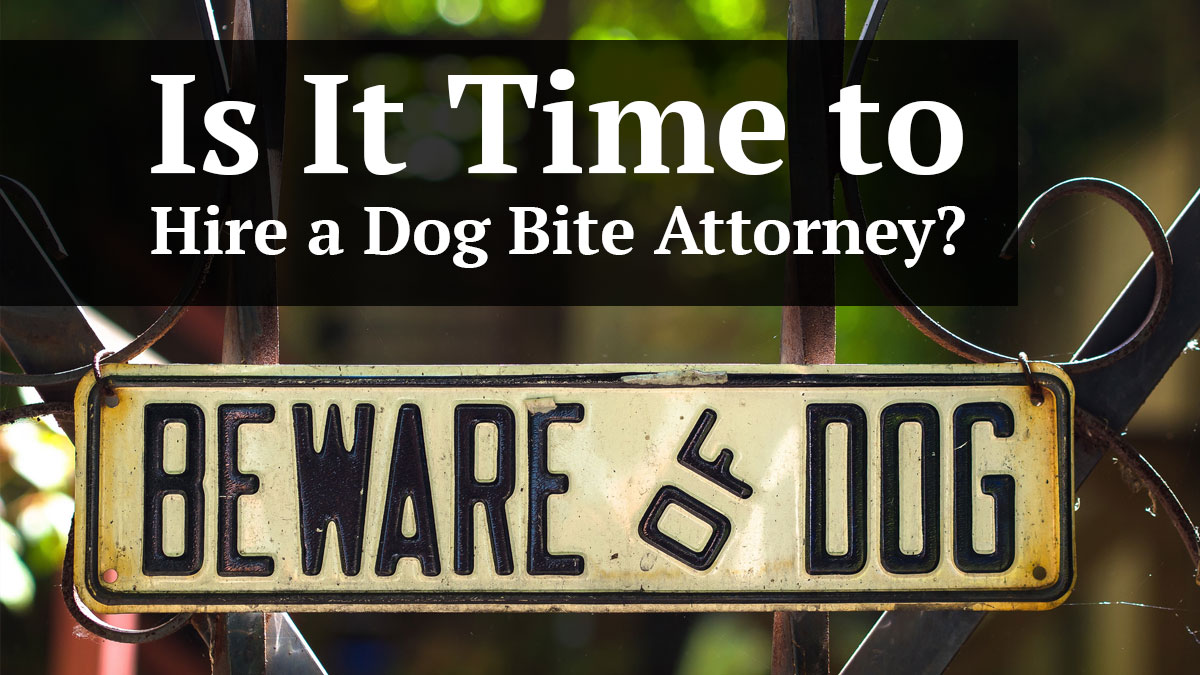 The vast majority of animal attacks in Florida are caused by dogs. Dog bites are often tragic events, especially when the victim is a child. Fortunately, Florida law protects victims of dog bites in a manner that is rare throughout the United States. In most jurisdictions, the victim cannot recover unless the dog has previously been violent and has bitten someone before. This is often called the one-bite rule. Florida is different because the owner of a dog that bites someone is liable regardless of whether it is the dog has ever been violent before. Florida law imposes the highest level of liability against the owner of a dog. This is called strict liability and is governed by Florida Statute 767.04. Strict liability laws allow the victim of a dog bite to recover compensation much more easily. All that needs to be proven is that a dog bite occurred.
However, dog bite cases are often challenging due to the relationship between the dog owner and the victim of the dog bite. At St. Petersburg Personal Injury Attorneys McQuaid & Douglas, we have handled countless dog bite cases over the years. We have found that the majority of dog bite cases are from dogs that are owned by neighbors, friends, and relatives. Additionally, most victims of dog bites are children. Because of these relationships between the dog owner and the victim, authorities are less likely to be called. This lack of documentation at the time of the incident leads to more difficulty proving the claim at a later date. Also because of the relationships involved, victims are less likely to notify the insurance company and speak to dog bite lawyer. Again, this delay often leads to difficulty in setting up the claim, proving what happened and maximizing the recovery of damages.
Defenses to Dog Bite Claims
There are certain defenses to dog bite claims that an experienced dog bite lawyer will be able to help you navigate. First, if you were not lawfully on the dog owner's property when you were bitten, you may be prevented from bringing a claim. Second, there may be a defense if the victim provoked the dog prior to the bite. This is normally what is called comparative negligence, meaning that the amount of damages are reduced by the percentage of fault. Lastly, if the owner had signs posted that included the words "Bad Dog" or "Beware of Dog" there may be a defense. This defense does not apply to a child under the age of 6, however since it is assumed that a child may not be able to read or understand such a sign.
How to Recover Compensation After a Dog Bite
Most homeowner's insurance policies cover injuries from dog bites. Some even have coverage to pay for medical bills. This coverage is also called med pay.
In order to prevail on your claim for dog bite injuries, you must establish your claim by a preponderance of the evidence. A preponderance simply means that it was more likely than not that you have proven your case.
Most dog bite claims are resolved by filing a demand with the homeowner's insurance company for the dog owner. This demand outlines the reasons why there are liability and damages. Types of damages that can be recovered after a dog bite include medical bills, future medical costs, lost wages, and pain and suffering. Many dog bite injuries result in scarring or disfigurement in some manner and that is factored into the demand. Once the demand is received by the insurance company, there is normally a period for negotiation. If an agreement can be reached at this point, then the case is over. Most dog bite cases end in a negotiated settlement. However, there are times that liability is in dispute or the parties cannot agree on the amount of damages. In these situations, you then have the option to file a lawsuit and press your case toward a jury trial. Most insurance companies do not want a case to end in a jury trial because the damages associated with a dog bite claim can be large and the law favors the victim.
Hire an Experienced Dog Bite Lawyer
At St. Petersburg Personal Injury Attorneys McQuaid & Douglas, we can handle any type of dog bite injury claim. We have vast experience in negotiating with insurance companies and settling claims favorably for our clients. We also have a track record of holding insurance companies' feet to the fire when they do not do the right thing or are not fair with their offers to settle.
Importantly, we understand when a dog owner is a friend, neighbor or relative affects the handling of a case. We handle all of our dog bite cases professionally and as quickly as possible. In these instances, we try to make our injury claim against the insurance company rather than against the individual. We do not try to take money out of the pockets of your friends or neighbors when we make our claim against the insurance company.
If you have any questions about a dog bite claim, we offer free consultations. While we hope that you or your child is never bitten or attacked by a dog, we are always ready to help if you find yourself in this unfortunate situation.
Contact a Personal Injury Attorney
If you or a loved one have been injured in an accident, then you should take the proper measures to ensure you receive the compensation you deserve. Contact St. Petersburg Personal Injury Attorneys McQuaid & Douglas today and speak with an attorney. For over 60 years our firm has been successfully helping people who have been injured due to someone else's carelessness. We have been nationally ranked for decades by US News and World Reports as a Tier 1 law firm, which is the highest ranking that can be received. Sean McQuaid and Jonathon Douglas have dedicated their careers to continuing the firms legacy of superior legal representation.
Remember that we never charge a fee, unless we win. Call us today at 727-381-2300 so that we may answer your questions, help you navigate the complexities of insurance claims, and recover the compensation that you deserve.
We work hard to make sure each and every client gets the attention that they deserve. We appreciate feedback from our clients and reviews are validation of our work. Every 5-star review that we receive lets us know that our services were appreciated by our clients.
St. Petersburg Personal Injury Attorneys McQuaid & Douglas
5858 Central Ave suite a, St. Petersburg, FL (727) 381-2300
5 out of 5 based on 20 reviews
Sean McQuaid and Jonathon Douglas were voted best personal injury attorneys in Saint Petersburg, Florida for 2019.