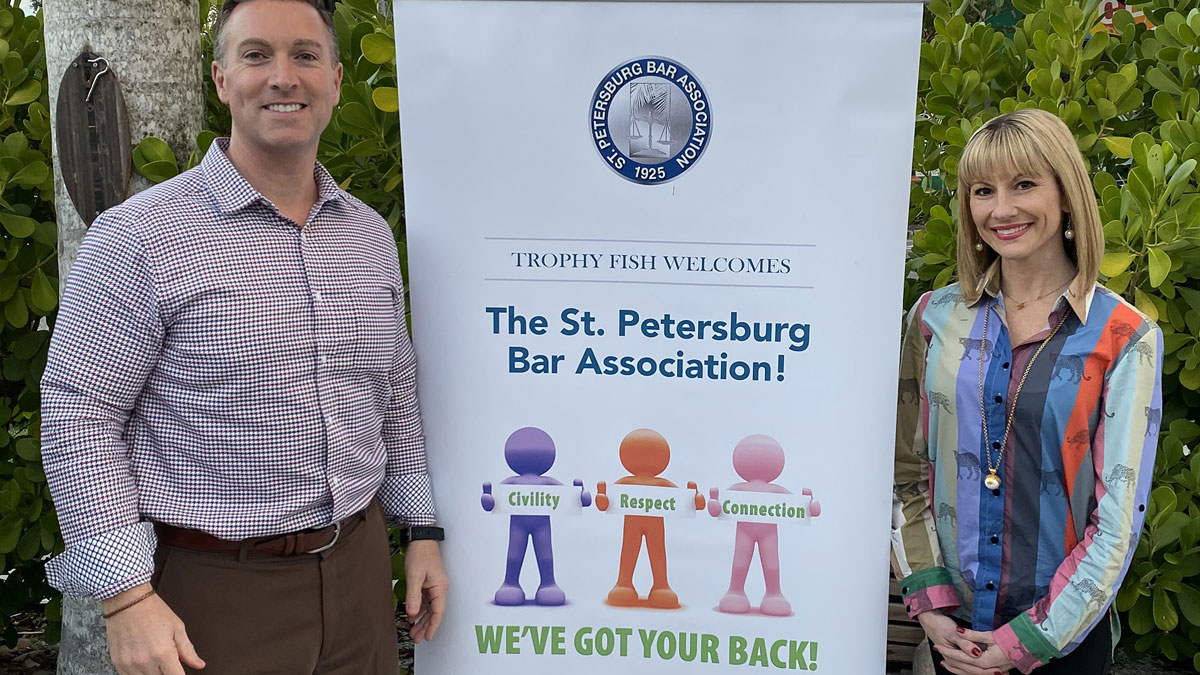 Sean McQuaid, President-Elect of the St. Petersburg Bar Association, and Rachel Drude-Tomori, Executive Committee member of the St. Petersburg Bar Association, attended a mid-week happy hour at Trophy Fish following their monthly board meeting. This year's Association theme is "We've got your back" which focuses on civility, respect, and connection among the Bar's members.
This year, our law firm is proud to have three of its lawyers on the executive committee of the St Pete Bar. Sean McQuaid is President-Elect, and Rachel Drude-Tomori and Andrew Pardun are on the Executive Committee. That makes three of the 12 members of the committee are our lawyers. The Association has 1,100 member throughout the region. These members are both judges and lawyers. The organization is responsible for coordinating information to these members. It is a massive undertaking, but there are many people who are dedicated to helping.
Sean McQuaid has a long history of service to the community. He served two terms as a member of the Executive Committee before being elected as President of the Association. He takes over as President on May 27, 2020 and will serve for one year. Before being involved with the Association, Mr. McQuaid served two years as Chair of the City of St. Petersburg Nuisance Abatement Board. He served one four year term on the judicial nominating commission for the 6th Judicial Circuit. He was President of the Harbor Isle Homeowner's Association in St. Petersburg and served on the Executive Committee for the Suncoast Chapter of the Make-A-Wish Foundation.
Sean McQuaid specializes in personal injury law in Florida and the Tampa Bay region. He has been recognized by virtually every lawyer ranking organization as being a premier lawyer in his field. Among his practice areas are car and auto accidents, premises liability claims, wrongful death claims, motorcycle accidents, bicycle accidents and slip and fall claims. His practice is broad and he is known for being a trial attorney.