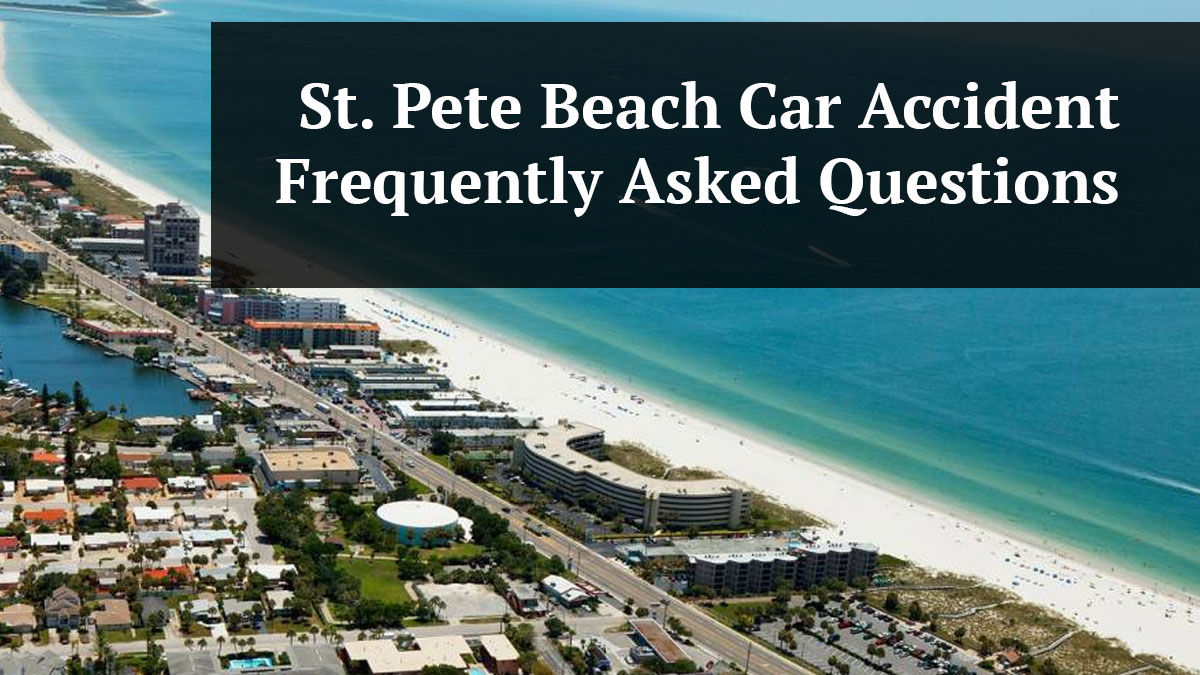 St. Pete Beach is a relatively safe city compared to the rest of Pinellas County. But, that does not mean that there are not serious car and pedestrian accidents all along Gulf Blvd. Because Gulf Blvd. has so many hotels full of tourists and so many condominiums filled with elderly drivers, accidents can occur. When people are injured in a car accident due to the carelessness of another driver, they inevitably have many questions about what to do next.
At St. Petersburg Personal Injury Attorneys McQuaid & Douglas, we are geographically the closest law firm to St. Pete Beach with the quality of lawyers and resources necessary to handle these claims. We are located at 5858 Central Ave suite a, St. Petersburg, FL 33707, which is about 5 miles or a 10-minute drive away. Our firm has been representing people injured on St. Pete Beach for over 60 years with an unmatched record of success. The purpose of this article is to provide answers to questions that injured people may have in their time of need. I hope that it will serve as a resource in the aftermath of an unexpected and unfortunate car accident.
When Should I Get Medical Care After the Car Accident?
You should always seek medical treatment as soon as you feel pain. If you need to go to a hospital, Palms of Pasadena is only minutes away. If your injury does not rise to the level of needing care at a hospital, then try to go to a walk-in clinic or urgent care center. There are several options for urgent care nearby. If your pain takes a few hours or even until the next day to set in, then immediately schedule an appointment with a doctor who specializes in car accident injuries. Remember that your primary care doctor or family doctor will not treat a car accident injury, so do not waste time trying to see him or her. The bottom line when it comes to treatment is to always err on the side of caution. Get checked out for your own physical health. The bonus to being safe is that you will help increase the value of any injury settlement if you do not delay in being checked out.
How Will I Pay for My Medical Bills?
In Florida, you are required to cover $10,000 of PIP or no-fault car insurance benefits. Your medical bills, whether they be at a hospital, urgent care, chiropractor, or orthopedic doctor, will be paid out of this benefit. So, knowing that your bills are being covered, you should not worry about going out of pocket. You have paid for this insurance, so do not feel guilty about using it.
If your injuries are serious to the point that your $10,000 of insurance is exhausted, you have options. You will need to speak to your doctor and your car accident lawyer about which direction to take. But, if you have health insurance, you have the option of running your bills through it. Or, if your doctor will continue to treat you on a letter of protection, then the bills will be paid out of the settlement. Consult with a lawyer about which option is most appropriate for your case.
Which Insurance Company Should I Speak To?
By law, you only have an obligation to speak to your own insurance company. You must notify them of the car accident and cooperate with their investigation. The term reasonable time varies, but we generally advise our clients to notify their insurance company within a few days of the accident. If you have hired a car accident lawyer, the lawyer will take over all of the communications with your insurance company. Likewise, your car accident lawyer will notify the insurance company for the driver who injured you not to contact you.
When Should I Call a Car Accident Lawyer?
I recommend speaking to a lawyer as soon as possible. The insurance companies are very fast to get to work and most people have no idea what type of landmines they are stepping on in the first few days after the accident. I always like to get involved as quickly as possible to control the flow of information to the insurance companies and to make sure my clients are set up with quality medical care. There are a lot of medical providers that handle car accident injury claims who are only interested in billing your car insurance. I do my best to steer my clients away from unscrupulous medical providers and toward those who can be trusted and are local.
How Much Does a Car Accident Lawyer Charge?
Injury cases from car accidents are handled on a contingency basis. This means that the lawyer is only paid if money is recovered for you. Thus, there is no risk to pay a lawyer out of pocket. The fee that is charged is typically ⅓ of the total recovery. This fee is standard in the industry and will be the same regardless of the firm that you choose. Therefore, if you are going to pay a ⅓ fee, you might as well hire the best firm possible and one where you will actually get to know and like your attorney.
Contact a St. Pete Beach Car Accident Lawyer
There can be countless questions after a car accident on St. Pete Beach and my office is designed to assist our clients throughout the process. Car accident claims can take several months depending on the injury and can be stressful for people. We pride ourselves on being available to our clients and developing personal relationships with our clients. When a lawyer knows a lot about you and cares about your well-being, that is a great advantage when relaying how the accident has affected you to the insurance company. At St. Petersburg Personal Injury Attorneys McQuaid & Douglas, we are not a mill where you will never speak to your lawyer. We provide personalized attention to every case and have the legal knowledge and experience to handle any type of injury claim occurring on St. Pete Beach. We specialize in these accidents and you can count on us to be there for you in your time of need. If you have any questions regarding a car accident on St. Pete Beach, please contact us for a free consultation.