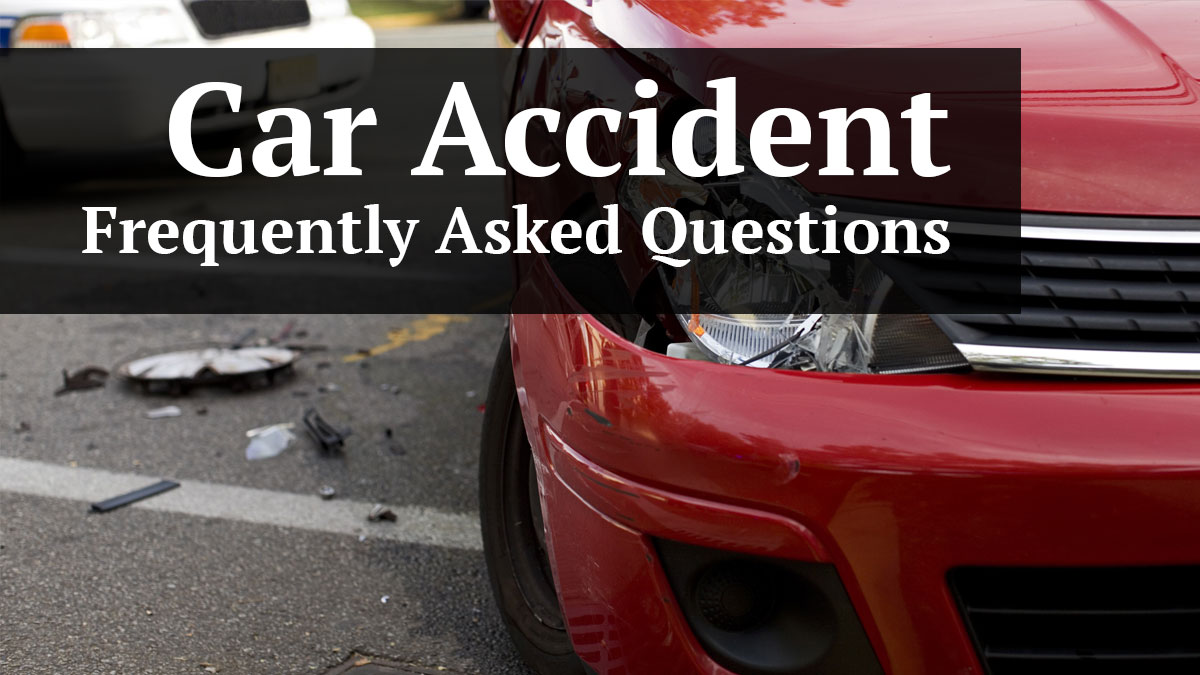 As a St. Petersburg personal injury attorney, we get many questions after a car accident. The following will attempt to answer some of the most frequently asked questions concerning car accidents, to provide a resource for those in this unfortunate situation.
Should Police Be Called After Every Car Accident?
There is no requirement to contact the police as long as there were no reported injuries and the damage to any vehicle does not exceed $500. See Florida Statute 316.065. However, it is always safer to contact law enforcement than to rely on the word of the other driver. First, an insurance company has no obligation to follow through with what the driver told you. And, second, if you do not call the police, the insurance company will automatically think that you must have thought the accident was minor and will treat it as such.
If You Get a Ticket After a Car Accident, Does It Mean That You Are At-Fault?
Normally, if you received a ticket for causing the accident, making a claim for injuries can be more difficult. But, because most accidents involve some portion of shared blame, it is not impossible. For example, I recently had a client who was rear-ended by another vehicle. Law enforcement cited my client for causing the accident claiming that he had changed lanes and thus, caused the accident. We took the case and began to investigate. We believed our client but recognized that a police officer investigated and determined he was at fault. While we began to challenge the ticket, the insurance company for the driver who rear-ended our client accepted 70% of the fault for the accident.
How Do Medical Bills Get Paid After a Car Accident?
In Florida, all medical bills up to $10,000 are to be covered through PIP, or no fault. If you did not have insurance or your bills exceed the $10,000, then you first must look to the at-fault party to pay the bills. If the at-fault party was uninsured or underinsured, then you look to your own car's insurance for UM coverage.
How Do the Damages to My Car Get Paid?
The at-fault driver's insurance is the first company you should contact about getting your car fixed. However, if the other driver did not have insurance, your car insurance will cover the cost. Of course, if your car insurance pays, you will be responsible for the deductible. In some situations, my clients do not feel comfortable with the other driver's insurance company and prefer that their own company handles the claim. In this scenario, your insurance company will recover the cost of the repairs and the deductible against the other driver's company.
What Exactly Is a Bodily Injury Claim?
A bodily injury claim is a claim that you make to recover damages for your injury, pain, and suffering after a car accident. Under Florida law, you must have a permanent injury in order to assert a claim. The definition of a permanent injury is pretty broad but can include broken bones, a scar, or any injury that requires a surgical procedure. Examples of permanent soft tissue injuries are bulging discs, herniated discs, and even sprains.
If I Was Working at the Time of the Car Accident, Can I Still Make a Claim?
If you were working at the time of the car accident, you have the option of getting treatment through worker's compensation. You also have the option to get treatment through the doctor that you select. You will make a claim for your injuries like in any other car accident case. The claim starts against the at-fault driver's insurance and then you look toward the employer's uninsured or excess insurance policy. If you do treat through worker's compensation, a lien is asserted against your recovery to reimburse the medical bills that were incurred.
What Is an Uninsured Motorist Claim After a Car Accident?
An Uninsured motorist claim is also called an underinsured motorist claim or UM. This claim is possible if you have purchased car insurance coverage to protect you if the driver who caused the accident does not have any or does not have enough insurance to compensate you for your damages.
How Long After a Car Accident Should I Report It to My Insurance Company?
By contract, you must report it to your car insurance company within a reasonable amount of time. However, I recommend reporting the incident as soon as possible to set up the claim. There is no need to get into detail about your injuries at this initial stage, but never report that you are fine if you feel any pain or discomfort.
If you have been injured in a car accident in St. Petersburg, I encourage you to contact our office to have any additional questions answered. Our consultations are free of charge. If you retain our office to handle your car accident claim, all of our cases are on a contingency. This means that you do not pay us unless we recover money on your behalf.