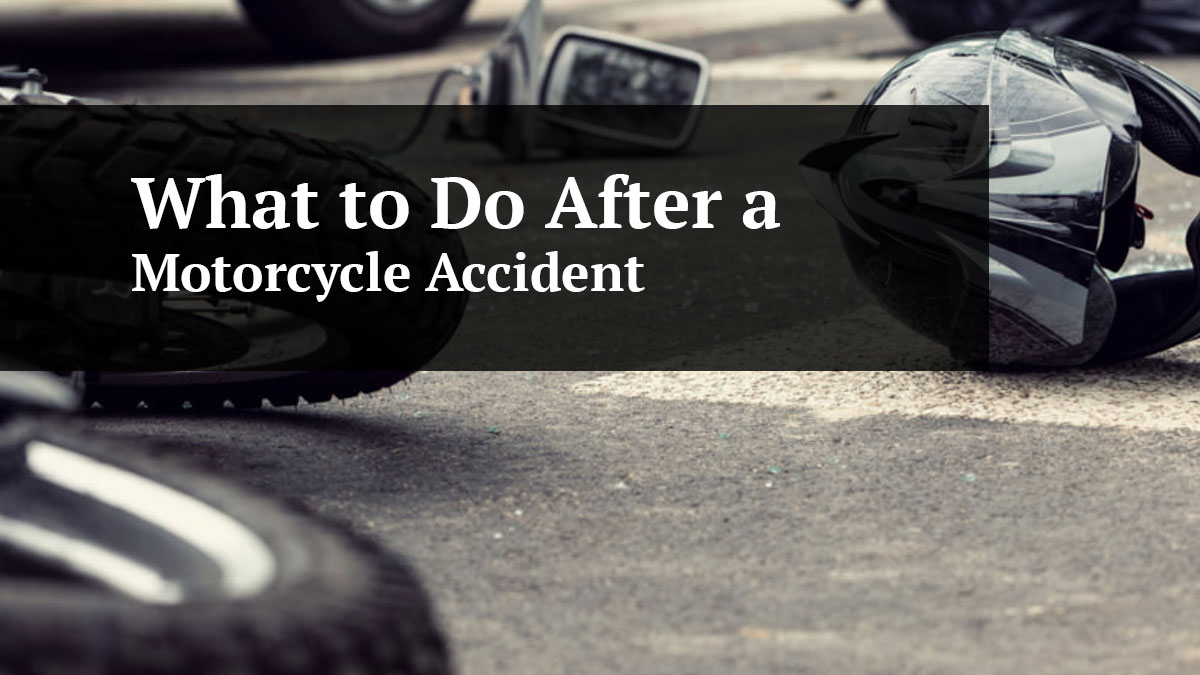 If you have been involved in a motorcycle accident, it is a good rule of thumb to seek medical attention as soon as possible unless you are sure that the crash was extremely minor. Most motorcycle accidents are so severe that they warrant emergency medical attention at a hospital. Common injuries from motorcycle accidents are road rash, broken bones, concussions, and back and neck problems. If you have gone to an emergency room or urgent care center after a motorcycle accident, it is important to take certain steps to get the proper care and lay the foundation for a possible injury claim.
Give as Much Detail as Possible to Those Caring for You After a Motorcycle Accident:
It is extremely important that the nurses and doctors treating you know as much as possible about the motorcycle accident. It is also important that the records that are created after your visit are accurate. Insurance companies will scour these records looking for inconsistencies between what is noted in the original records versus what is noted the next time you see a doctor. So, it is important that you provide details about not only your injuries but how the accident occurred. For example, if you were wearing a helmet or other protective gear, mention it to the nurses so that it can be documented. I also recommend not to be brave or tough with the medical staff. It is human nature to downplay the severity of injuries, but the details are important for two reasons. First, it assists in getting you proper health care, and second, if you don't make mention of the injury, it doesn't make its way into the records and you will not be compensated for same.
Speak to the Police After a Motorcycle Accident:
If you were transported to the hospital after the arrival of the police, there still may be unanswered questions about the cause of the motorcycle accident. I recommend fully cooperating with the police regardless of the pain or discomfort you are in. Answering a few questions at the hospital can potentially change the perspective of the officer and alter the investigation regarding fault. I have found it is always in your best interest to give your side of the story.
Pull Your Medical Records After a Motorcycle Accident:
Once you have been discharged, you will be sent home with some vague discharge instructions. Those instructions are normally worthless and printed off some form that could apply to anyone. However, it is always helpful for your motorcycle accident lawyer to see the medical records from your visit. It is much easier for a patient to get the records directly than for a law firm. So, it helps if you can pull those records and bills to provide them to your next doctor and your lawyer.
Start a File on the Accident:
Good organization will not only help you to provide information to your treating physicians but will also assist your lawyer in the preparation of your claim. It is helpful to keep claim information, accident reports, driver exchanges, and other correspondence together for easy retrieval.
Contact a Lawyer After a Motorcycle Accident:
If you have been injured in a motorcycle accident due to the negligence of another, you will want to speak to a motorcycle accident lawyer immediately to set up a claim. Any time that goes by without the guidance of an experienced lawyer can lead to problems that will be exploited by insurance companies when it is time to make a demand. Hopefully, you never are victimized in a motorcycle accident, but if you are, perhaps these tips can assist you through the difficult process.
Contact a Motorcycle Accident Injury Attorney
If you or a loved one have been involved in a motorcycle accident, then you should take the proper measures to ensure you receive the compensation you deserve. Contact St. Petersburg Personal Injury Attorneys McQuaid & Douglas today and speak with an attorney. For over 60 years our firm has been successfully helping people who have been injured due to someone else's carelessness. We have been nationally ranked for decades by US News and World Reports as a Tier 1 law firm, which is the highest ranking that can be received. Sean McQuaid and Jonathon Douglas have dedicated their careers to continuing the firms legacy of superior legal representation.
Remember that we never charge a fee, unless we win. Call us today at 727-381-2300 so that we may answer your questions, help you navigate the complexities of insurance claims, and recover the compensation that you deserve.
We work hard to make sure each and every client gets the attention that they deserve. We appreciate feedback from our clients and reviews are validation of our work. Every 5 star review that we receive lets us know that our services were appreciated by our clients.
St. Petersburg Personal Injury Attorneys McQuaid & Douglas
5858 Central Ave suite a
St. Petersburg, FL 33707
(727) 381-2300