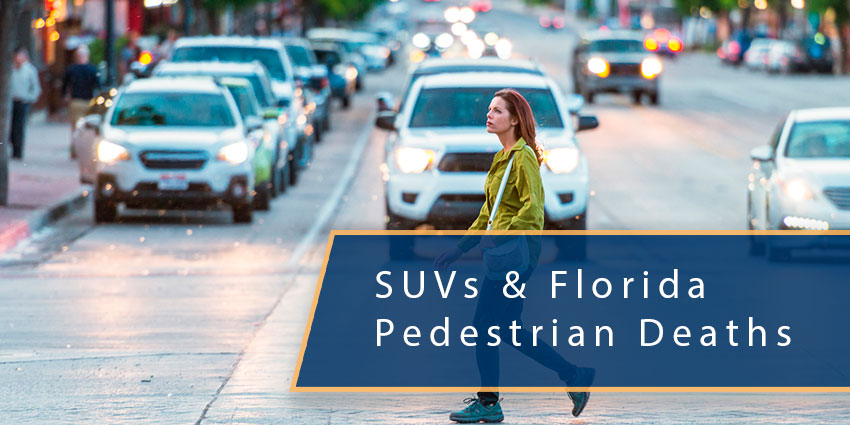 According to a 2019 Governors Highway Safety Association Report, Florida accounts for a substantial number of pedestrian deaths in America. It's one of five states that account for nearly half of all deaths across the country.
According to the 2019 report, there were nearly 6,590 pedestrian deaths in Florida that year. That was the highest number of pedestrian deaths in 30 years. Moreover, SUVs are more likely to cause pedestrian deaths than regular passenger cars. In fact, pedestrians are almost three times as likely to suffer fatal injuries after getting struck by an SUV. And Children are almost eight times more likely to die if they are hit by an SUV versus a regular car.
The devastating correlation between SUVs and deadly pedestrian accidents is a public safety risk. That's why it's important to educate the public and help keep pedestrians safe. Fatal pedestrian accidents are not just a concern in Florida but across the country too. In 2020, the number of pedestrian deaths was 46% higher than in 2011. That means pedestrian deaths are at an all-time high right now.
In this article, we will discuss some statistics on pedestrian accidents and what to do if you or a loved one is involved in one.
Are Suvs More Likely to Strike Pedestrians Than Small Cars?
Yes. SUVs, pickup trucks, and minivans have a higher likelihood of striking and killing pedestrians than regular passenger vehicles. This is especially true if the truck, SUV, or pickup is making a turn or the pedestrian is walking along the side of the road.
SUVs are more likely to hit pedestrians due to their design. Since they are larger vehicles, drivers have bigger blind spots and less visibility of pedestrians. The connection between SUVs and pedestrian fatalities is not new data. The National Highway Traffic Safety Administration (NHTSA) released data as early as 2015 to conclusively show that pedestrians are much more likely to die if hit by an SUV or pickup truck. Ironically, in the same year, SUVs reached record sales, outselling four-door sedans for the first time ever.
The research is detailed; SUVs are more likely to hit pedestrians, and pedestrians are more likely to die when hit by an SUV. SUVs, pickups, and minivans account for 70% of all motor vehicle sales in today's auto market. With more SUVs on the road, that is a higher probability of pedestrian fatalities from SUVs.
Facts About Pedestrian Deaths
In 2020 there were 6,515 pedestrian deaths in the US.
Pedestrian accident deaths rose 4% from 2020 to 2021 in the US. 2021's pedestrian deaths were the highest recorded number since 1989.
Vans are 45% more likely to hit pedestrians than smaller cars.
SUVs are 61% more likely to hit pedestrians than smaller cars.
Pickup trucks are 80% more likely to hit pedestrians than smaller cars.
Passenger vehicles account for the largest number of pedestrian crashes. However, pedestrian fatalities from SUVs have been increasing at a more rapid rate (81%) than smaller cars (53%) since 2018.
Most deadly pedestrian crashes take place on local roads.
Nighttime pedestrian fatalities are more common than daytime.
A substantial number of pedestrian fatalities take place away from intersections. This suggests there is a need for safer road crossings and increased efforts to make pedestrians more visible.
The most common cause of pedestrian crashes is negligent driving behaviors such as:

Speeding
Distracted driving
Drowsy driving
Drunk driving (alcohol impairment by the driver or pedestrian was reported in over half of all pedestrian traffic fatalities in 2018)

In 2011, pedestrian deaths made up about 16% of all traffic fatalities. In 2020, pedestrian deaths made up over 20% of all traffic fatalities.
Pedestrian deaths in urban areas have risen by 61% since 2011.
SUV and Florida Pedestrian Accident Statistics
A study from the Insurance Institute for Highway Safety shows that Florida pedestrian deaths have risen 59% since 2009.
According to Florida Highway Safety and Motor Vehicles, there were 9,524 pedestrian crashes in Florida in 2021. Of those, 838 involved pedestrian deaths.
SUVs in Florida are twice as likely to kill a pedestrian than regular cars.
In the past 10% years, nighttime pedestrian fatalities have increased by 67%. Daytime pedestrian fatalities have increased by 16%.
Research from a recent SUV-specific study suggests that:

An SUV traveling between 20-39 mph is 30% more likely to result in a pedestrian fatality (versus 23% for passenger vehicles).
When SUVs travel above 40mph, almost all crashes result in a fatality (versus 54% for regular cars)
Why Are SUVs More Deadly to Pedestrians in Florida?
The size and shape of SUVs make them more likely to severely hurt or injure pedestrians they strike. Furthermore, the design of an SUV makes it more likely to strike a pedestrian in general. The A-pillars that slope to support the windshield create bigger blind spots for drivers.
Due to the bigger blind spots. SUV drivers making left turns to pose a higher risk to pedestrians than smaller cars.
Fatal Pedestrian Accidents With SUVs at Florida Intersections
SUVs are about 23% more likely than cars to hit pedestrians while making a left turn at an intersection. What's more, most pedestrian deaths at intersections happen when a vehicle is making a left turn. SUVs are 93.6% more likely to kill a pedestrian from turning at an intersection than regular cars. Pedestrians are less likely to die from a right-turning vehicle.
Florida Pedestrians Walking or Jogging Are at Higher Risk of Being Hit by an SUV
In addition to intersections, pedestrians running or jogging along the side of the road are at risk of being struck by an SUV, van, or pickup. It might seem safer to walk on the shoulder of the road, but they are less visible to drivers. Pedestrians walking on the side of the road get struck more in rural areas.
Recent Cases of Deadly Florida Pedestrian Accidents
Florida is sadly well acquainted with fatal pedestrian accidents. Here are a few recent fatal pedestrian accidents that occurred within the past year:
February 2023 – A pedestrian was crossing US highway 90 and was struck by an SUV. The SUV struck the pedestrian and then veered off the roadway and flipped. The driver was not injured, but the pedestrian was pronounced dead at the scene.
January 2023 – A pedestrian was crossing a highway and was hit by an SUV. The 68-year-old man walked into the path of the SUV and died at the scene.
November 2022 – A pedestrian died after being struck and dragged by an SUV. The Tampa accident happened around midnight when a man was initially hit by a car. Other drivers and witnesses stopped to help him when an SUV struck the victim and dragged him for a short distance. The pedestrian was taken to a hospital but died shortly after.
Solutions to Help Prevent Fatal SUV and Pedestrian Collisions
Here are some tips from the IIHS to help prevent fatal pedestrian collisions with SUVs:
Design improvement – better roads, sidewalks, and crosswalks with pedestrian safety in mind will help pedestrians safer
Drivers should follow the speed limit, and law enforcement should enforce it.
Improved lighting near roadways for pedestrians at night.
Vehicle design upgrades to help downsize blind spots and lessen the force of impact when an SUV hits a pedestrian.
Offering incentives for drivers to opt for smaller, pedestrian-friendly vehicles.
Contact a Florida Pedestrian Accident Lawyer
Our legal team can help you hold negligent drivers accountable. Whether an SUV driver failed to check their blind spots, was speeding, or engaging in some other reckless driving behavior, we can help. Or, if you lost a loved one to a fatal pedestrian accident, you might be able to file a wrongful death claim.
We offer a free intial case review so contact us today.