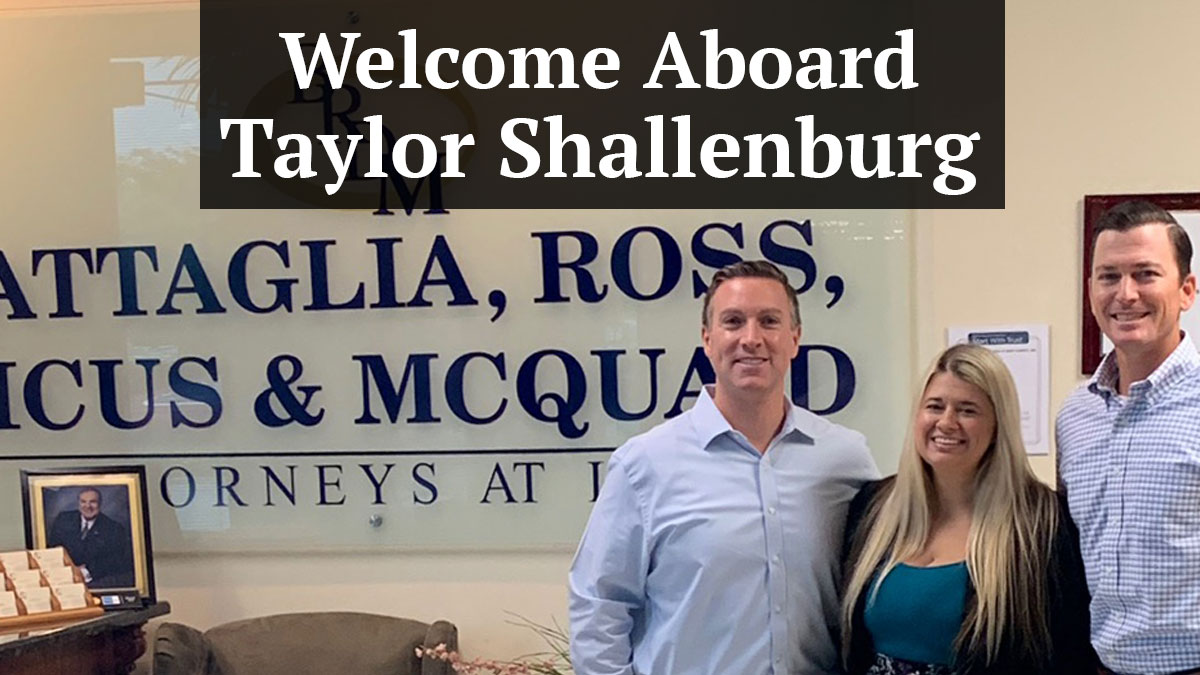 St. Petersburg Personal Injury Attorneys McQuaid & Douglas today announced Taylor Shallenburg has joined our division as the Personal Injury Department Case Manager/Paralegal. Taylor will focus on the management of all of the pre-litigation personal injury, car accident, truck accident, motorcycle accident, Uber and Lyft accident, premises liability, dog bite, and other personal injury cases.
Taylor is a Florida native who was born and raised in St. Petersburg. She attended St. Petersburg Catholic High School followed by St. Petersburg College. She is married with two young children and enjoys spending her leisure time with her family. Taylor is an active member of Grace Lutheran Church and has been working as a paralegal for 13 years.
"The Firm is extremely excited to have Taylor Shallenburg join the team. Her exemplary experience and reputation represent the continued growth in talent and legal services we provide to our clients" said Firm President, Aubrey Dicus.
Battaglia, Ross, Dicus & McQuaid, P.A. was established in 1956 by founding partner, Anthony S. Battaglia. For over 60 years, The Firm has provided personal, timely and cost-effective representation to individuals and businesses in St. Petersburg, as well as in the state of Florida and throughout the U.S. Named "One of the best law firms in America" by U.S. News, The Firm was a Tier 1 law firm in their category of Metropolitan law firms. The Firm focuses on civil and commercial litigation, personal injury, wrongful death, property insurance claims, business and personal transactions, appellate law, employment law, alternative dispute resolution, wills, trusts and probate, real property and title insurance, as well as all criminal defense matters.
Contact a Personal Injury Attorney
If you or a loved one have been injured in an accident, then you should take the proper measures to ensure you receive the compensation you deserve. Contact St. Petersburg Personal Injury Attorneys McQuaid & Douglas today and speak with an attorney. For over 60 years our firm has been successfully helping people who have been injured due to someone else's carelessness. We have been nationally ranked for decades by US News and World Reports as a Tier 1 law firm, which is the highest ranking that can be received. Sean McQuaid and Jonathon Douglas have dedicated their careers to continuing the firms legacy of superior legal representation.
Remember that we never charge a fee, unless we win. Call us today at 727-381-2300 so that we may answer your questions, help you navigate the complexities of insurance claims, and recover the compensation that you deserve.
We work hard to make sure each and every client gets the attention that they deserve. We appreciate feedback from our clients and reviews are validation of our work. Every 5-star review that we receive lets us know that our services were appreciated by our clients.
St. Petersburg Personal Injury Attorneys McQuaid & Douglas
5858 Central Ave suite a, St. Petersburg, FL (727) 381-2300
5 out of 5 based on 20 reviews
Sean McQuaid and Jonathon Douglas were voted best personal injury attorneys in Saint Petersburg, Florida for 2019.