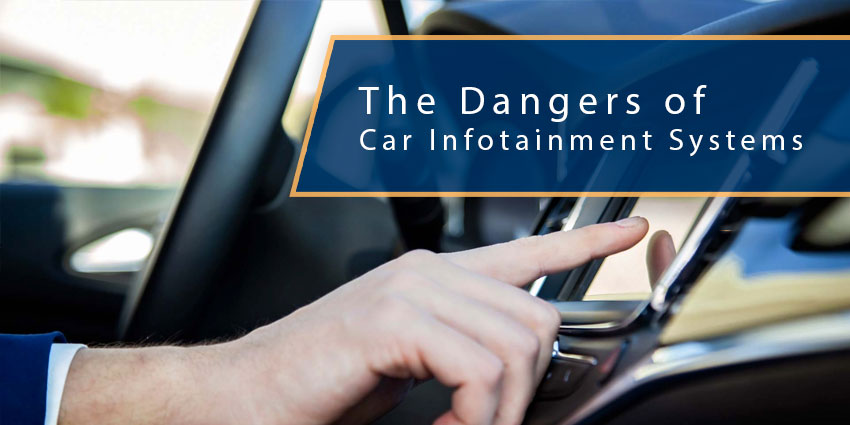 The functionality of car infotainment systems grows every day, from navigation and location services to the ability to talk, text, call, Zoom, and even to watch movies. Designed with the intention of making driving safer, these systems have done just the opposite and increased the danger of distracted driving. And as the technology in cars continues to advance, more and more functions to operate the vehicle are being added to these systems, replacing traditional buttons and dials. Many cars now use the infotainment system to control things like the stereo system, climate control, mirror, and steering wheel adjustments, just to name a few. How is a driver supposed to keep their attention on the road when automakers are designing cars that require you to look away from the road just to operate the vehicle? In making vehicles that are more technologically advanced, car manufacturers have made driving more distracting, according to the most recent research.
Infotainment System Studies
IAM Roadsmart conducted a study that found that touch-based car infotainment systems resulted in the most significant delays in reaction time, by far. Drivers who used touch infotainment systems had slower reaction times than drunk drivers, drivers using marijuana, or drivers manually texting with their phones. Using an infotainment system increased the reaction time of a driver by an alarming 53-57% (depending on the type of infotainment system.) While the reaction time of drivers manually texting increased by 35%, drivers using marijuana had a 21% increase in reaction time, and drunk drivers saw a reaction time increase of 12%.
AAA conducted a similar study, testing 30 vehicles and their infotainment systems. All thirty vehicles failed. Not one vehicle produced a low level of demand for the driver's attention. The task of using the native navigation system in the car took, on average, 33 seconds to complete. A driver that looks away from the road for 48 seconds while traveling 25 miles per hour will be essentially driving blind the length of 4 football fields.
In addition to slower reaction time, infotainment systems can distract a driver causing them to miss visual cues as a result of less scanning of their surroundings, including other drivers, pedestrians, traffic signals, and emergency vehicles, just to name a few. And even those systems that are voice-activated and hands-free still require the driver's cognitive attention. When you consider taking your eyes off the road for just 2 seconds doubles the risk of being in an accident, why would anyone use an infotainment system while driving, which visually and mentally distracts a driver for 40 seconds, on average?
Distracted Driving
If you were injured in an accident that involved a distracted driver, here are some things you should know. Florida's 'no-fault' liability law requires anyone involved in a motor vehicle accident to first file a claim with their insurance provider and utilize the benefits provided through that policy. However, if you suffered a serious injury and are able to prove the other driver was negligent due to distracted driving, you may be able to recover compensation for your losses. To prove that a distracted driver was liable for the injuries you suffered as a result of the accident, it must be clearly shown that the driver was engaged in some activity that took their attention away from the road. This can be difficult to do if you were not in the car with the driver at the time of the accident. Although difficult, it can be done, and here are just a few examples of how.
Perhaps there are one or more witnesses who saw the driver clearly not paying attention to the road and engaged in some other activity that distracted the driver before the accident.
Another way to support your claim for negligence and prove liability is from the information in the police report. It may contain information about activity that the driver was engaged in immediately before the collision. For instance, if the other driver admitted to being distracted or the officer discovered an exchange of text messages on the driver's infotainment system log just before the accident, this would strongly support your assertion of negligence.
And, if the police ticketed the distracted driver, it may help prove they violated their duty of reasonable care to you and other drivers on the road.
In the event of a death resulting from an auto accident with a distracted driver, the infotainment system records may be admissible as evidence in any proceeding to determine if a violation was committed and determine liability.
In these cases, you should hire a knowledgeable personal injury attorney who will protect your rights and work to get the compensation you deserve. Your attorney can subpoena the other driver's infotainment system records to prove the driver was engaged in some other activity, driving distracted and violated their duty of reasonable care.
Contact a Personal Injury Attorney Today
If you or a loved one has been injured in an accident, then you should take the appropriate steps to ensure you receive the compensation you deserve. Contact a trusted, respectable personal injury attorney today.
For over 60 years our firm has been successfully helping people who have been injured due to someone else's carelessness. We have been nationally ranked for decades by US News and World Reports as a Tier 1 law firm, which is the highest rank that can be received. Sean McQuaid and Jonathon Douglas have dedicated their careers to continuing the firm's legacy of superior legal representation.
Remember that we never charge a fee unless we win. Call us today so that we may answer your questions, help you navigate the complexities of insurance claims, and recover the compensation that you deserve.
We work hard to make sure each and every client gets the attention that they deserve. We appreciate feedback from our clients and reviews are validation of our work.
Every 5-star review that we receive lets us know that our services were appreciated by our clients.