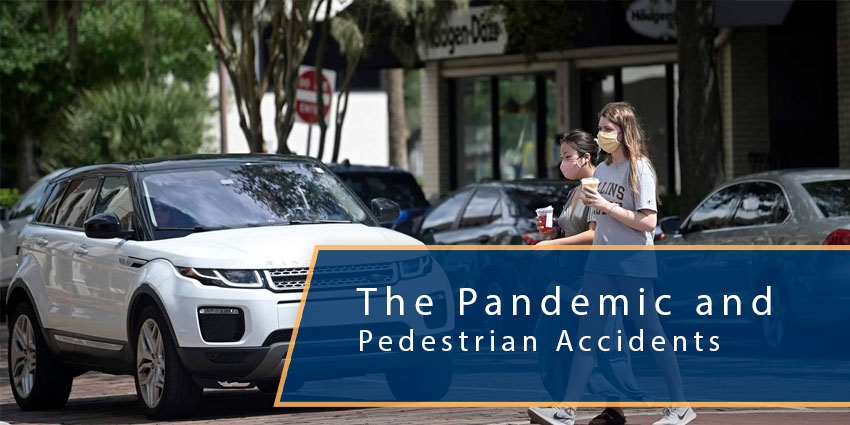 Florida is the No. 1 state for pedestrian fatalities, according to the Smart Growth America and the National Complete Streets Coalition. Is the spike in pedestrian accident fatalities a result of the pandemic? Read on to learn what recent trending data tells us.
Robert Schneider, a University of Wisconsin-Milwaukee professor who researches sustainable transportation, explains that the spike in hit-and-run deaths and traffic deaths could be tied to the decline in public transportation services starting in 2020 when the pandemic struck the world. At the start of the pandemic in 2020, public transportation riders dropped an overwhelming 79% compared to 2019, and the transit agencies cut back service by more than 65%.
A substantial percentage of the people utilizing public transportation are individuals who are not legally permitted to drive on the roads. This may be because they do not have a driver's license or had one and it has been suspended or revoked. This is usually due to a failure to obey traffic laws, such as driving under the influence, reckless driving, or a combination of incidents that add points to their license, resulting in revocation of their rights to operate a motor vehicle.
Other contributing factors include byproducts of the pandemic such as increased anxiety and stress levels, increased drinking habits, and weakening social norms. Some authorities believe that the common perception that cars have become safer due to advancing technology, with features like backup cameras, auto lane correction, etc., some drivers feel bolder and dismiss the risks to other drivers and pedestrians. Not to mention that people are just plain fed up, and when you get angry in the car, one way to deal with that energy and anger is to put your foot down on the accelerator.
Additionally, Russ Martin, the senior director of policy and government relations for the Governors Highway Safety Association, said the pandemic may have exacerbated long-term trends that have been making the nation's roadways more dangerous for walkers. Drivers are using bigger and heavier vehicles, while states and local governments have built streets that encourage fast vehicle travel over safety, he said.
In the United States, over 70,000 pedestrians are injured each year, and more than 4,000 are killed in pedestrian accidents. This is an enormous number when you consider that only 11% of all travel is by foot but pedestrians are involved in 13% of accident-related deaths.
90% of those injurious and fatal pedestrian accidents are caused by just a few contributing factors, and they are almost always a result of negligence on the part of the driver. The most common causes of serious pedestrian injuries include drivers that fail to stop at stop signs or traffic lights. But when it comes to distractions playing a part in pedestrian accidents, texting is becoming increasingly common as one of the top reasons. Drivers are paying more attention to their phones than to the pedestrians on the roadways. Drivers that are not paying attention to their surroundings, those under the influence of a substance, or drivers that are speeding, also contribute to the rise in pedestrian fatalities.
What to Do if You Are Involved in a Pedestrian/Vehicle Accident
If you are a victim of a pedestrian/vehicle collision, you may be able to seek compensation for your losses. After an accident, there are certain actions you should always take, to ensure your safety, the safety of others, and to protect your rights.
1. Call the Police or Local Law Enforcement
If you are involved in a 'significant' pedestrian / vehicular accident in Florida, you are legally required to report the accident to the police. An accident resulting in financial losses of $500 or more is considered 'significant'.The police officer will complete an official police report, which identifies the parties involved, the location of the accident, relevant details about the scene, and the vehicle involved. The report will also include any witnesses to the accident as well. Police will collect evidence and look for any impairment from those involved in the accident, such as alcohol or drug consumption, which may prove pivotal in your claim. Police officers will listen to statements and include in the record their conclusion as to how the accident occurred. The official police report can be crucial in any personal injury claim.
2. Get Medical Attention
Get medical attention for your injuries as soon as possible. Most accidents between a pedestrian and a car result in injuries, usually severe injuries. Even if you are not experiencing
pain or there are no obvious injuries, it is always wise to be examined by a doctor as soon as possible. Nothing is more important than your health.
Another important reason to get medical care right away is that the insurance company will look at how quickly you sought medical care after the car accident, as they may believe it is an indication of the seriousness of your injuries.
3. Collect Evidence from the Scene
You should attempt to collect as much evidence as you can after a car accident. Photographs are relied on heavily by insurance adjusters, judges, and juries to determine liability. Be sure to take clear pictures of the accident scene, including the vehicles involved, the surrounding area, crosswalks, and traffic signals and signs. Take pictures from several locations so that you capture different angles of the collision.
Take pictures of your injuries, and when possible, the injuries of any other party involved.
4. Keep Records
It is important to understand that you must provide evidence that supports your claim for damages in order to recover compensation. Evidence is usually demonstrated with photographs and documentation. The following documents are some of the key items you should gather:
All medical-related records, including doctor's appointments, treatments, therapy, medications, surgeries, and hospital visits. Be sure to include the associated bills and insurance statements.
Keep records of how the incident impacts you and your family's daily life, such as missed workdays, and routine activities that you can no longer undertake.
5. Contact a Personal Injury Attorney
If you have been involved in a pedestrian accident in Florida, please do not wait to
get the straightforward legal advice you need. Contact McQuaid & Douglas, trusted,
respectable personal injury attorneys, who will fight for the full and fair compensation you deserve.
We are here to answer all the questions you may have and explain the options available to you. We will provide you with the best advice for your specific situation, and can even help you find doctors, therapists, rehabilitation services, and counseling for you and your family if needed.
For over 60 years our firm has been successfully helping people who have been injured due to someone else's carelessness. We have been nationally ranked for decades by US News and
World Reports as a Tier 1 law firm, which is the highest-ranking that can be received. Sean McQuaid and Jonathon Douglas have dedicated their careers to continuing the firm's legacy of superior legal representation.