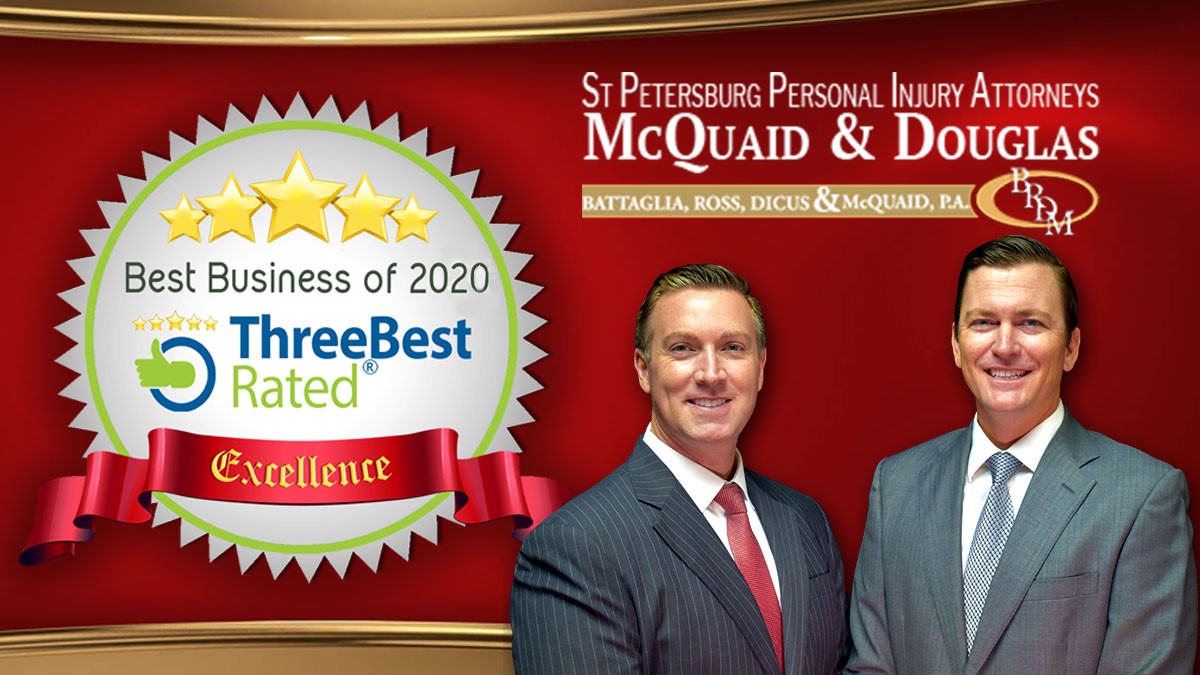 Awarded Best Personal Injury Lawyers in St Petersburg, FL for the third year in a row!
Sean McQuaid and Jonathon Douglas have again been selected for the "Top 3 Personal Injury Lawyers in St Petersburg" by ThreeBestRated.com® for 2020.
This honor is based in part upon Sean and Jonathon's continued success in handling car accident, truck accident, motorcycle accident and other personal injury claims in the Tampa Bay area and across Florida. Just as impressive, Sean and Jonathon have close to 100 five star reviews on Google and countless other flattering reviews on Facebook and Yelp. Sean and Jonathon are dedicated to personal attention for their personal injury clients and the clients clearly appreciate their efforts.
Jonathon and Sean have developed a successful and growing personal injury practice with multiple office locations. Their main office is in St Petersburg. They pride themselves on having great communication with their clients. They answer all questions in a straightforward manner. They look out for their clients' best interests and always protect them. For example, many clients get worried about how their medical bills will be paid at the conclusion of the claim. Sean and Jonathon make sure that the medical bills are repaid out of the settlement and the client never is responsible to pay anything out of pocket. This team of successful lawyers has contributed greatly to the community. If you have been injured due to no fault of your own, please contact them for a free consultation.
Sean McQuaid has had an eventful year and this accolade comes after many other forms of recognition. He became the President of Battaglia, Ross, Dicus & McQuaid, PA., which is the oldest law firm in St. Petersburg. Founded in 1958 by Anthony Battaglia, the law firm has a broad range of practice areas. Sean McQuaid manages the personal injury and criminal law departments. In addition to his law practice, Mr. McQuaid has also been elected as the 96th President of the St. Petersburg Bar Association for 2020-21. This organization consists of 1,100 lawyers and judges whose mission is to serve the legal community, strengthen the noble calling of the practice of law and to foster excellence in the profession. Mr. McQuaid will be focusing on how technology has affected the practice of law, wellness, increasing diversity of the membership, and increasing referrals among the members. Mr. McQuaid is AV rated by Martindale-Hubbell, named to Florida Trend Legal Elite, Florida Super Lawyer, among numerous other accolades for the year.
About Three Best Rated®
Three Best Rated® was created with the ambitious goal of finding the top 3 local businesses, professionals, restaurants, health care providers, and everything in-between, in any city across the country. Every business is meticulously handpicked by their employees. They check the business's reputation, history, complaints, ratings, proximity, satisfaction, trust, cost, general excellence, reviews, and more, using a 50-Point Inspection process. They only display businesses that are verified by our employees. Other places will call this "hard work" and "unnecessary". They call it "due diligence" and "the right thing to do". They are proud to list our law firm as the recipient of this accolade for three years in a row.
View the listing of their Top 3 Personal Injury Lawyers in St Petersburg
What Should You Do If You Have Been Injured In An Accident?
Most people have never been injured in an accident and have no idea how to find a personal injury attorney in St. Petersburg. Over the years, we have handled every type of claim imaginable. While no two cases are the same, the process about what to do after an accident is remarkably similar.
First, contact law enforcement or make a report of the accident. Having an independent investigation of the cause of the accident is very important. The investigation will determine fault and speed up the claims handling process.
Second, document the scene of the accident. If it was an auto accident, take photos of the vehicles and the people who are present. If the incident was at a store or business, take photos of the scene. Additionally, always take photos of visible injuries.
Third, obtain contact information for any witnesses. Once a witness leaves the scene without providing his or her information, that witness is lost forever. Therefore, protect yourself and simply get a name and phone number.
Fourth, seek medical treatment as soon as possible. If you need emergency care, go to a hospital or urgent care center. Try to avoid being taken by ambulance if you have alternate transportation. Some people make the mistake of waiting to see if their injuries will heal before seeking medical treatment. Unfortunately, if you delay treatment, the insurance company will devalue your claim. They will argue that you must not have been injured that badly if you waited to be seen. Therefore, get checked out and then get treated by a specialist as soon as possible, Do not give the insurance company any excuse to pay you less than what you deserve.
Fifth, report the incident to your insurance company. This applies to auto accidents. You have an obligation to report the accident within a reasonable time and to cooperate with their investigation. And no obligation to speak to the insurance company for the at-fault driver. As well as you have no obligation to get into details about your injuries or to give a recorded statement to anyone before you speak with an attorney.
Finally, you should seek a consultation with a personal injury attorney. In the days after the accident, you may be contacted by several insurance representatives. They are not your friends and do not have your best interests in mind. They will not advise you about what you should be doing to maximize your claim. Only a personal injury law firm can answer your questions and then advise whether you have a viable claim to bring for damages.
We hope that this list will clarify any urgent questions you have, but feel free to contact us with any follow-ups.
Call for Free Consultation or Questions 727-381-2300.