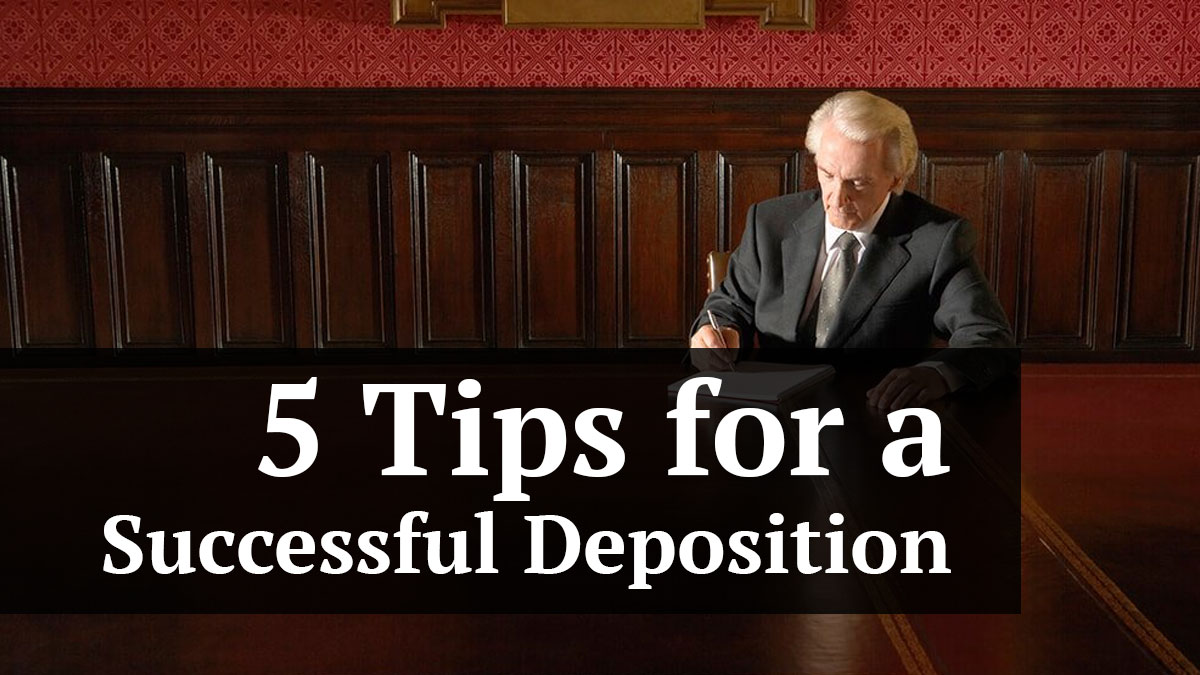 As a St. Petersburg Personal Injury Attorney, I constantly have to prepare my clients for depositions taken by insurance defense lawyers. A deposition is a discovery procedure where a person is asked a series of questions under oath. Depositions are standard in every personal injury case. Depositions only occur after a lawsuit is filed. If your lawyer tells you that the insurance lawyer wants to take your deposition, don't panic. Most depositions are painless if you are prepared for it.
I always like to prepare my clients by reviewing their medical bills, medical records, and any written answers (interrogatories). Most insurance defense lawyers ask the same type of questions or at least questions in the same areas. But, their styles are different and there are tips that can improve your experience and increase the value of the case.
Why Do They Take Depositions?
Keep in mind that the defense lawyer does not control how much money is offered to settle a case, The insurance adjuster holds the purse strings and ultimately makes the decisions on how much to offer. So, the lawyer is just a tool of the insurance company to gather information and report back. Your goal as the person being deposed is to get the insurance lawyer to give a good report back to the adjuster. Preparation is important for being able to relay the correct answers, but much of the deposition is based on much more than that.
How to Act at a Deposition?
I tell my clients that they need to keep in mind that no matter what the questions are or how ridiculous they may be, to stay likable. The insurance lawyer is going to report back to the adjuster about whether you appeared credible and whether you would be liked by a juror. So, it is fine to charm the insurance lawyer…within boundaries. My partner and I chuckle about a young man we represented who told the female lawyer at his deposition that he was single and ready to mingle. Somehow, we were still able to resolve his case, but I think he took my advice to charm the lawyer a little too literally. My advice is to be polite at all times and do not give off poor body language. Most depositions of plaintiffs last an hour to an hour and a half. But, the length of the deposition really depends on the lawyer. Just last week, I sat in on three depositions of my clients. The first two were taken by an older male lawyer who methodically went through his questions. I have had other cases with this lawyer and he asked the exact same questions, so I was able to prepare my clients very well. Since they were so prepared and the lawyer knew exactly what he was looking for, they each lasted about an hour. These depositions were contrasted by the third deposition which was taken by a young female attorney. I could tell immediately that this young lawyer did not know what she was doing when within the first 5 minutes she asked for the names and ages of each of the client's siblings. She went on to ask him if he had any pets. When he responded that he only owned a parakeet, she asked for the name of the bird. She also went on to ask him for at least 30 minutes about what exercises he did at the gym and his diet. The questions were mostly irrelevant and at breaks, the client and I readily recognized that she must have been new to insurance defense. But, since we both wanted the good report back to the insurance adjuster, we decided to be patient and deal with it. Needless to say, the deposition lasted for 2.5 hours. But, the client was polite and patient and certainly got a good report.
Depositions are important parts of cases and can change its direction. But knowing what an insurance defense lawyer is seeking in a personal injury case can greatly improve the chances of settlement. Hopefully, these tips and examples can give a better glimpse of what occurs at a personal injury deposition and help your preparation.
Contact a Personal Injury Attorney
If you or a loved one have been injured in an accident, then you should take the proper measures to ensure you receive the compensation you deserve. Contact St. Petersburg Personal Injury Attorneys McQuaid & Douglas today and speak with an attorney. For over 60 years our firm has been successfully helping people who have been injured due to someone else's carelessness. We have been nationally ranked for decades by US News and World Reports as a Tier 1 law firm, which is the highest ranking that can be received. Sean McQuaid and Jonathon Douglas have dedicated their careers to continuing the firms legacy of superior legal representation.
Remember that we never charge a fee, unless we win. Call us today at 727-381-2300 so that we may answer your questions, help you navigate the complexities of insurance claims, and recover the compensation that you deserve.
We work hard to make sure each and every client gets the attention that they deserve. We appreciate feedback from our clients and reviews are validation of our work. Every 5-star review that we receive lets us know that our services were appreciated by our clients.
St. Petersburg Personal Injury Attorneys McQuaid & Douglas
5858 Central Ave suite a, St. Petersburg, FL (727) 381-2300
5 out of 5 based on 20 reviews
Sean McQuaid and Jonathon Douglas were voted best personal injury attorneys in Saint Petersburg, Florida for 2019.