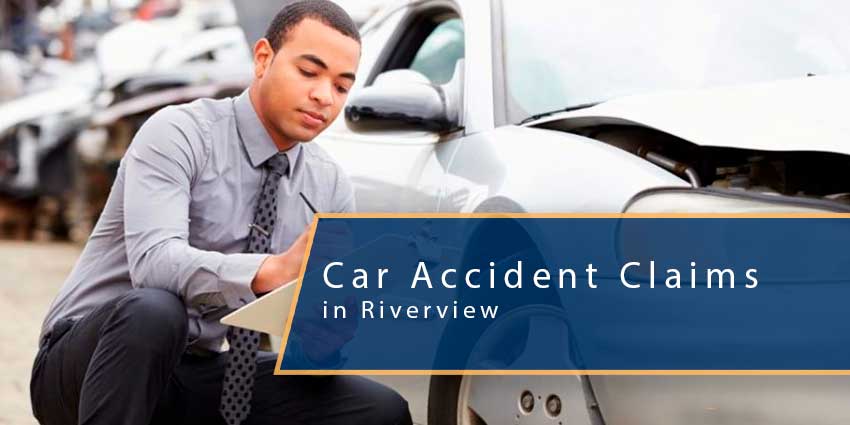 I have seen every type of car accident in Riverview. From rear end crashes to t-bone collisions to hit and runs, accidents happen. When someone is injured as a result of a car accident, that's where I come in. My job is to answer my client's questions and guide the case toward the best possible result. We try to settle the cases without filing suit, but you never can predict what the insurance company will do. Because many cases are similar, I have put together a list of tips to help my clients through the process of making a car accident injury claim in Riverview. I hope that it helps.
Always Call the Police To Report the Car Accident in Riverview
Even if you think you can trust the driver that caused the accident, you still need to call the police. You will likely be dealing with the Hillsborough County Sheriff's Office or the Florida Highway Patrol. It is important to call law enforcement because the person's insurance company is who makes the call on the accident, not the driver. I know it is tough to understand, but the driver has very little input. Thus, it is important that the accident is documented by the police and fault is determined. I know you might feel guilty about the other person getting a ticket, but it is the insurance company that you just can't trust.
Make Sure Witnesses Speak To the Police
If there were people at the scene who saw the car accident, either get their contact information or make sure that they speak to the police. I have heard so many times clients tell me that there were witnesses at the scene, but they left because the police took too long to get there. If the witnesses leave and we can't find them, they are useless. So, always take the extra step to protect yourself.
Take Photos at the Scene of the Car Accident in Riverview
Photos of the damage to the cars is extremely important. The photos taken at the scene will be used all throughout the claim and in any lawsuit. Make sure that you take multiple photos of all of the cars involved. If it is dark and you can't get photos at the scene, take them as soon as you get home or as soon as it is light out. The insurance companies rate the extent of the damage. If your photos are good and the damage is clear, then you will have really helped your case.
Go to the Hospital
I always recommend erring on the side of caution and going to the hospital. St. Joseph's Hospital South is a fantastic new hospital in Riverview. Since it opened in 2015, it is clean and convenient. I highly recommend that anyone injured nearby go there and get checked out. Not only will it give you peace of mind, it will help your car accident claim. Insurance companies value cases more highly if someone has gone to the hospital. That's just a fact.
Don't Give a Recorded Statement to the Insurance Company
Every insurance company tries to lock you in as soon as possible. They all try to convince you to give a recorded statement. Every one of them, even your own company. You should know that you have no obligation to say anything to the company for the at fault driver. While you may have an obligation to speak to your own insurance company according to your contract with them, you also can have a lawyer present. One of the biggest tricks that insurance companies try to do is to limit your injuries from the start. For example, they might ask you to list where you have been injured. If you forget one body part, they will use that recorded statement against you to claim that you are lying. It is unfair and tricky, which is why you simply can't give them anything to use against you.
Get Medical Treatment From a Car Accident Injury Specialist in Riverview
One of the biggest mistakes that people make is by trying to see their family doctor for car accident injuries. Inevitably, it takes a couple of days to get an appointment. Then, immediately before the appointment, the doctor's office calls you to cancel claiming that they don't handle car accident injuries. By then, you have lost a few days and then have to scramble to find someone else. Through no fault of your own, you have delayed getting treatment and your case will have suffered. It doesn't matter if you try to get treatment and can't-all that matters to the insurance company is that you went days without treatment. They will argue for the rest of the claim that you couldn't have been that badly hurt.
Don't Have Gaps in Your Medical Treatment After the Car Accident
Having gaps in your medical care after a car accident in Riverview is an unforced error that will cost you money. Car insurance companies use gaps and delays in treatment to deduct value. Their rationale is that if you are skipping or missing appointments, you must not really need the medical treatment. Therefore, it is extremely important that you make your appointments and follow your doctor's advice strictly.
Speak to a Car Accident Lawyer in Riverview as Soon as Possible
My general rule is that the sooner that you speak to a car accident attorney, the better. I am sometimes called from the scene of an accident before the police even get there! But, the importance of speaking to a lawyer is that you get the answers and information that you need to make good decisions. The first few days after an accident are the most important in the entire case. Setting up the claim, getting liability established, and finding the right medical team are all vital. The sooner that I can get involved in a claim, the better our chances to have a successful result.
Contact Personal Injury Attorneys McQuaid & Douglas
If you are the victim of a car accident in Riverview, I can help. My office is on 301 and is very convenient to get to. I know the local doctors to send you to and how to deal with the insurance companies. I can help manage all of the important decisions in your case and take the burden off you while you get better. If you have questions, please contact my office for a free consultation.