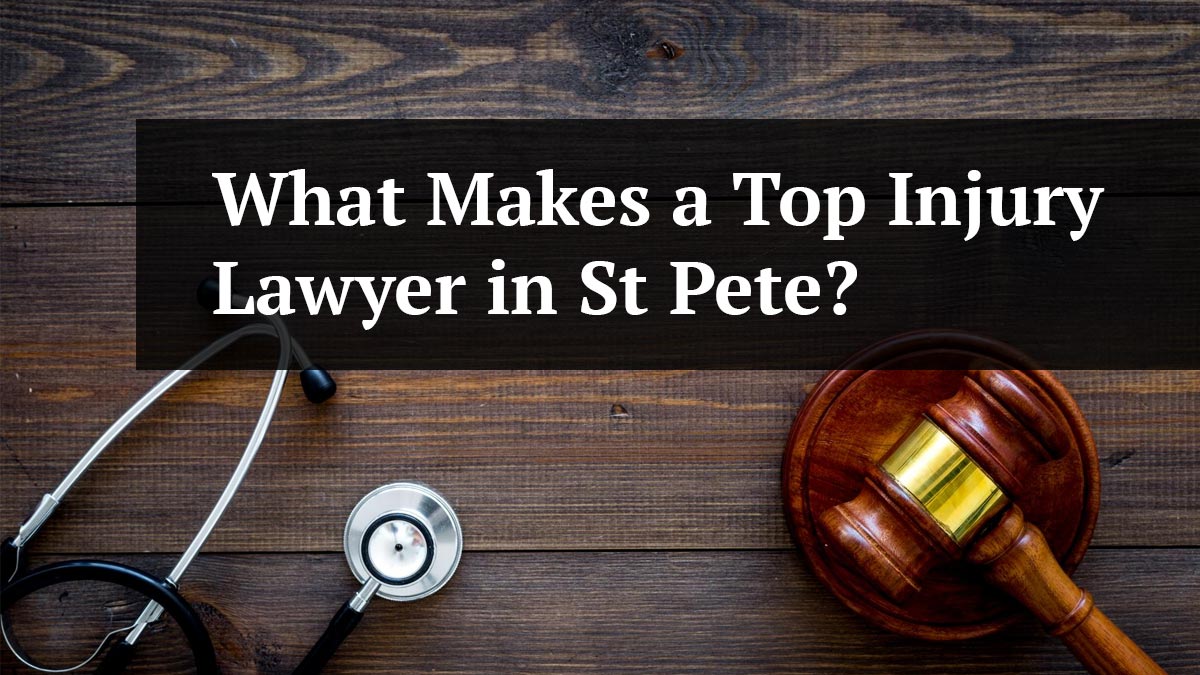 The following tips, on how to find a top injury lawyer in St. Pete, are intended to assist potential clients in making the correct choice of a lawyer. Lawyers who handle car accidents cases and other personal injury matters all have different backgrounds and styles. They are educated differently, trained by different types of lawyers and have experience handling different types of cases. The top injury lawyers for personal injury cases in St. Pete may depend on countless different factors.
Are There Top Injury Lawyers at Firms Who Advertise?
There are certainly excellent lawyers in St. Pete who advertise on buses, on television, and on billboards. However, in order to pay for the expense of the advertising, there must be concessions. For example, firms who spend a great deal of money on advertising must have a high volume of cases. The higher the volume, the faster and more regularly the cases can be settled in order to pay for the next monthly advertising bill. When that advertising bill comes due, it must be paid, so there must have been cases that settled the previous month. The tradeoff is that many of these firms settle their cases before the case is ready to be resolved or accept an offer without pressing the matter appropriately. This inevitably leaves the client with less money for their St. Pete accident case. Another tradeoff when hiring a St.Pete accident lawyer who spends a lot on advertising is that the lawyer rarely has contact with the client. This is a symptom of the need for high case volume. These firms have most, if not all, of the client contact done through a case manager or paralegal. In these situations, the lawyer never gets a feel for the case, the injuries and how the accident has truly affected the client. Not being able to relate to a client's situation when speaking to another lawyer or insurance adjuster is never in the client's best interest. Again, the client is left in a position where he or she is receiving less for a case and likely never even know it.
How Do the Top Injury Lawyers Handle Their Cases in St. Pete?
There are several approaches that the top injury lawyers in St. Pete utilize to benefit their clients. Communication with a client is perhaps the most important part of any injury case. Knowing what the injuries are and how the client's medical treatment is going gives the lawyer vital information in order to quarterback a case. Many clients lose contact with their lawyers and cases easily flounder or the bills get so high that a settlement is impossible. The top injury lawyers in St Pete realize that preventing problems in order to streamline a case is in everyone's best interest.
Another factor that makes a top injury lawyer in St. Pete is the lawyer's ability to aggressively push a case when the other side is being unreasonable. Many lawyers in St. Pete do not file lawsuits or go to court. So, when a case is unable to be settled, the lawyer has two options; refer the case to another lawyer who knows how to go to court, or dump the case. The insurance companies are well aware of these types of lawyers and certainly do not pay top dollar to their clients. They are actually much more common than one would expect. For some reason, clients never ask about how many times a lawyer has gone to court or how often a lawsuit is filed. Clients believe that just because their friend or relative has had a case settled by a lawyer without having to go to court, they too will have the same experience. However, no two cases are alike and there is no telling how much money the previous client may have left on the table without even knowing. The top injury lawyers in St. Pete always have the ability to file suit and press a case. Being able to go to court and present a client's position always maximizes the value of a case.
What Types of Resources Must a Top Injury Lawyer in St. Pete Have?
A common problem for personal injury lawyers is cash flow. Because personal injury cases do not resolve on any specific timeline, the cash from injury cases varies from month to month. If an injury lawyer has a small law practice, paying wages for staff and other bills can be challenging if the settlements checks are sporadic. Thus, many small firms lack the financial resources or become strained when cases do not settle and have to go to court. When a lawsuit is filed, there are numerous costs that the lawyer must begin to pay. The filing fee is $400 and it costs about another $100 to get service of process on the defendant. Then, the lawyer must pay for service of subpoenas for deposition, must pay for the court reporter and pay for the deposition transcripts. These costs escalate the further the case proceeds. So, even though a lawyer from a small firm may appear to be good, the pressure to resolve a case without having to pay for all of the aforementioned costs may become so great that the lawyer is forced to settle the case for less than it is worth simply to stop the bleeding. Thus, a top injury lawyer in St. Pete must have the financial backing of a firm and resources to be able to challenge massive insurance companies who can outspend a small law firm and crush it into submission.
Hopefully, these tips on how to find a top injury lawyer in St. Pete will assist potential clients in making the correct choice of a lawyer. Please do your research and find out about the lawyer's reputation and record of success. The better the lawyer and firm, the better the chances the client has to recover the most money for the personal injury case.
Contact a Personal Injury Attorney
If you or a loved one have been injured in an auto accident, then you should take the proper measures to ensure you receive the compensation you deserve. Contact St. Petersburg Personal Injury Attorneys McQuaid & Douglas today and speak with an attorney. For over 60 years our firm has been successfully helping people who have been injured due to someone else's carelessness. We have been nationally ranked for decades by US News and World Reports as a Tier 1 law firm, which is the highest ranking that can be received. Sean McQuaid and Jonathon Douglas have dedicated their careers to continuing the firms legacy of superior legal representation.
Remember that we never charge a fee, unless we win. Call us today at 727-381-2300 so that we may answer your questions, help you navigate the complexities of insurance claims, and recover the compensation that you deserve.
We work hard to make sure each and every client gets the attention that they deserve. We appreciate feedback from our clients and reviews are validation of our work. Every 5 star review that we receive lets us know that our services were appreciated by our clients.
St. Petersburg Personal Injury Attorneys McQuaid & Douglas
5858 Central Ave suite a
St. Petersburg, FL 33707
(727) 381-2300