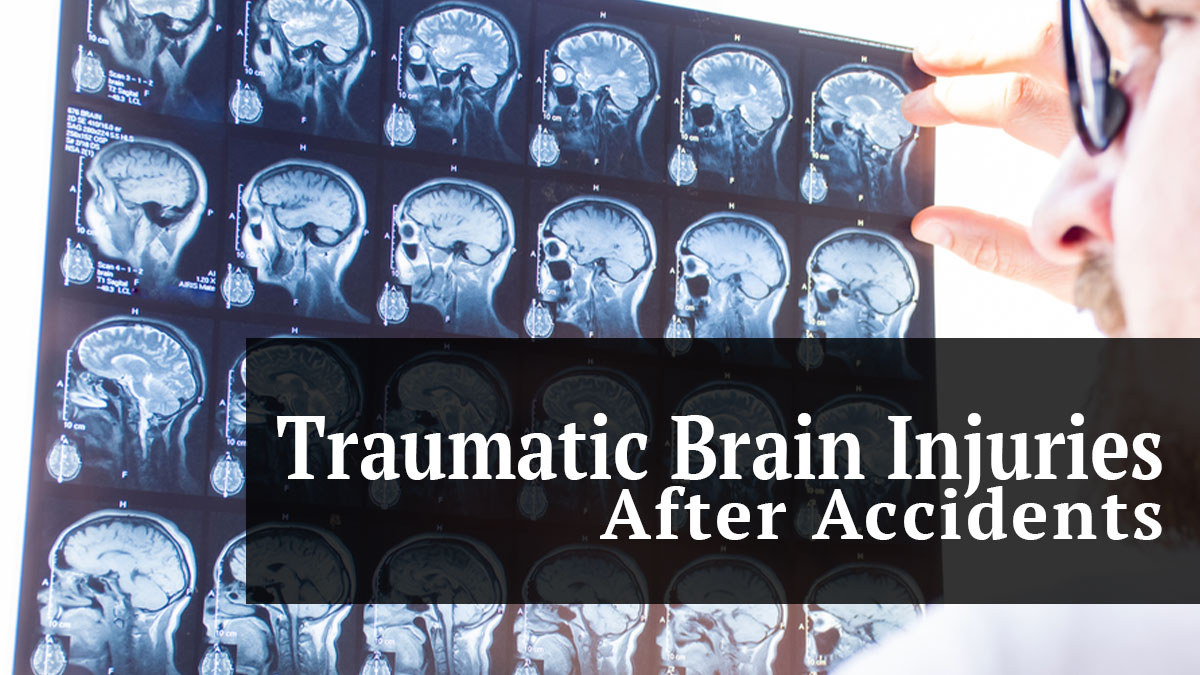 Often referred to as the 'invisible injury,' traumatic brain injuries may seem like nothing until serious symptoms appear over time.
If you or a loved one have suffered a traumatic brain injury after an accident in Florida, then you may deserve significant financial compensation for your damages.
Traumatic brain injuries are often life-changing as you struggle to live and work as you did before.
In Florida, you can file a personal injury claim to get the money you deserve to help you live your life as best as possible. Here's a guide to traumatic brain injuries after accidents and how to file claims:
What Are Traumatic Brain Injuries?
A Traumatic Brain Injury (TBI) is caused by a sudden, violent blow or jolt to the head or body. They can also be caused when an object goes through brain tissue, such as shattered pieces of skull or other debris.
Most traumatic brain injuries affect brain cells temporarily, but more serious cases can cause long-lasting damage through bruising, bleeding and torn tissue. In the worst cases, this can cause disabilities, cognitive impairment, comas or death.
595,000 average annual TBIs are caused by slips and falls. [1]
280,000 caused by being struck by or against something.
292,000 caused in auto accidents.
169,000 caused by assault.
Common Accidents Causing Traumatic Brain Injuries
Sadly, we often see Traumatic Brain Injuries after accidents in Florida. In 2019, there were 61,000 TBI-related deaths in the United States. That's 166 a day. According to the CDC, 35.2% of annual TBIs are caused by falls and 17.3% by motor vehicles.
In Florida, we have seen Traumatic Brain Injuries after the following accidents:
Auto Accidents
Bicycle accidents
Boating accidents
Car accidents
DUI accidents
Electric scooter accidents
Explosions
Falls
Hit and Run accidents
Motorcycle accidents
Pedestrian accidents
Slip and Falls
Truck accidents
Violence or gunshot wounds
Common Symptoms of Traumatic Brain Injuries
Often, we'll meet people who appear perfectly fine when they walk in the room but have been suffering from ongoing symptoms that have significantly impacted their day-to-day life. These include:
Common Symptoms Of Mild Traumatic Brain Injuries
Anxiety or depression
Blurred Vision
Brief loss of consciousness
Changes in taste or smell
Confusion or dazed
Dizziness or balance problems
Fatigue
Headaches
Memory or concentration difficulties
Nausea or Vomiting
Problems with speech
Ringing ears
Sleeping difficulties
Sleeping more than usual
Symptoms of Severe Traumatic Brain Injuries
Agitation, aggression or other unusual behavior
Cognitive or mental symptoms
Coma
Consistent or worsening headache
Dilation of one or both pupils of the eyes
Fluids draining from nose or ears
Loss of consciousness from several minutes to an hour
Loss of coordination
Repeated vomiting or nausea
Seizures or convulsions
Severe confusion
Slurred speech
Unable to wake
Weakness or numbness in fingers
What To Do If You Have Suffered A Traumatic Brain Injury in Florida?
You may not be aware you have suffered a traumatic brain injury. Symptoms don't always appear immediately after the accident. However, if you suspect you have suffered a traumatic brain injury after an accident – seek medical attention immediately. If you've sustained any injuries, or feel different from prior to the accident – see a doctor.
The longer you delay seeking treatment, the greater the chances of developing severe impairments.
It's important for your health and any personal injury claim that you track your health after the accident. It is advised to keep a journal of your day-to-day condition and symptoms, which may reveal a recurring pattern.
Keep all doctor's notes, photos of your injuries and medical bill receipts safely stored to help with any future personal injury claim.
Traumatic Brain Injuries Caused by Auto Accidents
Auto accidents can cause a variety of injuries. The forces and speeds involved can cause violent jolts to the brain and body, collisions with flying debris and more. This can mean TBIs are caused without any direct contact with the head.
If you've been involved in a serious auto accident, it is highly advised to visit a doctor as your injuries may not be visible. Sometimes symptoms may not arise for weeks or months after the crash, so having a doctor check for TBIs could severely reduce the long-term consequences.
How to File a Claim for Traumatic Brain Injuries After Accidents in Florida?
Care for patients with traumatic brain injuries can be expensive.
With an experienced attorney, you can file a personal injury claim for a traumatic brain injury caused by an accident.
Negligence is essential here. That means you need to prove the other party was at fault for the accident. In auto accidents, this may be a result of careless driving, dangerous driving, using a cell phone, or driving while intoxicated.
Regardless of your accident type, contacting a personal injury attorney as soon as possible is strongly advised. They can use their legal expertise to build a solid case, tackle daunting insurance companies and bring you the financial compensation you deserve.
Proving a Traumatic Brain Injury
To prove you suffered a traumatic brain injury after an accident as the result of someone's negligence, you need a medical expert (usually a health care provider) to testify.
If a connection can be made between the accident and the injury, then you may be able to recover compensation for:
Medical bill
Lost wages
Pain and suffering
Loss of future earnings
Loss of ability to function
Loss of spousal companionship
Emotional distress
Your personal injury attorney can put you in contact with trusted medical experts to give a powerful voice on your behalf.
Recovering From Traumatic Brain Injuries After Accidents
Treatment for TBIs varies depending on the severity. Some people must rest at home in bed, while others will need surgery or require treatment to reduce internal swelling. This can take weeks.
In most cases, TBI patients will need:
Physical therapy
Medication
Frequent visits to the doctor
Rehabilitation exercises and more
Contact a Personal Injury Attorney for Traumatic Brain Injuries
If you or someone close to you suffered a traumatic brain injury after an accident, then you deserve to receive compensation for your suffering and financial losses.
Personal Injury Attorneys McQuaid & Douglas have been providing exceptional legal assistance to Florida residents for personal injury claims for decades. As partners at a U.S. News and World Reports Tier 1 Law Firm, Battaglia, Ross, Dicus & McQuaid, P.A., they give you the best chance of receiving the compensation you deserve. Serving the state of Florida with offices in St Petersburg and Riverview, they are here for you.
Contact us today for a free consultation.