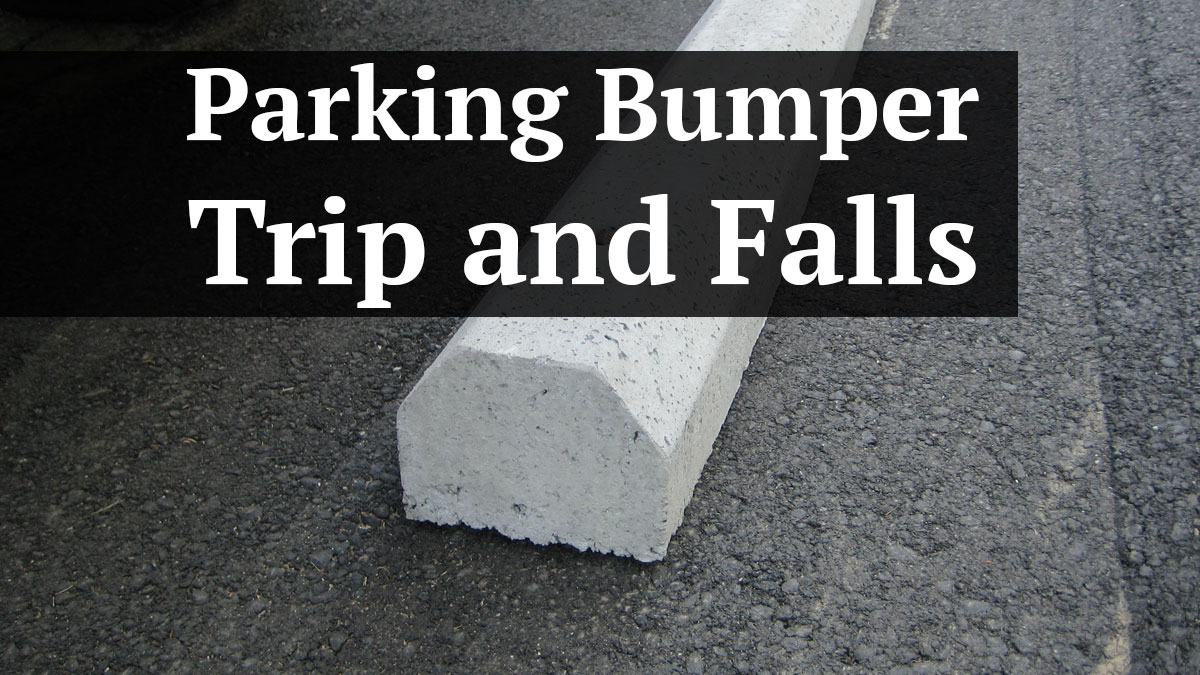 A new premises liability case has established guidelines over when it is proper to sue when one has tripped and fallen in a parking lot over a parking bumper. Parking bumpers are also known as wheel stops, parking curbs or parking blocks. They are placed at the edge of a parking space and are supposed to be a different color than the surface they are placed on. The purpose of a parking bumper is to prevent a car from rolling forward. Because parking bumpers are placed near to where pedestrians are walking, there a huge number of parking bumper trip and fall accidents. Usually, the person who trips lands on a hard surface and is seriously injured. These trip and fall cases fall under the category of premises liability. It means that if a business owns a parking lot and is negligent in some manner, they may be liable to pay for your injuries. The courts in Florida have addressed trip and fall accidents involving parking bumpers in the past and this new case provides much-needed clarity on the subject.
In Parker v. Shelmar Property Owner's Assn., 5th District Court of Appeal Case. No.5D18-2105 decided on June 21, 2019, the appellate court addressed an issue involving a parking bumper aka wheel stop. Ms. Parker was a customer at a business in Oviedo, FL. She tripped on a parking bumper that was placed in the pathway to the business she was visiting. She subsequently filed a lawsuit against the business alleging that it had a duty to maintain the property in a reasonably safe condition. She claimed that the location of the parking bumper in her pathway breached that duty. The business claimed that it had no fault. It said that the parking bumper was in an open and obvious location and that she should have seen it and protected herself.
The case went to a hearing in front of a trial judge in Seminole County. The Motion is called a Summary Judgment. At Summary Judgment, a party can ask a judge to dismiss the case if there are no disputed facts and those undisputed facts establish that one party is entitled to a judgment as a matter of law. In other words, the insurance defense lawyers for the business asked the judge to dismiss Ms. Parker's case. Ms. Parker opposed the motion with pictures of the parking bumper, the parking lot and the entry to the business. She also presented an affidavit from a forensic engineer who said that the parking bumper was in the wrong location and that was a violation of the Florida Building Code. The trial judge did not care and granted the motion for summary judgment and dismissed the case. He felt it was open and obvious and that she should have been more careful. Ms. Parker appealed the decision.
The appellate court looked at a previous case law involving trip and falls over parking bumpers. It looked at a case against Home Depot where a woman tripped and fell over a parking bumper. In Ramsey v. Home Depot, 124 So.3d 415 (Fla. 1st DCA, 2013), a woman did not see a parking bumper because it was the same color as the pavement. But, it was in the correct location and there was no violation of Florida Building Codes. In that case, the court said there specific guideline or regulation that was violated, therefore Home Depot did not violate its duty to maintain the premises in a reasonably safe condition.
But, the appellate court compared the situation in Ramsey to Ms. Parker's situation. Unlike what was alleged in Ramsey, Ms. Parker had a forensic engineer point out the violations of the Florida Building Code and industry safety standards. The appellate court said that the existence of a violation of those standards is prima facie evidence of negligence. It said that because of these issues, the trial judge was wrong and that the lawsuit could head to a jury trial. Therefore, the owner of the parking lot could be held liable for breaching its duty to maintain the premises in a reasonably safe manner.
This decision is helpful for many people across Florida who trip and fall in parking lots over parking bumpers. Again, the court made clear that there must be some violation of a Building Code or an industry safety standard in order for there to be liability. This is why if there has been a trip and fall, it is important to speak to a premises liability attorney who can hire the correct people to analyze the situation.
The interesting part about this case is that our office has previously gone to trial and won a trip and fall case involving a parking bumper. In mid-2000s, one of our clients was walking to take out trash in the parking lot of his apartment complex. It seems that the apartment complex was re-paving the parking lot and had moved some of the parking bumpers into the grass. The grass was so long that it obscured the parking bumpers. Our client tripped and fell over the parking bumper and suffered serious injuries. We made a claim on the insurance company for the complex and they refused to accept any responsibility. Our office went to trial on the case and won a judgment over 1.2 million against the apartment complex. Every penny of the judgment was paid including attorney's fees. At the time, this was the highest verdict ever reported for a trip and fall accident in Pinellas County, Florida.
Trip and Fall Lawyers
Trip and fall accidents in parking lots are dangerous and common. We are well aware of the defenses insurance companies use to deny claims. We understand that many property owners have a lack of understanding about just how dangerous parking bumpers can be to pedestrians. We have a history of success on these claims. If you have any questions about a premises liability claim or a trip and fall claim, our office is prepared to answer them. At St. Petersburg Personal Injury Attorneys McQuaid & Douglas, our consultations are free. If we are retained to handle your trip and fall claim, we do not charge a fee unless we recover money for you.