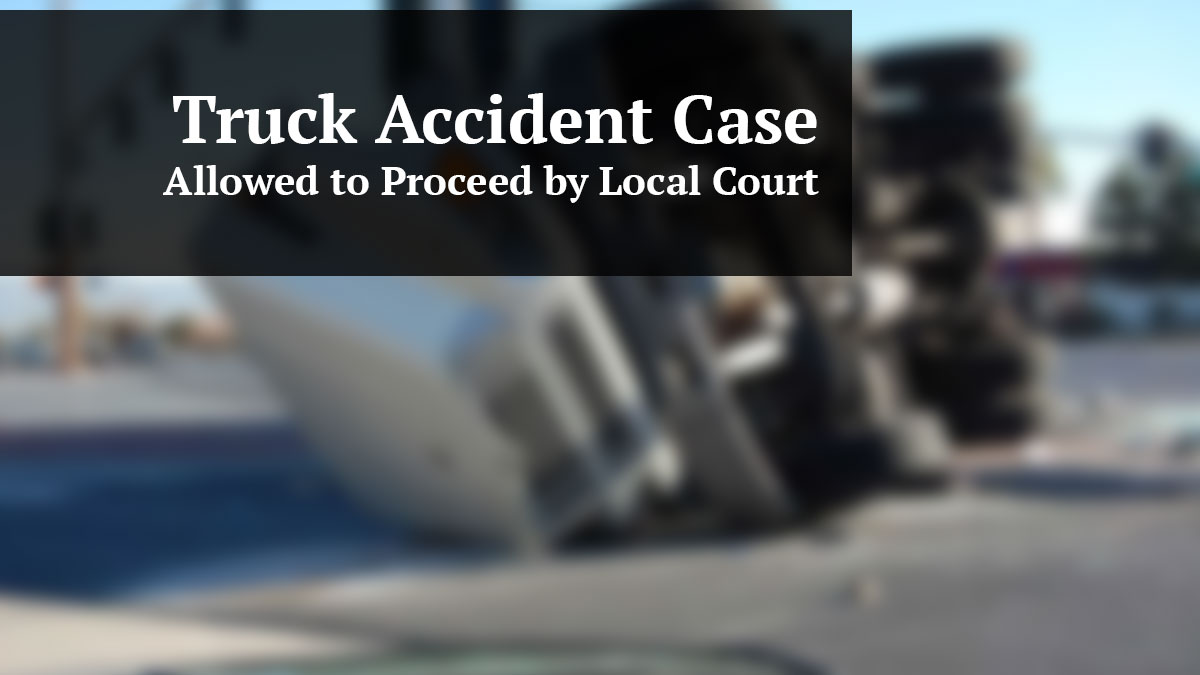 According to the US Department of Transportation, 4,136 people died in truck crashes in 2018. This figure was a 31 percent increase over the last ten years. These shocking statistics reflect how dangerous trucks can be on our roadways. They also illustrate how important it is for trucks to be operated safely and maintained properly.
Truck accident injury cases are common due to the impact force from these large vehicles. Unlike car accident cases, truck accident cases require more in-depth investigation. There are many techniques that an experienced truck accident lawyer can employ including a review of any video, a study of the black box, the driving logs, and the maintenance logs. The only positive lining on truck accident cases is that there are usually higher insurance coverage limits to pursue damages.
A recent local case has emphasized the higher duty of trucks when creating a foreseeable zone of risk. Hopefully, the well-reasoned conclusion of this court will influence truck safety and avoid future preventable accidents.
Facts of the Truck Accident Case:
In Sturgill v. Lucas and Morales, 2nd District Case No. 2D18-2227 filed on February 5, 2020, an appeal from a circuit court in Collier County was decided. It should be noted that the Second District Court of Appeal has jurisdiction over St. Petersburg, Pinellas County and all of Tampa Bay. I have personally handled appeals and argued them to the Second District in the past. In Sturgis, she was hit by a truck that was pulling a trailer full of palm fronds. The truck was owned by Morales, filled by Lucas, and driven by Garcia. The trailer was not equipped with brakes. After the trailer was loaded by Lucas, he asked his daughter (Garcia) to deliver the truck for him because he wasn't feeling well. As Garcia drove the truck, a car stopped suddenly in front of her and she swerved off the road. When the truck swerved off the road to avoid crashing into the vehicles in front, it struck Sturgill, who was simply waiting on the side of the road for a school bus with her grandchildren. Sturgiss was seriously injured in the truck accident. The police were called to investigate and determined that the cause of the accident was due to the trailer not being equipped with brakes, thus making the truck difficult to stop when carrying a heavy load of palm fronds.
A lawsuit was filed by Sturgill to recover damages based on a theory of negligence.
Truck Accident Trial Court:
In the trial court, Lucas and his lawyers filed a Motion for Summary Judgment. In the motion, he asked the court to dismiss the lawsuit because there was no law, regulation or statute that required the trailer to be equipped with brakes.
Sturgill opposed the motion and argued that there was testimony in the case that operating a trailer full of palm fronds was dangerous, that a driver needed to be careful, and that the investigating police officer determined that the lack of brakes caused the accident.
The trial judge agreed with Lucas and granted the Motion for Summary Judgment, effectively dismissing the case. The trial judge said that because the law did not require brakes on the truck trailer, there was no duty that Lucas owed to Sturgill. Sturgill appealed to the Second District Court of Appeal.
Truck Accident Appellate Court Ruling:
This case actually has a hometown connection for us at St. Petersburg Personal Injury Attorneys McQuaid & Douglas. The opinion was written by Judge Robert Morris, and Chief Judge Nelly Khouzam concurred. Judge Morris and Judge Khouzam were Pinellas County lawyers and judges before they moved to the appellate bench. They were two of the top judges in our county and well-known to us. In my opinion, they made a common-sense and well-reasoned decision in this case.
While the appellate judges agreed that there might not be a specific law that required the use of brakes on the trailer when hauling a heavy load like palm fronds, they looked to the existence of a duty. They relied on Limones v. Sch. Dist. of Lee City., 161 So.3d 384 (Fla. 2015) that stated Florida has four sources of duty:
statutes or regulations
common law interpretations of those statutes
general common law
general facts of the case
They said when you look at the general facts of the case to determine the existence of a duty, you must determine whether the defendant's conduct created a foreseeable zone of risk that posed a general threat of harm to others.
The appellate judges stated that the trial court never looked at the issue as to whether the use of a truck and trailer loaded with palm fronds and no brakes created a foreseeable zone of risk. The trial judge got caught up solely in the rules and regulations, so he never considered this issue. So, because the trial judge used the wrong analysis, the appellate judges reversed the dismissal of Sturgill's case and sent it back for further proceedings.
This case emphasizes that not every improper behavior can be outlawed in a rule or regulation. The case stands for the principle that if you do something that is dangerous to others, you need to make sure the proper safety precautions are made. I believe it is simply common sense that if you drive around a truck trailer full of palm fronds, you need to do something to make sure that you are able to stop in case an unexpected incident happens. This decision should encourage all trucks to be safer or suffer the consequences.
Contact a Truck Accident Attorney
At St. Petersburg Personal Injury Attorneys McQuaid & Douglas, we specialize in truck accident cases. We have handled countless truck accident cases in the Tampa Bay area and throughout Florida. Because truck accident cases often involve horrific injuries or death, we understand the toll that these accidents put on families. We strive to provide compassionate, yet aggressive representation for all of our clients. If you or a loved one has been the victim of a truck accident, we would be happy to speak to you for a free consultation. If transportation is an issue, we have no problem with traveling to meet with you at your home or at the hospital. While we hope that you are not dealing with the tragic consequences of a truck accident, if you need a truck accident attorney, we are here to help.