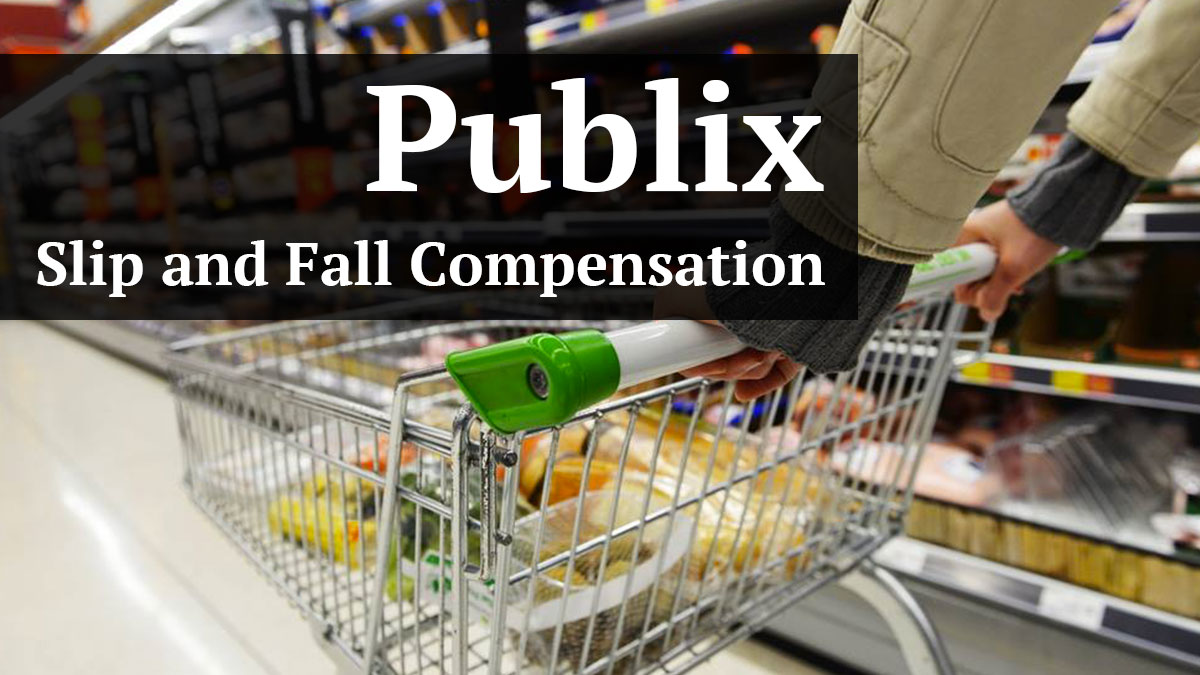 Slip and fall accidents in Publix grocery stores can have devastating consequences for victims. While some individuals suffer only a few scrapes or bruises, others can experience head injuries, spinal cord damage, or other life-changing injuries. Figures from the National Floor Safety Institute (NFSI) show that falls cause more than 8 million emergency room visits every year in the United States. Slip and fall accidents in grocery stores do not only cause painful physical injuries, but they can also result in emotional distress and financial chaos for victims.
When you visit a Publix store, you are entitled to a safe environment without any potential slip or trip hazards. If you or a loved one suffered a fall and injuries on Publix property, you should consider speaking to an experienced slip and fall personal injury lawyer to find out about your legal options. You could be entitled to various types of compensation for a slip and fall accident such as medical bills, income losses, pain and suffering, and more.
Personal Injury Attorneys McQuaid & Douglas are here to help you get back on your feet and recover what you deserve after a Publix slip and fall accident. Contact us now to schedule a free consultation: (727) 381-2300.
Proving Your Publix Slip and Fall Accident
Not all accidents in Publix grocery stores qualify for a settlement. Visitors who fall due to their own carelessness will not have a claim against the grocery chain. However, when the carelessness or negligence of Publix staff or store administration caused your slip and fall accident, you could potentially have legal recourse against the supermarket chain.
Negligence can arise when there is a hazardous or dangerous condition present at the store. If the property owner failed to fix or warn of such a hazardous condition, the victim could have a case against the Publix store and receive compensation for a slip and fall accident.
What Is a Dangerous or Hazardous Condition in Publix?
There can be various hazards and causes for accidents in and around a Publix store, including but not limited to:
Potholes and cracks in a Publix parking lot
Ice, snow, or water collecting on a store's outside walkways
Insufficient lighting in and around the store
Wet or slippery floors
Cluttered walkways and obstacles such as cables or boxes
Broken or uneven flooring
Debris and food spillages
If you got hurt in a fall due to the inattention or negligence of Publix employees, you could have a case against the grocery store. An experienced slip and fall personal injury lawyer at our firm can help determine whether you have a case and could recover compensation for your injuries, suffering, and monetary losses.
Compensation for Slip and Fall Accidents
Victims who came to harm due to a dangerous condition in a Publix store can generally pursue compensation for their injuries and other damages. You could be entitled to various economic and non-economic damages, depending on the circumstances of the accident and the severity of any injuries.
Economic Damages
Economic damages are generally intended as reimbursement of expenses an injured person incurred due to their grocery store fall. Economic damages can include:
Medical bills and future medical expenses
Costs for medical devices such as crutches or a wheelchair
Loss of wages and future loss of income
Costs of household services or a home health aide
Transportation costs
Out-of-pocket expenses
Non-Economic Damages
Non-economic damages are designed to compensate an injured individual for any non-monetary damages suffered, which can include:
Physical suffering
Mental distress
Inconvenience
The types and amounts of compensation for a slip and fall accident can vary considerably from one case to another. Knowing the value of your case can be crucial when it comes to fighting for what you deserve. Victims need to take into account all their current and future expected medical expenses, income losses, and other damages.
A dedicated personal injury attorney can determine your damages after a slip and fall accident and fight for a fair settlement on your behalf.
Do Not Accept a Lowball Settlement Offer from Publix
If you suffered injuries due to a slip and fall in a Publix store, you may be keen on getting your medical bills and other expenses taken care of as quickly as possible. However, accepting any quick settlement offers from the grocery chain can be an expensive mistake. I guarantee that a claims adjuster will call you and offer you money after the accident. They will have no information about your case and are just trying to make you go away. Consider instead contacting a seasoned personal injury lawyer to learn how much your slip and fall accident case may be worth. An attorney can help victims understand the true value of their case and potentially prevent them from accepting a settlement that may be far too low to cover all their current and future losses. We always recover more money than what is initially offered to our clients.
Additionally, an attorney can also take over the task of negotiating with any claims administrators or insurance adjusters to make sure you are free to concentrate on your recovery.
If you recently slipped and fell in a Publix grocery store, and are now struggling to recover adequate compensation for a slip and fall accident, contact Personal Injury Attorneys McQuaid & Douglas to get answers to your questions and ensure your legal rights remain protected.
How We Can Help You Get What You Deserve
If you have suffered injuries in a slip and fall accident in a Publix grocery store do not hesitate to contact us. The sooner you seek legal advice and guidance, the sooner you will have the answers you need to help you recover the compensation you deserve under the law. Consider also that the Florida Statute §95.11 sets a general limit of four years for personal injury cases starting on the day of your slip and fall accident.
Getting what you deserve can be legally challenging, as Publix may try to offer you an unfair and unjust early settlement that could leave you out of pocket in the future. Personal Injury Attorneys McQuaid & Douglas can protect your legal rights and help you get what you deserve by:
Offering a free case assessment
Working on a no-win-no-fee basis
Handling your case from beginning to end
Gathering evidence proving negligence of the store
Assessing your damages comprehensively
Negotiating for a fair out-of-court settlement
Representing you strongly in court if necessary
Contact us now for a free case review to get clear on your options: (727) 381-2300.