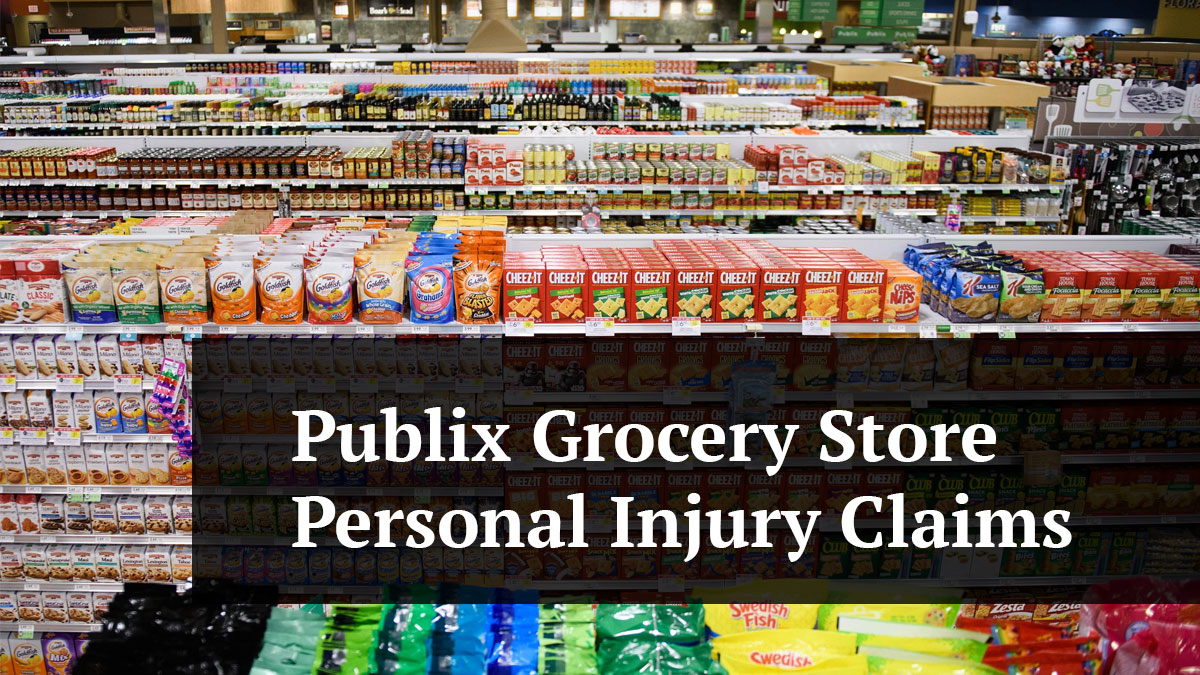 Publix accident cases are common in Florida due to the high volume of customers visiting their stores every year. Despite the fact that Publix is superior to most stores with its customer service and security efforts, problems still occur and people get injured regularly. I have attempted to break down the most common types of claims that occur for which a lawyer can provide assistance against Publix.
Publix Slip and Falls
Publix slip and falls are the most common types of cases. Publix has a duty to its customers to make sure the stores are safe. If they knew or should have known about a dangerous condition and failed to warn or fix it, then Publix can be liable for your injuries. The most frequent types of claims arise from people slipping on water or a spilled substance and getting injured.
Publix Trip and Falls
Publix Trip and fall cases occur when a dangerous condition causes a customer to trip and get injured. These incidents are not limited to occurring within the actual grocery store but frequently happen in the parking lot or the sidewalk. Common trip and fall claims are from broken sidewalks, defective flooring or even mats that have raised corners.
Publix Parking Lot Accidents
If you are hit by a car in a Publix parking lot, you will have a claim against the driver of that vehicle. These claims are like any other car accident case. Because of the volume of people moving through the parking lots, there are constantly car accidents. Some of the more serious cases involve a car backing into a person walking on foot. Regardless of the type of accident, it is important to set up a claim so that a lawyer can preserve any evidence, including the video from the Publix security cameras. Parking lot cases are often disputed, so witness information is vital.
Publix Employee Caused Injury Claims
There are two types of claims against Publix for when its employees cause an injury to a customer. The first and most common is a simple negligence claim. Under the legal doctrine of respondeat superior, Publix is responsible for the actions of their agents/employees when the act was performed within the course of their employment. That means that when a Publix employee makes a careless mistake and injures someone, Publix is liable. Examples of these types of cases occur when an employee drives a cart into someone when returning it to the store, or drops an item on someone.
The second type of liability for an action by a Publix employee is when the employee commits an intentional act. If an employee commits an intentional act, which is usually a crime, on the Publix property, Publix can be held liable. The legal theory is that Publix negligently hired, trained or supervised that person, which contributed to the unfortunate circumstance. While rare, these cases usually involve sexual abuse committed by an employee or some type of violent criminal act.
Criminal Acts Occurring on Publix Property
Another example of how Publix may be liable for an injury to a customer is when the customer is the victim of a crime in the parking lot. The perpetrator of the crime does not need to be associated with Publix. The legal theory that finds that Publix may be responsible is under negligent security. It requires that Publix have sufficient security measures in place to keep its customers safe. Obviously, if someone is a victim of a crime in the parking lot and injured, there was some type of failure to keep the area safe. In those circumstances, Publix may be responsible for your damages.
Conclusion
Speaking to a personal injury lawyer following an injury at Publix is important. Often, the seriousness of the injury is not evident at the time of the incident and may take hours or days to fully develop. Preserving the evidence related to the claim is an important step for your lawyer. A personal injury lawyer will be able to guide you through the process of getting medical treatment for your injuries whether you have health insurance or not. Personal Injury Claims against Publix are common and an experienced lawyer will help you recover compensation for what you have undergone.
Contact a Publix Accident Injury Attorney
If you or a loved one have been injured in a Publix accident, then you should take the proper measures to ensure you receive the compensation you deserve. Contact St. Petersburg Personal Injury Attorneys McQuaid & Douglas today and speak with an attorney. For over 60 years our firm has been successfully helping people who have been injured due to someone else's carelessness. We have been nationally ranked for decades by US News and World Reports as a Tier 1 law firm, which is the highest ranking that can be received. Sean McQuaid and Jonathon Douglas have dedicated their careers to continuing the firms legacy of superior legal representation.
Remember that we never charge a fee, unless we win. Call us today at 727-381-2300 so that we may answer your questions, help you navigate the complexities of insurance claims, and recover the compensation that you deserve.
We work hard to make sure each and every client gets the attention that they deserve. We appreciate feedback from our clients and reviews are validation of our work. Every 5 star review that we receive lets us know that our services were appreciated by our clients.
St. Petersburg Personal Injury Attorneys McQuaid & Douglas
5858 Central Ave suite a
St. Petersburg, FL 33707
(727) 381-2300