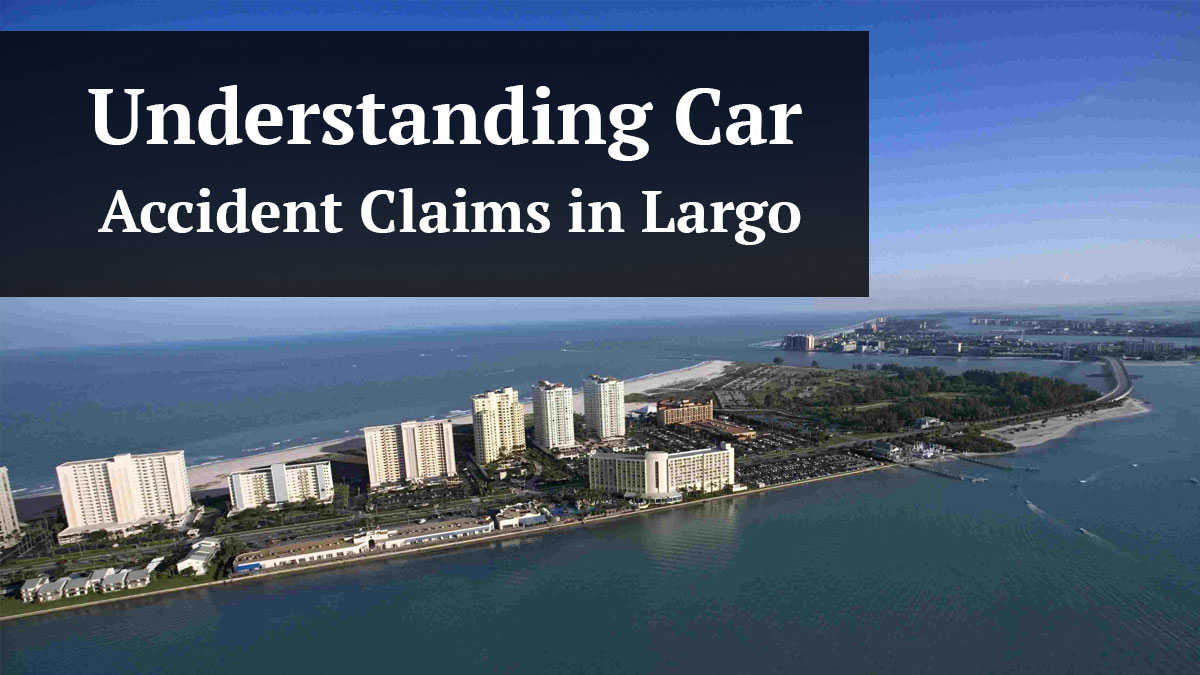 If you have been injured in a car accident in Largo, you are likely overwhelmed by the unexpected shock. You are probably wondering how this will affect your family, who will pay for your medical bills, fix your car, and a host of other unwanted repercussions. At St. Petersburg Personal Injury Attorneys McQuaid & Douglas, we have helped countless families get their lives back on track after a Largo car accident injury.
Over the years, we have handled car accident cases on East Bay, West Bay, US 19, Belcher Rd., Starkey Rd, Indian Rocks Rd., Keene Rd., Clearwater/Largo Rd., on Seminole Blvd and the Ulmerton intersection near the Largo Mall, and countless other side streets in town. We know how Largo Police Department investigates accidents, how to get the accident reports, and how to handle the insurance companies that get involved thereafter.
Because of our experience in handling car accident injury claims in Largo, this article seeks to provide guidance on how the process works and what you should expect.
When Should You First Get Medical Treatment?
The question that most people involved in car accidents ask themselves is whether they should go to the hospital or wait to see if the injuries get better. My advice is to always err on the side of caution and get yourself checked out. Most of my clients will go to Largo Medical Center for their emergency medical treatment. If a hospital trip is not necessary, then at least go to an urgent care or walk-in clinic to be seen. The worst thing that someone can do for their health and their accident claim is to delay treatment to see if the injuries will get better. The reality is that soft tissue disc injuries are permanent in nature and while the pain may subside in certain cases, the injury will always be there. All too often, people don't realize that the injury is not going away and by then they have unknowingly sabotaged their own case through lack of medical treatment.
If the injuries do not rise to an hospital or urgent care visit, then I advise to get to a specialist as soon as possible after the accident. I advise to stay away from family doctors or general practitioners. While they may mean well, they are not set up to handle car accident injury claims and too often simply send people off with a prescription for muscle relaxers without any efforts to diagnose the injury. Chiropractors can be a good resource or any doctor who specializes in the treatment of car accident injuries. It is important to find someone with a good reputation and to get in as soon as possible. For every day that you wait, the insurance company will devalue what your claim is worth.
Who Pays for Your Medical Bills After the Car Accident?
Florida is a no fault state which means that your own car insurance will pay up to $10,000 toward your medical bills. This insurance is called Personal Injury Protection or PIP. Using the benefits will not increase your rates and is required by every car insurance plan. However, $10,000 does not go that far when it comes to medical bills. So, if you exhaust the money, you can either bill the remaining bills through your private health insurance, Medicare or Medicaid. If you choose to go this route, any medical bills paid by health insurance will be required to be repaid out of the injury settlement through a lien. The more common method to receive medical treatment after PIP is exhausted is to treat on a Letter of Protection or LOP. This is an agreement that you, your doctor and your car accident lawyer make that guarantees the repayment of the medical bills out of the settlement. This method allows you to continue to treat with the doctors of your choice.
How Much Does a Largo Car Accident Attorney Charge?
Car accident cases are unlike any other area of law. These cases are charged on a contingency, which is a percentage of the overall recovery. If no money is recovered on the case, the client does not owe the lawyer anything. No money is ever paid out of pocket for these cases. There is no retainer, no payment plan, and no risk. This fee arrangement makes it very easy for clients to hire an attorney to pursue the case because of the lack of risk.
The percentages that the lawyer can charge are controlled by The Rules Regulating the Florida Bar 4-1.5. This Rule caps the attorney's fee at 33.33% for cases that settle without a lawsuit and 40% for those that end in a lawsuit. For cases against a state or government agency, the fee is limited to 25% regardless of whether the case settles pre-suit or ends up in litigation.
How Long Will the Injury Claim Take?
No two car accident injury cases are the same, but there are some general rules of thumb that you can go by. The length of the case depends on the extent of the injury and the amount of insurance available. For example, in some cases where there is minimal insurance ($10,000) and the client went to the hospital, I can get the policy tender within a couple of months. But, for most cases, the time frame is controlled by the treatment. For soft tissue injuries that only require conservative treatment like chiropractic or physical therapy, treatment should be completed within a few months and the demand to the insurance company should be sent around the 6 month mark following the car accident. If the client receives more intensive treatment like injections, then add a few months. If the treatment ends in a surgery, then add a few more months.
Once the client has completed treatment and reached maximum medical improvement (MMI), then my office compiles all of the medical records, the bills, the liens, out of pocket expenses, and lost wage data. We then draft an extensive demand letter to the insurance company. We normally give the insurance company 30 days to respond to the demand. We then negotiate toward a settlement and most cases get resolved by this point. If the case cannot be resolved, then we will likely file a lawsuit in order to press the matter toward a jury trial.
Contact a Largo Car Accident Attorney
Car accident injuries are unfortunately common in Largo. There are congested roads, visitors to the area, bad drivers, and elderly drivers that together make a dangerous mix. We are altogether too familiar with the area because of these circumstances and have seen many serious injuries over the years.
If you or a loved one has been injured in a car accident in Largo and are seeking honest and aggressive representation to help you through the process, then please contact us for a free consultation.