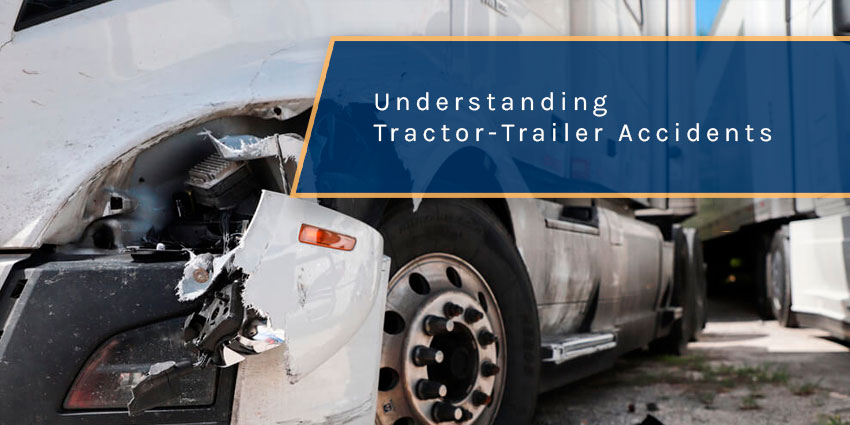 Being injured by a tractor-trailer in a collision can be a terrifying experience. Often also referred to as semi-trucks, semis, or big rigs, tractor-trailers can cause catastrophic injuries. But, how should your case be handled?
A 2019 study of crash statistics showed that Florida is in the top three states for truck accidents. It states that Florida had almost double the number of vehicles involved in fatal crashes with large trucks compared to the state with the next highest count.
What causes so many tractor-trailer accidents in St. Petersburg and the surrounding areas of Florida? It may be due to the fact that Florida ranks fourth nationwide for the number of truck drivers compared to all other states. Another factor is the sheer size of a semi-truck. When one of these massive vehicles crashes or turns over, it causes a huge chain reaction of accidents. Additionally, big rig drivers have long and arduous schedules, which can cause them to make more errors. If a driver is tired or distracted on the road, they can make a mistake that can be disastrous or even fatal.
What Are the Regulations for Tractor-Trailer Drivers?
Semi-truck drivers have to follow strict rules set by state and federal governments. These are known as the Hours of Service rules. These essential regulations are set in place by the Federal Motor Carrier Safety Administration (FMCSA). These rules help make sure that drivers don't work for too many hours without taking a break. This helps lower the chances of having an accident because of a driver operating a vehicle while tired.
In St. Petersburg, the Florida Department of Highway Safety and Motor Vehicles (FLHSMV) enforces that truck drivers need to obey these standards. These are the Hours of Service rules:
1. Drivers can drive for up to 12 hours after resting for 10 consecutive hours.
2. Drivers cannot drive after being on duty for 16 hours following 10 consecutive hours off duty.
3. Drivers should not drive after operating their vehicles for 70-80 hours over 7-8 consecutive days.
4. After a 7-8 day period, drivers must take at least 34 consecutive hours off duty before driving again.
5. If drivers are not released from duty within 12 hours, they must document their driving time.
6. Drivers are exempt from documenting their driving time in a logbook if they stay within a 150-mile radius and don't carry hazardous materials.
Steps to Take After a Tractor-Trailer Accident in St. Petersburg, Florida
Taking the proper actions after a tractor-trailer accident is essential to your well-being as well as your insurance or legal claim. If you're ever in an accident with a semi-truck in St. Petersburg, be sure to use this step-by-step guide on what to do immediately after:
1. Ensure safety for oneself and others involved
2. Call 9-1-1 emergency services and report the accident
3. Collect insurance and contact information from the truck driver and witnesses
4. Document the accident scene by taking photos, videos, and notes
5. Seek immediate medical attention, even if injuries seem minor
6. Contact a St. Petersburg tractor-trailer accident attorney to discuss legal options
Complications and Challenges in Tractor-Trailer Accident Cases
There are unique challenges to face when pursuing personal injury claims in tractor-trailer accidents. The level of research needed to win a case like this requires a team of highly capable St. Petersburg tractor-trailer accident attorneys. Their years of experience will help with the challenges, which include:
1. Dealing with trucking companies and their insurers
2. Investigating truck driver records, including logbooks and previous traffic violations
3. Uncovering potential violations of federal regulations for trucking companies
4. Establishing long-term effects of injuries in complex cases
Who's at Fault in Tractor-Trailer Accident Cases?
One major source of complications in accidents involving tractor-trailers is that it's not always clear who to sue for damages. There are many parties involved in the operation of semi-trucks. If you find yourself in need of additional coverage beyond your PIP insurance, you'll need to figure out who to file a claim against. With the help of a knowledgeable St. Petersburg tractor-trailer accident attorney, you can find out who to pursue for damages.
The potentially responsible parties may include:
The Truck Driver
The person operating the truck is the first to be held responsible, as they have control over the vehicle. Naturally, if the driver was under the influence of alcohol or ignored the Hours of Service rules, they would be at fault for the accident.
The Trucking Company
According to vicarious liability, an employer is responsible for their employee's actions. Thus, if a trucking company negligently hires a driver with a bad history, they can be held accountable for accidents caused by that driver. Therefore, you can sue both the driver and the company.
The Truck Manufacturer
Faulty vehicle parts or systems can lead to truck accidents. In such cases, you can file a product liability claim against the manufacturer. However, proving fault in these situations can be challenging. Therefore, it's essential to have an experienced St. Petersburg tractor-trailer attorney who will help you choose the right course of action for a settlement.
The Cargo Loader
If improperly secured cargo caused the accident, the responsibility lies with the cargo loader or loading company. There could also be shared liability if there is evidence that the truck driver failed to warn them about the poorly secured cargo.
Third-Party
A third party, such as a car driver, motorcyclist, bicyclist, or pedestrian, can also cause a truck accident. This occurs when their actions lead to the truck driver crashing. For instance, if the truck driver hit your vehicle while trying to avoid a wrong-way driver, the wrong-way driver would be responsible for the collision.
Pursuing A Legal Claim in St. Petersburg
In the event that the injuries from a tractor-trailer accident are more grave, there are options for a claim beyond PIP insurance. A lawsuit can be filed against the at-fault party if you can prove one of the following:
1. Severe disability lasting for a minimum of 90 days
2. Permanent restriction in the use of an organ or limb
3. Significant restriction in the use of a bodily function or system
4. Bone fractures
5. Permanent or significant disfigurement
These types of claims are complicated, as can be expected. It will be necessary to prove negligence or fault, demonstrate the cause of injuries, and calculate damages. Trying to do this on your own would be nearly impossible. Equally terrible would be to have legal counsel who didn't have the necessary experience or a big enough team. Having the best possible St. Petersburg tractor-trailer accident attorneys will overcome these challenges.
Additionally, capable legal counsel will help you understand the different types of compensation available. If you're the victim of a tractor-trailer accident in St. Petersburg with qualifying injuries, you can pursue compensation for a variety of factors. These include:
1. Economic damages (medical expenses, lost wages, property damage)
2. Non-economic damages (pain and suffering, emotional distress)
3. Punitive damages (in cases of gross negligence or intentional misconduct)
The Importance of Legal Representation for Tractor-Trailer Accident Victims
Hiring a St. Petersburg tractor-trailer accident attorney is crucial after a collision with a semi-truck. Having a personal injury attorney provides you with legal expertise, negotiation skills, and evidence-gathering services. Additionally, they expertly handle insurance companies and offer representation if your case goes to litigation. They will present compelling arguments, cross-examine witnesses, and navigate the complexities of the courtroom proceedings. Their assistance significantly increases your chances of obtaining maximum compensation for your injuries and losses.
Peace of mind is another benefit that cannot be emphasized enough. Suffering an injury can be a stressful and difficult time. Hiring a personal injury attorney allows a victim to focus on their recovery. Meanwhile, a qualified legal team handles the legal aspects of the case. With guidance and expertise, the injured can have peace of mind knowing that they're not alone in their fight. They can rest knowing St. Petersburg tractor-trailer accident attorneys are protecting their rights and fighting for compensation.
Contact A St. Petersburg Tractor-Trailer Accident Attorney Today
You don't have to face the effects of a tractor-trailer injury on your own. Our team of dedicated attorneys in St. Petersburg is here to support you. We are committed to guiding and representing you during this tough time. With our experience in handling tractor-trailer injury cases, you can trust us to be with you every step of the way. We will work tirelessly to protect your rights and help you get the compensation you deserve. Contact us for a free initial consultation to find out how a St. Petersburg tractor-trailer accident attorney can assist you with your case.