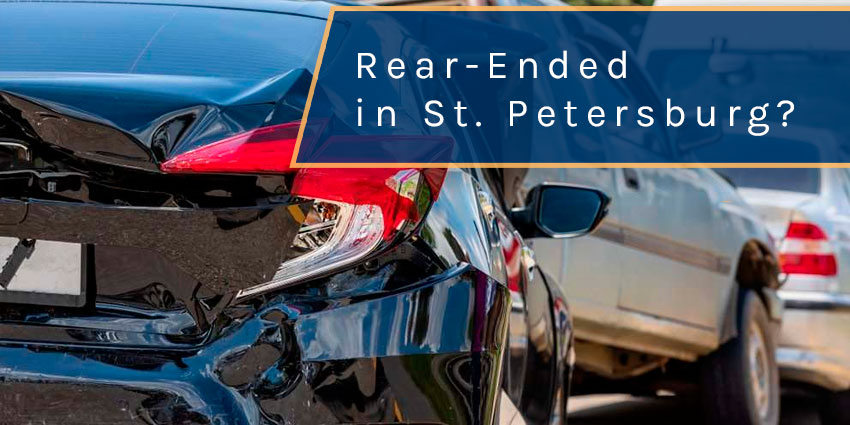 Rear end collisions account for nearly one-third of all injury related traffic accidents in St. Petersburg and about one tenth of all traffic fatalities. Even a minor rear end crash can have severe outcomes that cause bodily injuries and property damage. More severe collisions have more severe outcomes – such as permanent disability or scarring and disfigurement.
If you were injured in a rear end crash caused by another driver in st. Petersburg, whether you were in the front or back – you might be entitled to compensation for injuries. However, it's important to understand how fault affects your ability to seek damage compensation.
The Rear-End Driver Is Presumed to Be at Fault in Most Cases
Most Florida courts presume the rear driver to be at fault in a rear-end collision. This is how it's been for a long time due to the "duty of care" that every driver in Florida has. This means all drivers have a responsibility to drive safely and be on the lookout for sudden changes in conditions and maintain a safe distance between other vehicles. If you rear ended someone, it probably means you were following too closely and not paying enough attention to signals they gave to indicate they might stop. This, you would be legally responsible for the crash.
Consider the following scenarios, where the rear driver is most likely going to be found liable for the collision:
You're the rear driver and you hit another car during heavily congested traffic
You're the rear car and you fail to notice the turn signal of a car two cars up. The car in front of you guys the car two cars ahead, and you hit the car in front. You and the car in front of you will probably share liability
You speed up to beat a yellow light rather than slowing down and end up hitting the driver in front of you
There Are Some Circumstances When the Rear Driver Is Not at Fault
Purporting that the rear driver is at fault is only a presumption until the other driver can prove it with sufficient evidence. Also, that doesn't mean every single rear-end crash is the fault of the rear driver. For instance, if another driver who didn't have functioning taillights swerved into your lane and hit the brakes abruptly, you might not necessarily be at fault as the rear driver. Presumption of fault simply means that if you get rear-ended, the burden of proof lies on the rear driver (to prove their innocence).
Florida Laws that May Impact How You Recover Compensation
All drivers in St. Petersburg must seek damages from their own insurance first, regardless of fault, since Florida follows no fault insurance laws. No fault laws don't really have anything to do with who was at fault for the accident; someone is always at fault in an accident. It simply means that all dithers are required to carry a minimum amount of PIP or (Personal Injury Protection). Then, in the event of an accident, all drivers go through theirPIP for initial coverage before taking any legal action.
Here's the problem with PIP. It only covers a small amount of non-emergency medical costs, and 80% of emergency medical expenses. For non-emergency medical expenses, PIP only covers $2,500, and will cover 60% of lost income. This is simply not enough to cover accident damages much of the time and thus necessary to seek full financial reimbursement through a personal injury claim.
Another critical factor to know about the "presumption of fault" in rear-end accidents is that it does not override St. Petersburg's comparative negligence laws. In other words, the judge or jury will determine if multiple parties shared fault in a crash and then assign a percentage of fault to each party based on the evidence.
So let's say you were rear ended by a reckless driver but one of your taillights was broken. In that case, a jury or judge might find the rear driver to be 90% at fault and you to be 10% at fault. If you seek $150,000 in damages, you would only be able to get up to 90% of that, or $135,000. Basically, the court would reduce your damage award by 10% since you were 10% at fault.
Call A St. Petersburg Car Accident Lawyer Today To Learn More About Your Legal Options
You need an experienced St. Petersburg car accident attorney who will fight to win you the compensation you deserve. If you believe you have a case, call our law firm today. You don't even have to pay us unless you win.
Unfortunately, Insurance companies are often reluctant to pay the full amount that injury victims deserve. Making insurance claims – even with your own company for PIP – can be a frustrating process. Our St. Petersburg personal injury attorneys know what it takes to handle insurance companies effectively to get you the best outcome.
If we cannot reach a settlement that reflects the full value of your damages, we'll prepare your case for trial. We have extensive trial experience and are not afraid to go to court. Call us today for a free initial consultation.