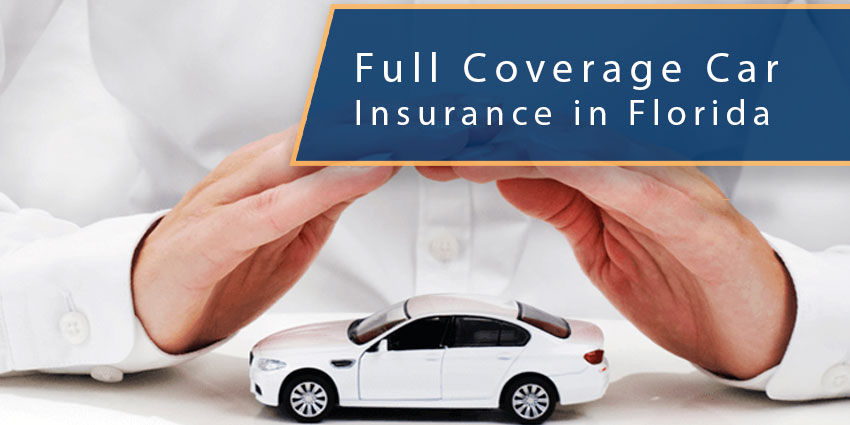 You might be surprised by what full coverage really means for car insurance in Florida. If you think you have full coverage, you need to read this article and double check your policy. As a car accident lawyer, all too often I have to tell injured people that they don't have a case because of mistakes with car insurance.
Almost always, my clients have good intentions and want to protect themselves and their families. But, insurance agents do not explain what people really need. In recent years, people are buying insurance online with absolutely no direction about what coverages mean and what they should be buying.
This article addresses what full coverage means and what coverage you need. Please make the appropriate changes to your car insurance policy immediately because you never know when you are going to need it.
What Does Full Coverage Mean?
You will be surprised to know that "Full Coverage" doesn't mean much in Florida. It is a bad term to use. Some people believe that it means that you have every type of coverage that is offered. Others believe that it is the bare minimum to be allowed to insure a car. Because there is no standard as to what it means, it causes a lot of confusion.
The insurance companies are more interested in their advertising campaigns and trying to get you as a customer than educating you. All they care about is luring you in by claiming that you will save money. They do not want you to protect yourself because then they will have to handle and pay out more claims. The system in Florida is broken and the public has no idea until they are in an accident and learn the harsh reality.
What Are the Types of Car Insurance in Florida?
Personal Injury Protection (PIP). PIP pays for 80% of your medical bills up to $10,000 regardless of who caused the accident.
Property Damage Liability (PDL). PDL pays for damage to another that you caused.
Bodily Injury (BI). BI pays for injuries to another person that you caused.
Uninsured/Underinsured Motorist (UM). UM pays for injuries to you that another person caused.
Comprehensive/Collision Coverage. Comprehensive pays for damage to your vehicle when it is not involved in an accident with another vehicle. Examples are flooding, vandalism, or animal crashes. Collision pays for damage to your vehicle when another vehicle hits you or you crash into something.
Rental Car Coverage. This is self explanatory.
What Types of Insurance Are Required in Florida?
The only categories of insurance that you must have to register and insure your car are Personal Injury Protection (PIP) and Property Damage Liability (PDL) of $10,000. PIP pays for 80% of your medical bills up to $10,000 regardless of who was at fault. This is why they say Florida is a no fault state. PDL pays for property damage that you cause when you are at fault for the accident. These are the only two types of insurance that are required in order to register and drive a car in Florida.
How Much Car Insurance Should I Carry?
After seeing hundreds of car accidents in Florida each year, you absolutely need to protect yourself. You cannot carry the bare minimum or you are going to get burned. And, what most people don't know is that if you cause an accident and don't have enough coverage, your driver's license can be suspended until you pay off the debt. As I mentioned above, Florida's car insurance system is a mess.
Here are my suggestions for the types of insurance to carry in addition to PIP and PDL:
At least $10,000 of Bodily Injury (BI) coverage. This is the bare minimum that you should have.
At least $10,000 of Uninsured/Underinsured Motorist (UM) coverage. I recommend that you carry the same amount of UM as you have in BI.
Comprehensive and Collision Coverage. These are important to protect yourself and are often overlooked.
Rental Car Coverage. I advise people to add in this option, but it's up to your own discretion.
How Do I Find Out How Much Insurance I Have Now?
There are two ways that you can find out your coverage. The first is to either go online and/or look at your paper policy. Go to the section called Declarations. This is also called a "Dec Page." It will list all of the coverages that you have and the amount of each. If you don't see a type of coverage that was previously discussed there, you don't have it.
The second way is to call your insurance company and ask for your coverage. They are required to give you this information. I recommend that you write it down.
What Are the Best Car Insurance Companies in Florida?
In my opinion, USAA is the best by far. But, it is available for only the military and family of military, so you might not qualify. I recommend that if you have a family member who is active in the military or a veteran, ask them to qualify you so that you can join. You will not regret it.
The next tier of quality companies are Geico, Progressive, Amica, and Auto Owners. They are reasonably priced and have big networks. That means that they have adjusters and body shops that can repair your car quickly. They are attentive to claims and are reasonable with their payouts.
On the middle tier of car insurance companies in Florida are State Farm, Allstate, and Mercury. State Farm is not the company that it used to be. It is the second largest in Florida (behind Geico), but has really changed how it does business. I have personally witnessed State Farm treat its long time customers like garbage. It doesn't care about loyalty, only about saving money when paying claims. You are only a number to State Farm. And, State Farm isn't cheap. In my opinion, they have lost their way over the last few years.
Allstate might have a lot of ads on TV, but it really is a cut rate company. It tries to avoid paying claims and only pays when it absolutely has to. Avoid it. Finally, Mercury is another difficult company to deal with. They are always looking for a way to low ball a claim, blame the injuries on something else, or pay as little as possible.
What Are the Worst Car Insurance Companies in Florida?
In my opinion, if you have a company like Ocean Harbor/Pearl Holdings, Direct General, or Dairyland, you are wasting your money. These companies are worthless, obstruct and delay paying claims, and look for any way to avoid paying. Their customer service is a joke. If you have any of these companies, you may want to consider changing immediately even if it means that you have to pay a little more. After all, what good is having insurance if it isn't there for you when you need it?
If I'm In a Car Accident, Will My Rates Go Up?
If you are in a car accident, your rates depend on who caused it. If you were not at fault, your rates will not be raised. Your insurance company will try and recover any money that it had to pay against the other company.
But, if you caused an accident, you are at risk of a rate raise. This depends on several factors including how serious the accident was and how long that you have been with the company. If you caused a bad accident and someone was injured, expect to have your rates increased or even be dropped. If this happens, do not panic, just find another company. You might even find one that is less expensive.
If I'm In a Car Accident, What Steps Do I Take?
These tips are based on my experience as a car accident lawyer.
Always report the accident to the police. Even if the other person apologized, that doesn't mean anything. Without an independent investigation by the police, it is very difficult to make a claim.
Take pictures at the scene of the damage to the vehicles.
If you have any injuries, go to the hospital or to Urgent Care.
Take pictures of any visible injuries like cuts, bruises, or red marks.
Report the accident to insurance. If you were not at fault, you have the option to run the claim through either company. Be aware that if you run the claim through your own company, you will have to pay a deductible and hope that your company will recover it for you.
Speak to a car accident lawyer if you are injured.
Contact a Car Accident Attorney With Questions
I wish that all of my clients had great insurance. Sadly, in about 25%-33% of all car accident cases, both the at-fault driver and my client do not have proper insurance coverage. Think about how many accidents across Florida that equates to. This is why I say over and over that our system is broken.
If you have been injured in a car accident and have questions about your policy and how to make a claim, please contact us for a free consultation. We normally can advise very quickly about whether you have a case.