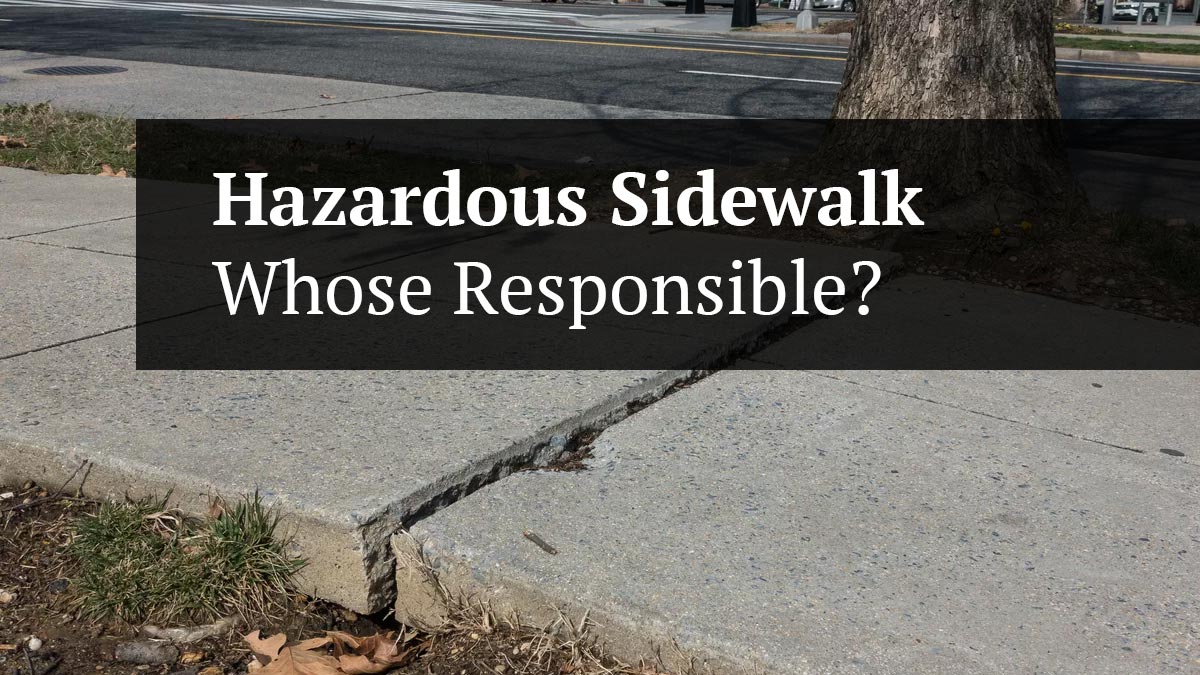 A recent case out of Florida's Fifth District Court of Appeal has provided guidance about a property owner's duties to protect people from trip and falls on sidewalks. In Middleton v. Don Asher & Associates, Inc. and Lemon Tree Condominium Association, Inc., 44 Fla. L. Weekly D301d, decided on January 25, 2019, the appellate court reversed an Orange County, Florida circuit court judge regarding a premises liability trip and fall case on a sidewalk.
In the case, Ms. Middleton was the owner of a condo within the Lemon Tree Condo Association for the past fifteen years. Don Asher & Associates, Inc. was the property manager. Ms. Middleton tripped on an uneven sidewalk, was injured, and filed a lawsuit. The sidewalk was known to the defendants to be in significant disrepair for at least eighteen months prior. In fact, the sidewalk had been marked with a series of blue dots to indicate the areas of the sidewalk that were in need of repair. Despite the knowledge of the condition of the sidewalk, the defendants did not take any action to repair it other than place the blue dots.
The defendants claimed in the lawsuit that they had no duty to warn Ms. Middleton of the condition of the sidewalk because it was open and obvious. The trial judge agreed and dismissed the case.
However, the Fifth District Court of Appeal disagreed and reversed the trial court's decision citing a case from the Third District Court of Appeal, Lotto v. Point East Two Condominium Corp., 702 So.2d 1361 (Fla. 3D DCA 1997). In Lotto, a condo owner tripped and fell on a portion of the sidewalk that was cracked, uneven and had been in poor condition for at least three years. While the appellate court agreed that the condo association had no duty to warn Lotto because the condition of the sidewalk was obvious, it decided that the condo association was not relieved of its duty to repair it.
Thus, in Middleton and Lotto, the appellate courts reversed and sent the cases back to the trial court for further proceedings. So, if a property owner has a sidewalk that it anticipates will be used, it has a duty to ensure that the users of the sidewalk will not encounter cracked an uneven concrete and be harmed.
Therefore, it is anticipated that this case and others like it will encourage property owners in Florida to inspect sidewalks and repair them promptly. Not only is the holding of this case good public policy, but it will also hopefully avoid trip and fall lawsuits for the property owners.
Contact a Trip and Fall Injury Attorney
If you or a loved one have been involved in a trip and fall accident, then you should take the proper measures to ensure you receive the compensation you deserve. Contact St. Petersburg Personal Injury Attorneys McQuaid & Douglas today and speak with an attorney. For over 60 years our firm has been successfully helping people who have been injured due to someone else's carelessness. We have been nationally ranked for decades by US News and World Reports as a Tier 1 law firm, which is the highest ranking that can be received. Sean McQuaid and Jonathon Douglas have dedicated their careers to continuing the firms legacy of superior legal representation.
Remember that we never charge a fee, unless we win. Call us today at 727-381-2300 so that we may answer your questions, help you navigate the complexities of insurance claims, and recover the compensation that you deserve.
We work hard to make sure each and every client gets the attention that they deserve. We appreciate feedback from our clients and reviews are validation of our work. Every 5 star review that we receive lets us know that our services were appreciated by our clients.
St. Petersburg Personal Injury Attorneys McQuaid & Douglas
5858 Central Ave suite a
St. Petersburg, FL 33707
(727) 381-2300