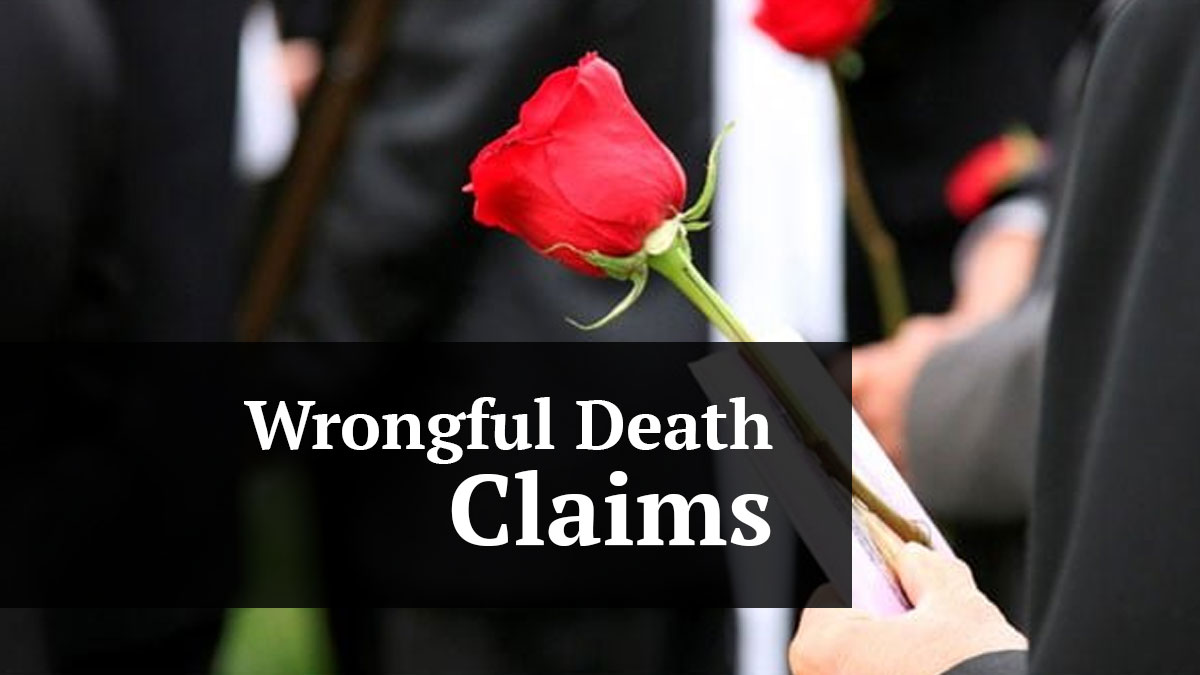 At St. Petersburg Personal Injury Attorneys McQuaid & Douglas, we handle a wide range of injuries that have been caused by someone else's negligence. Unfortunately, someone else's negligence can also result in the death of a loved one. When this occurs, it is considered a Wrongful Death. In Florida, injuries arising from someone else's negligence have a statute of limitations of four (4) years (this does not include malpractice claims). However, Wrongful Death cases have a shortened statute of limitations. Wrongful Death claims must be brought within two (2) years of the date of death. For this reason, consulting with a knowledgeable and experienced attorney in handling Wrongful Death claims early in the process is critical. Failure to timely act on a Wrongful Death claim can potentially bar any cause of action due to this shortened statute of limitations.
In Florida, Wrongful Death claims are governed by Florida Statutes §768.16 – §768.26. These sections collectively are called the "Florida Wrongful Death Act." These group statutes are intended to codify the public policy of the state which is to, "shift the losses resulting when wrongful death occurs from the survivors of the decedent to the wrongdoer." F.S. §768.17. In other words, the decedent's survivors should not have to carry the financial burden of the decedent if someone else, the "wrongdoer," is responsible for the decedent's death. In order to bring and maintain a Wrongful Death claim on behalf of a decedent, these Florida Statutes must be followed.
Some Useful Terms to Understand When Navigating a Florida Wrongful Death Claim Are as Follows:
Survivor: The decedent's spouse, children, and parents (blood relatives and adoptive brothers and sisters count only if those blood relatives or adoptive brothers and sisters were partly or wholly dependent on the decedent). There are additional potential "survivors" but those categories listed cover most of the common scenarios.
Minor children: Individuals under the age of 25 years of age.
Support: Any contributions in kind as well as money.
Services: Household tasks normally performed by the decedent that will now become a necessary expense in the absence of the decedent. This determination is very fact-specific.
Net Accumulations: The decedents expected net income that the decedent would have probably retained as savings and left as part of his or her estate.
See generally, F.S. §768.18.
A Florida Wrongful Death Action must be brought by the decedent's personal representative. A personal representative is someone appointed by the Court to represent the decedent's estate. A decedent's survivor can be named as a personal representative; however, not all survivors are personal representatives. Likewise, not all personal representatives are survivors of the decedent. The personal representative is able to recover for the benefit of the decedent's survivors and estate all damages caused by the injury resulting in death.
When bringing a Wrongful Death lawsuit, all potential beneficiaries of a recovery for wrongful death, including the decedent's estate, have to be identified in the lawsuit and their relationship to the decedent must be alleged. Different categories of survivor are entitled to receive certain types of damages resulting from the decedent's death. For example, each survivor may recover value for lost support and services and the value for future loss of support and services. Whereas, the personal representative may recover for the benefit of the decedent's estate loss of earnings, loss of prospective net accumulations of the estate, medical expenses, or funeral expenses. As you might guess, these determinations and being able to prove who a survivor is and the damages caused by the wrongful death are critical components to a Wrongful Death lawsuit.
If anyone you know has been a victim of a Wrongful Death, let the legal team at St. Petersburg Personal Injury Attorneys McQuaid & Douglas put their knowledge, experience, and reputation to work for you on your Florida Wrongful Death claim. Whether you are a survivor, know a survivor, or simply a friend looking to help out, let us help navigate the Florida Wrongful Death Act and uphold the state's public policy of holding wrongdoers accountable. Contact the St. Petersburg Personal Injury Attorneys McQuaid & Douglas for a free consultation.