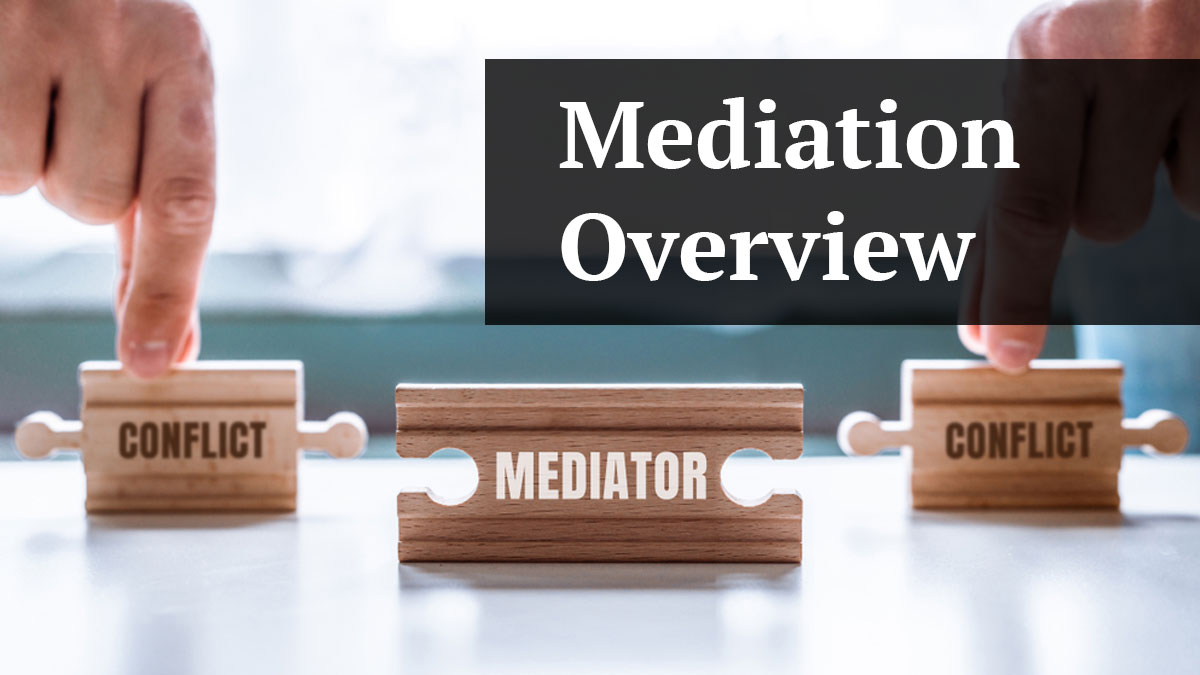 Many of our personal injury clients have never filed a lawsuit related to personal injuries caused by someone else, let alone, make a claim for injuries caused by someone else. As such, many clients are unfamiliar with the many different parts of a lawsuit related to personal injuries arising from the negligent actions of another person or company. The purpose of this article is to provide a general overview of Mediation.
What is Mediation in a Personal Injury Claim?
A Mediation is an informal alternative dispute resolution method. Mediation involves the parties to a claim or a lawsuit coming together in an attempt to negotiate a settlement of a dispute. During this meeting, a neutral third party, called a mediator, is present. The mediator's job is to help facilitate settlement negotiations between the two parties. Mediation does not take the place of a trial but is something that occurs prior to a trial in an effort to reduce the number of trials burdening our Civil Justice System.
When does a Mediation Occur?
Mediations can occur during the claims process or during a lawsuit. If a mediation occurs during the claims process, it is most likely initiated by the insurance company for the at-fault party because there are multiple injured parties stemming from one accident or incident and likely limited insurance coverage to cover all of the injured parties. This type of mediation is often referred to as a "global mediation" or "global settlement conference". The idea during these pre-suit mediations is to apportion the available insurance money among the injured parties. For example, if there was a rear end collision involving three vehicles – the at-fault vehicle, the vehicle it initially hit, and the third vehicle that was struck by the middle vehicle, and both drivers of the rear-ended vehicles were injured – the insurance company may seek to set a global settlement conference to divide the available insurance money between the two injured drivers. Again, this typically only happens when the at-fault driver doesn't have enough insurance coverage to cover all of the injuries of all of the injured parties.
Mediations also occur after a civil lawsuit has been filed. In most Florida jurisdictions, mediations must occur before a case goes to trial. The courts have realized that by mandating mediations in civil cases, there is a great likelihood that a case will settle before having to expend taxpayer money on trying a case. Typically, mediation is voluntarily scheduled between the parties after sufficient information is discovered by both sides about the facts of the case to allow a full evaluation of the case. Attorneys for the insurance company and/or the at-fault party also like to be sure they have all of the medical records and billing statements related to the accident. Additionally, if there is any suggestion that there are pre-existing medical conditions or injuries which are the same or similar to the injuries claimed in the pending litigation, medical records from prior medical providers will also be subpoenaed by the opposing attorney. The medical bills and treatment related to the accident will be one of the key components which is factored into developing the value of your case.
What are the rules of Mediation?
Mediations are confidential. This means that anything that is said during mediation cannot be used later in the case. The reason for confidentiality is to help encourage the open sharing of information and discussion of issues in hopes that this open line of communication will facilitate a resolution. Mediations usually start with the mediator giving a brief overview of the mediation process. Then, the injured party's attorney gives an opening statement which sums up the liability of the at-fault party, causation, and the Plaintiff's claim for damages. After the Plaintiff's opening statement, the at-fault party's attorney will make an opening statement. Once the opening statements are given, each party to the lawsuit goes into their own room.
The Plaintiff generally begins the mediation negotiations with an initial offer and the mediator will take the offers to settle back and forth between the parties. A good mediator will help each party understand the strengths and weaknesses of their respective cases and help mold the negotiations during mediation. There is no requirement that a case settles at mediation; however, if it does, a mediation settlement agreement will be drafted which outlines the terms and conditions of the settlement. If the case is not settled during mediation, this is called an "impasse". The next step after an impasse is reached is to schedule a trial date. Just because a case does not settle at mediation does NOT mean the case has to, or will, go to trial. Many times, the mediation is just the beginning of ongoing settlement discussions as the case continues to move forward towards trial. It is not uncommon for a case to reach an impasse at mediation but settle later in the litigation, and perhaps, even on the "courthouse steps" before trial.
Should you have any questions regarding mediation or the value of your personal injury case, contact St. Petersburg Personal Injury Attorneys McQuaid & Douglas for a free consultation.
Contact a Personal Injury Attorney
If you or a loved one have been injured in an accident, then you should take the proper measures to ensure you receive the compensation you deserve. Contact St. Petersburg Personal Injury Attorneys McQuaid & Douglas today and speak with an attorney. For over 60 years our firm has been successfully helping people who have been injured due to someone else's carelessness. We have been nationally ranked for decades by US News and World Reports as a Tier 1 law firm, which is the highest ranking that can be received. Sean McQuaid and Jonathon Douglas have dedicated their careers to continuing the firms legacy of superior legal representation.
Remember that we never charge a fee, unless we win. Call us today at 727-381-2300 so that we may answer your questions, help you navigate the complexities of insurance claims, and recover the compensation that you deserve.
We work hard to make sure each and every client gets the attention that they deserve. We appreciate feedback from our clients and reviews are validation of our work. Every 5-star review that we receive lets us know that our services were appreciated by our clients.
St. Petersburg Personal Injury Attorneys McQuaid & Douglas
5858 Central Ave suite a, St. Petersburg, FL (727) 381-2300
5 out of 5 based on 20 reviews
Sean McQuaid and Jonathon Douglas were voted best personal injury attorneys in Saint Petersburg, Florida for 2019.