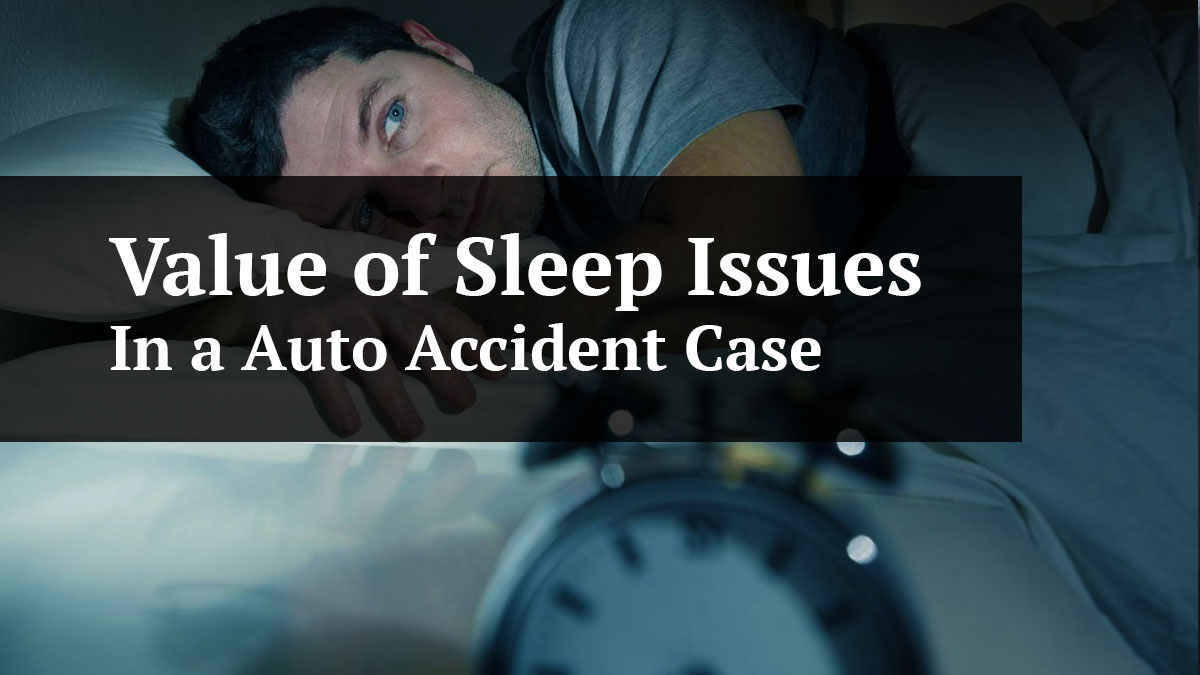 One of the most common side effects following an accident injury is lack of sleep. Virtually every personal injury client over my career has described some type of change in sleep patterns as a result of the accident. Of course, the severity of the sleep issues after an accident varies from case to case, but if presented correctly, sleep problems can relate to big value in a case.
Causes of Sleep Issues
There are two reasons for sleep issues following an accident injury; physical or psychological. Psychological trauma such as anxiety or PTSD can cause unwanted and/or recurrent experiences of the event. This replaying of the incident may lead to insomnia that can linger for months or even years.
Physical trauma from the accident affects either the brain/head or causes pain and discomfort. A head injury can lead to headaches or other sleep disturbances. Likewise, an injury to another part of the body can cause pain and ache throughout the night and an inability to get comfortable. Since the body lays in a relatively stable position for hours on end, it can be extremely difficult to reach a comfortable and pain-free position. All of these problems from the accident injury lead to sleep issues.
Ways to Maximize a Claim for Sleep Issues
Since your lack of sleep is mainly a subjective complaint, it needs to be documented in some fashion throughout the course of the case in order to be a credible factor for damages. It is often too late once the case is turned over to your lawyer, for a demand or lawsuit, to finally mention the sleep issues from the accident. I have found that in cases where sleep disturbances are valued highly, the client has repeatedly self-reported to his or her doctor throughout the course of treatment that sleep is a problem since the accident. I have found that additional treatment specifically related to improving sleep or even medication management is not necessary to improve value. Simply put, insurance companies will not value a sleep complaint as damages unless it has been documented in the medical records. So, it is extremely important to relay the general problems that you have experienced so that the complaints make their way into the medical records before they are turned over to the insurance company.
Why Sleep Issues are Important to the Value of a Case
Juries understand how ongoing sleep issues affect a person. If someone cannot sleep, their body does not heal as well, they are more prone to sickness, their mood suffers and they have less energy, Prolonged sleep problems after an accident can literally change a person in countless ways. Defense attorneys always ask at deposition about how an accident has affected you. Being able to relay to the defense lawyer about the changes in your life as a result of lack of sleep adds money to the case. For example, I have heard a client describe how after a car accident, he no longer could lay flat in bed. So, he now sleeps in a recliner in another room from his wife. Think of not only how poorly the quality of his sleep must be in a recliner, but the effect no longer being able to sleep in the same bed with his wife must have on his relationship. Juries understand that can change value and an insurance company will too. Obviously, not all cases are that severe, but it is common for my clients to struggle with sleep throughout the night after an accident. If they have experienced these problems, it has to be told in a manner to the defense lawyer so that they can understand just how difficult it must be to constantly toss and turn all night long. Again, these human factors produce value.
Sleep is an essential part of our lives and surprisingly easy to disturb sleep patterns after an accident. During your personal injury case, attention should be made to stress this disruption from day one. If the case has gone into a lawsuit, your lawyer should ask about how the accident has affected your sleep and you should be able to relay the changes in a straight forward, yet sympathetic manner. A failure to properly develop these sleep issues in a car accident case simply leaves dollars on the table that should have been rightfully part of your settlement compensation.
Contact a Personal Injury Attorney
If you or a loved one have been involved in a car accident, and are experiencing problems sleeping since the accident then you should take the proper measures to ensure you receive the compensation you deserve. Contact St. Petersburg Personal Injury Attorneys McQuaid & Douglas today and speak with an attorney. For over 60 years our firm has been successfully helping people who have been injured due to someone else's carelessness. We have been nationally ranked for decades by US News and World Reports as a Tier 1 law firm, which is the highest ranking that can be received. Sean McQuaid and Jonathon Douglas have dedicated their careers to continuing the firms legacy of superior legal representation.
Remember that we never charge a fee, unless we win. Call us today at 727-381-2300 so that we may answer your questions, help you navigate the complexities of insurance claims, and recover the compensation that you deserve.
We work hard to make sure each and every client gets the attention that they deserve. We appreciate feedback from our clients and reviews are validation of our work. Every 5 star review that we receive lets us know that our services were appreciated by our clients.
St. Petersburg Personal Injury Attorneys McQuaid & Douglas
5858 Central Ave suite a
St. Petersburg, FL 33707
(727) 381-2300