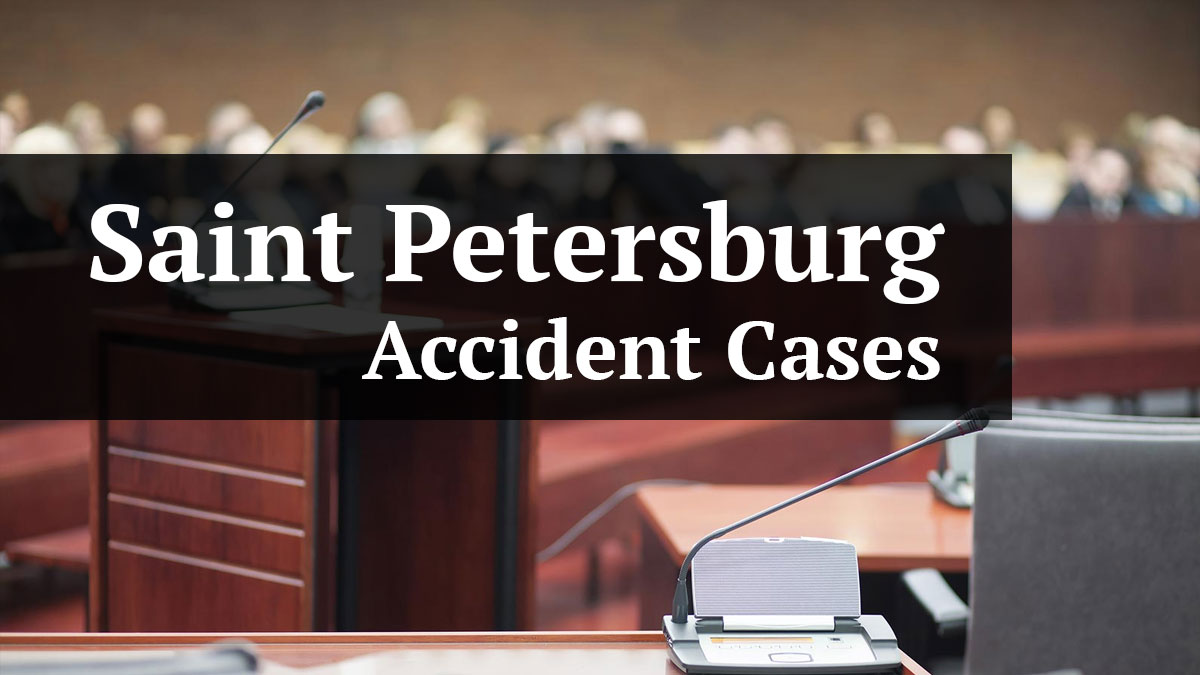 Accidents in St. Petersburg have several unique characteristics that are known only to those lawyers who regularly practice here. For example, knowing the way the St. Petersburg Police Department investigates the accident, the witnesses, the jury pool and the courts can greatly increase your chances for a successful personal injury claim.
St. Petersburg Police Department
The St. Petersburg Police Department is a well-run organization and is generally easy to work with. Of course, depending on the officer who is assigned to investigate the accident, your experience may be different. At the accident scene, you will be given a driver's exchange of information. It is printed out by the St. Petersburg police officer from his in-car computer. It contains the information regarding ownership of the vehicle and the insurance companies for all cars involved. It is meant to provide the driver's proof of the accident, a case number, and insurance information so that the insurance portion of the claim can begin. Following the accident, a full accident report will also be drafted by the investigating St. Petersburg police officer. It is normally more in-depth and will include a sketch of the accident scene. In St. Petersburg, we can get these accident reports within a few days of the accident off of their website, www.police.stpete.org. If there was a death or a criminal investigation, the reports can take up to three months to be ready. My office deals daily with St. Petersburg Police Department and is able to get these reports as soon as they are ready.
Lawyers in St. Petersburg
If you have filed a lawsuit in St. Petersburg, you will likely have an insurance defense lawyer assigned who regularly practices in St. Petersburg. However, if you are dealing with an in-house counsel for an insurance company, they will likely be from Tampa. Since our office has been located in St. Petersburg for over 60 years, we have a distinct advantage over Tampa lawyers or any lawyer out of the area. If the insurance defense lawyer is from St. Petersburg, it is likely that we will know the lawyers and the law firm and have worked with them before. Knowing the other lawyer, their capabilities, and their preferences also give us an advantage with handling the case.
Juries in St. Petersburg
Jury pools in St. Petersburg are from the same area where we live and work. It is almost a certainty that any jury will have at least one person who knows our lawyers and law firm. Juries in St. Petersburg tend to be younger and more educated than in other areas in Florida. Also, because there are so many hospitals and medical offices in St. Petersburg, we see many more jurors who have medical training. On a recent jury trial, 7 of the 24 potential jurors had a nursing background. Knowing the types of potential jurors offers a distinct advantage.
Courts in St. Petersburg
If a lawsuit is filed by a lawyer in St. Petersburg, the case will be assigned to the courthouse located at 545 1st Ave N, St. Petersburg, Florida 33701. There are four circuit civil judges located at this courthouse. Since our office is on Central Ave, all of our cases are assigned to this downtown St. Petersburg courthouse. All of our cases are handled by these same four judges, so we learn quickly their rules and preferences. For example, one of the four judges requires a 30-minute hearing before she will set a case for trial. The hearings are at least 3 months out, so knowing this timeline assists us when managing a case.
Cases in St. Petersburg can be handled appropriately when your lawyer is familiar with all steps in the process. I always chuckle when I hear about a client hiring a lawyer in another city when everything will take place in St. Petersburg. Hiring a local lawyer will undoubtedly provide an advantage for any personal injury claimant. If you want your case resolved faster and for more money, hire a lawyer from St. Petersburg for your St. Petersburg personal injury case.
Contact a Personal Injury Attorney
If you or a loved one have been injured in an accident, then you should take the proper measures to ensure you receive the compensation you deserve. Contact St. Petersburg Personal Injury Attorneys McQuaid & Douglas today and speak with an attorney. For over 60 years our firm has been successfully helping people who have been injured due to someone else's carelessness. We have been nationally ranked for decades by US News and World Reports as a Tier 1 law firm, which is the highest ranking that can be received. Sean McQuaid and Jonathon Douglas have dedicated their careers to continuing the firms legacy of superior legal representation.
Remember that we never charge a fee, unless we win. Call us today at 727-381-2300 so that we may answer your questions, help you navigate the complexities of insurance claims, and recover the compensation that you deserve.
We work hard to make sure each and every client gets the attention that they deserve. We appreciate feedback from our clients and reviews are validation of our work. Every 5-star review that we receive lets us know that our services were appreciated by our clients.
St. Petersburg Personal Injury Attorneys McQuaid & Douglas
5858 Central Ave suite a, St. Petersburg, FL (727) 381-2300
5 out of 5 based on 20 reviews
Sean McQuaid and Jonathon Douglas were voted best personal injury attorneys in Saint Petersburg, Florida for 2019.