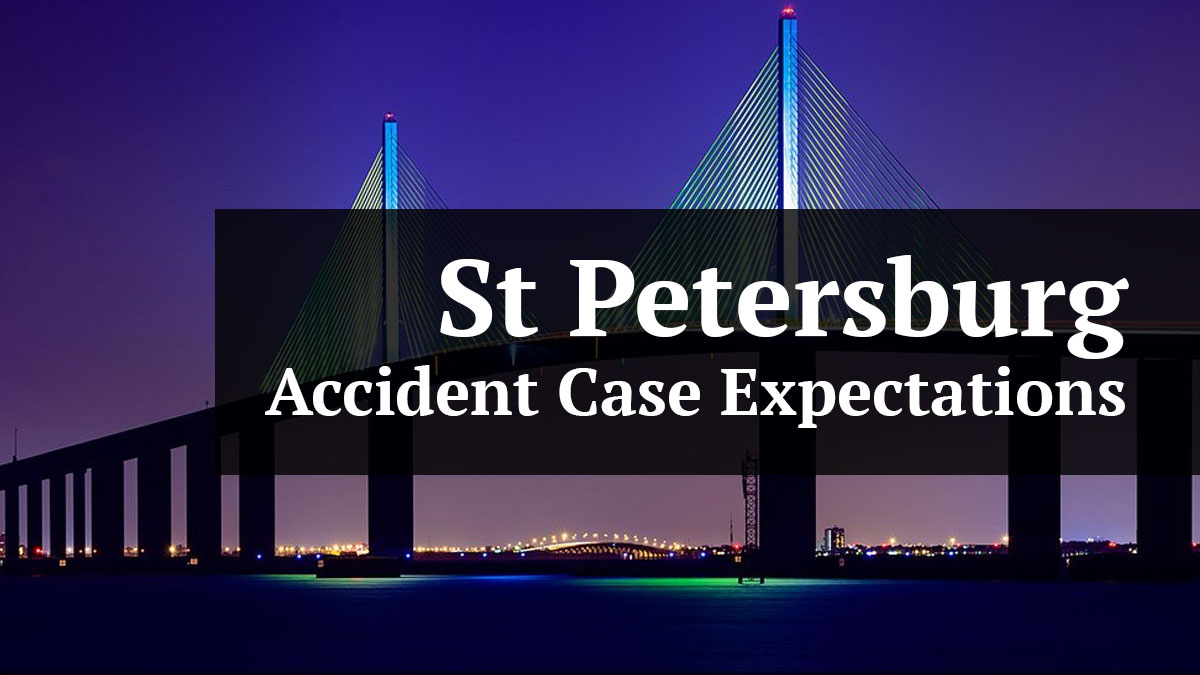 If you have been involved in an accident in St. Petersburg, there a number of steps that every case will likely take. The following is an attempt to take you through the various steps of an accident case so that you can plan accordingly.
Post Accident Investigation of a St. Petersburg Accident Case:
After hiring a St Petersburg personal injury attorney, your case will need to be investigated. One of the first steps to any claim is to take pictures of the damage to your car and of any injuries. Next, witnesses need to be contacted and the accident reports need to be pulled and reviewed. In premises liability cases, I also like to tour the location of the accident and take pictures before the store or business can make any safety changes.
Setting up Treatment After a St. Petersburg Accident:
Where you go for your medical care and the type of treatment you receive is extremely important for the value of the claim. You and your lawyer need to discuss treatment options and decide on what is best for your health and the claim. For example, if you live in St. Petersburg, it does not make a lot of sense to get treatment on a regular basis at a facility in another town. Most conservative treatment such as chiropractic care or physical therapy will take place three times a week. Since it is important that you make those appointments, finding a facility nearby in St. Petersburg just makes sense. Further, what type of treatment you get is always a decision that needs to be made in an accident case. Most cases start with conservative care, but there will normally come a time when you have to decide whether to escalate the level of treatment. The decision about whether to get injections or even surgery is a crucial strategic step in your case.
Post Treatment After a St. Petersburg Accident:
At some point, either near or at the end of treatment, your lawyer will decide it is time to send off a demand. So, the personal injury lawyer will need to pull all of the medical records and bills. This process can take a few weeks. Once all of the records are compiled, the lawyer will draft a demand to the insurance company outlining the theory of fault (liability), the injuries, the costs of treatment, any lost wages, claims for pain suffering and future medical costs. In a smaller case, I normally give 20 days for the insurance company to respond. If the case is larger or more complicated, I give 30 days to respond. Sometimes, an insurance adjuster will call and ask for a brief extension and I always grant that. My thought is that you don't want to irritate the person from whom you are asking to be paid money.
Settlement Discussions After a St. Petersburg Accident:
After the demand is sent, the insurance adjuster will make an offer. At my office, I handle all of the settlement discussions directly with the adjusters. But, during this step, your lawyer will attempt to get the adjuster to a fair number. During this stage, I like to ask medical providers for reductions to their bills so that I can pinpoint what the net recovery is going to be for my client.
Post Settlement After a St. Petersburg Accident:
If the St Petersburg accident case settles, then the lawyer's office will review the settlement documents and the release. You will have to sign off. During this step, the final payments to medical providers need to be calculated. Also, if there are any medical liens that need to be resolved, that needs to happen. Once the numbers are finalized, the client will have to sign off on a settlement statement and get the check.
If the St. Petersburg Accident Case Does not Settle:
If the adjuster makes an offer that is too low or there is a dispute over fault, a lawsuit may be necessary. In this situation, the personal injury lawsuit should be filed immediately and the St. Petersburg accident case will be litigated. Because my office is on Central Ave in St. Petersburg, all of my personal injury lawsuits are assigned to the downtown courthouse on 1st Ave. N. I will not go into detail about all of the steps involved in a lawsuit as they are the topic of many other articles.
If you have had an accident in St. Petersburg and are thinking about hiring a lawyer and setting up a claim, you will undoubtedly experience most of these steps. Hopefully, with this information, you can be aware of what is to come as you navigate the unique world of St. Petersburg Personal Injury.
Contact a Personal Injury Attorney
If you or a loved one have been injured in an accident, then you should take the proper measures to ensure you receive the compensation you deserve. Contact St. Petersburg Personal Injury Attorneys McQuaid & Douglas today and speak with an attorney. For over 60 years our firm has been successfully helping people who have been injured due to someone else's carelessness. We have been nationally ranked for decades by US News and World Reports as a Tier 1 law firm, which is the highest ranking that can be received. Sean McQuaid and Jonathon Douglas have dedicated their careers to continuing the firms legacy of superior legal representation.
Remember that we never charge a fee, unless we win. Call us today at 727-381-2300 so that we may answer your questions, help you navigate the complexities of insurance claims, and recover the compensation that you deserve.
We work hard to make sure each and every client gets the attention that they deserve. We appreciate feedback from our clients and reviews are validation of our work. Every 5-star review that we receive lets us know that our services were appreciated by our clients.
St. Petersburg Personal Injury Attorneys McQuaid & Douglas
5858 Central Ave suite a, St. Petersburg, FL (727) 381-2300
5 out of 5 based on 20 reviews
Sean McQuaid and Jonathon Douglas were voted best personal injury attorneys in Saint Petersburg, Florida for 2019.