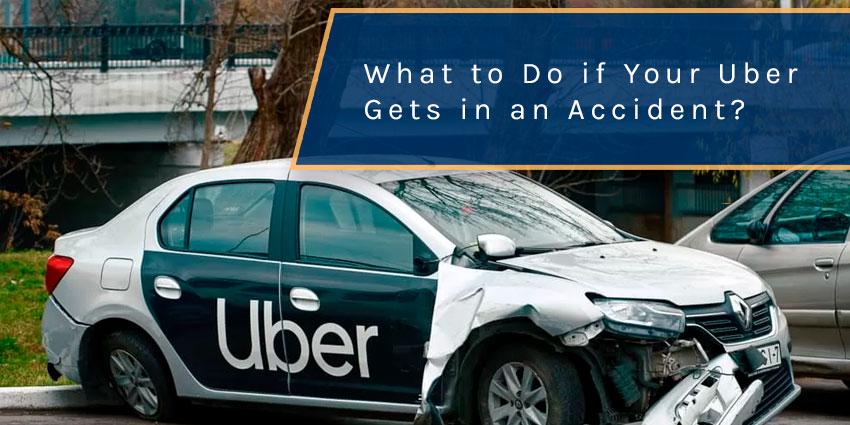 In this article, we'll discuss what you should do after getting into an accident with an Uber driver. Uber accidents can be tricky because there is often more than one insurance company to deal with. If your lawyer is not up to speed on how to handle an Uber accident, then you are going to be wasting time and losing money.
What to Do After You Get Injured in an Uber Accident
An Uber accident is still an accident, but will be a slightly different process than a regular car accident claim. However, there are certain safety protocols to follow after any type of car accident, including an Uber collision in St. Petersburg. Here are the steps you should take after getting into a St. Petersburg Uber accident:
Move to a safe location. Once you've ensured no one is seriously injured or needs emergency medical care, check to see if the car can be moved. You'll need to move the car to the shoulder of the road if possible, to help prevent future accidents.
Turn on the hazard lights to warn other drivers of the accident.
Call 911. If you are unable to, have another person call.
Get contact and vehicle information with all drivers involved in the accident.
Be sure to get medical attention, even if you don't think you're injured. Once the paramedics arrive, get checked out, as even an unassuming symptom like dizziness can cause serious complications later. It's very common for car accident injuries to have delayed symptoms or show up later. Later when you want to pursue compensation, it will be imperative that you can show you received prompt medical care.
Speak to the police to give your statement for the official incident report.
Call a St. Petersburg Uber accident lawyer. This might be the best thing you can do for your Uber accident case. They can help provide legal counsel on how to best proceed depending on the circumstances of your case. An experienced St. Petersburg car accident lawyer knows that Uber accident claims are more complex than regular car accident claims and how to handle them strategically and effectively.
Which Insurance Company Do I Pursue for Damage Compensation After an Uber Accident in St. Petersburg
Determining which insurance company is liable for paying your damages can be a complex process. That's because there are several different scenarios in which an Uber driver can get into an accident.
Perhaps they were logged onto their app and waiting for a passenger when they hit you but not transporting anyone. In that case, the different rules would apply than a situation where an Uber driver crashed while transporting a passenger. Or it's possible you were in another car and hit by an Uber driver. Whatever the case, there will be multiple insurance companies involved including the at fault driver's, your own insurance, Uber's insurance, and any other drivers involved in the collision. With more parties involved, establishing liability becomes more complicated.
Here are a few different possibilities of liability and who would be responsible for paying your damages accordingly. In other words, determining which insurance pays you depends on who is at fault.
In Florida, Uber provides up to a certain level of insurance protection, but drivers are still required to maintain their own insurance policies. Additionally, Florida Uber drivers must have a commercial insurance policy since they work for a "transportation network company". Commercial insurance, also known as rideshare insurance, is meant to cover any damages caused while working for Uber.
The rideshare driver is at fault. Even when the rideshare driver is at fault, there's a gray area that exists in the case of an Uber accident. Since Uber's insurance policy provides liability insurance for its drivers, it's important to find out the status of the driver at the time of the accident. Determining the status of the driver is essential to differentiate whether Uber's insurance will cover the accident or the Uber driver's personal insurance should cover the claim. Sometimes insurance companies deny Uber driver liability claims due to a business use exception. If that's the case, Uber's insurance policy would be the next line of pursuing compensation to cover damages. Remember, Uber's insurance will only be applicable if the driver was transporting a passenger or en route to pick up a passenger. If they were on standby or not logged into the app at all, Uber's insurance policy won't cover the accident.

Uber provides the following minimum amounts as per Florida law, as long as the driver is logged into the Uber app during the accident

$50,000 coverage for bodily injury liability per person
$100,000 for bodily injury liability per accident for
$25,000 for property damage liability per accident

Florida state law also requires uninsured and underinsured motorist coverage and minimum of $10,000 for personal injury protection.
If another driver is at fault, their insurance policy should apply. You'll need to file a third party claim against the at-fault driver's insurance provider. For many cases, especially any involving an injury, it's best to hire a St. Petersburg Personal Injury Lawyer to handle your case. It may be necessary to file a personal injury lawsuit if you can't recover the full extent of your damages through the at-fault driver's policy.

If the at-fault driver's insurance policy does not adequately compensate you, or their insurance company refuses to pay a fair amount, you may be able to seek compensation through Uber's insurance. Determining if this is a viable option requires a thorough investigation into the accident and the specific circumstances, so it's best to let a legal professional assess your case.
Can I Make a Claim Against Uber For an Accident in St. Petersburg?
Yes. We always try to recover against Uber as part of your claim. We can advise whether your accident is covered by their insurance policy.
Uber Rideshare Accident Statistics
Ordering an Uber is as easy as opening the app, typing in your location, and waiting a few minutes for a car to arrive at your doorstep. And while they are making it easier for people to get around, they often get into accidents. Whether it's because they're in a hurry to pick up a customer or looking at their navigation system for directions, there are many distractions that make Uber drivers more likely to get into an accident than other types of drivers.
According to statistics from Uber's US Safety Report, they had over 93 million active users in 2020. By 2022, that number increased to 120 million. Nationally, there are about four million Uber drivers (and about 2 million Lyft drivers).
Although Uber prides itself on the quality and safety of their services, the data shows otherwise. There are real risks passengers face when taking a ride with an Uber driver. While Uber can help reduce drunk driving accidents and reckless drivers, Uber's drivers are still humans and vulnerable to accidents.
Statistics show that in medium to larger cities, like St. Petersburg, one in four accidents involve ridesharing services. As more Uber cars begin to congest the roadways, more accidents are bound to happen.
About 25% of the population in the US report using Uber at least once a month which has contributed to the 14% increase in Uber vehicles on the roadways.
Two separate studies have confirmed the theory that since Uber's rapid growth, car accident injuries and deaths have increased by nearly 3% overall. While 3% seems like a small amount, that's a staggering number in practical terms. A 3% increase in overall traffic deaths equates to about 1,000 lives taken every day to car accident fatalities.
Contact an Experienced St. Petersburg Uber Accident Attorney Today
Uber accidents happen frequently. Be safe and speak to an experienced lawyer to understand your options and prepare for any unexpected obstacles while filing an Uber accident claim.
If you were injured in an Uber accident in St. Petersburg, we want to help you claim your rightful compensation. Contact us today for a free case review.