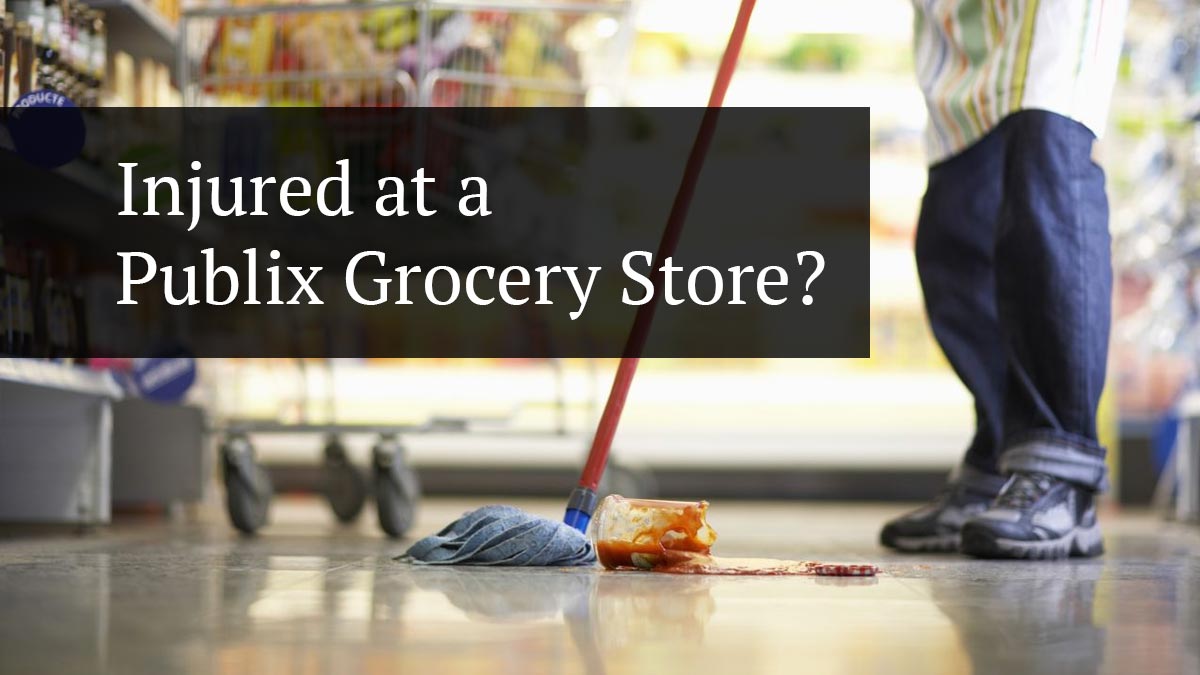 While Publix is generally a careful and safe supermarket, no store or employee is perfect, and accidents happen. If you were injured at a Publix grocery store, you may have a claim for compensation for your injuries, pain and suffering and lost wages.
Publix has a duty to its customers to keep its premises safe. If Publix knew or should have known of a dangerous condition and did not take the proper steps to fix the issue or warn you of the danger, you may have a case.
Most of the claims against Publix are from slip and falls. And, most often, it is water on the floor that causes the fall. Falling on the hard concrete floors at Publix virtually always causes a serious injury. Many of our clients have broken a wrist, injured a knee or back, or even had a hamstring injury when their legs go out from underneath them.
Steps to Take Following an Accident in a Publix Grocery Store
Sources of water on the floor can come from just about anywhere. If you have been in a slip and fall at Publix, you must do your best to identify where the water came from. Was a cooler leaking onto the floor? Did someone drop ice and it melted? Was the entrance or exit wet from the rain that was tracked into the store from customers or from shopping carts? Whatever you can learn about the source will help your lawyers determine the appropriate level of fault against Publix.
I mentioned in the above about water build up from rain at the entrance or exits. I have also seen some customers leave wet umbrellas that drip water onto the floor in this same area. There are carpeted mats at the entrance to every store for the purpose of eliminating water. But, the mats are not perfect and the water still gets tracked into the concrete floor. The mats do little for actually drying the water off of shoes. It is this area of the store where we see most of the slip and falls. If Publix has not taken steps to wipe or mop down the area or post caution signs, then you will likely have a claim. I recently had a case where the security guard was standing in the entrance only feet away from a wet floor. He took no steps to warn anyone that water was building up from rain being tracked inside. As my client entered the store, he/she slipped and fell right in front of the guard. Of course, Publix accepted responsibility for its failure to act and keep the area dry.
Following a slip and fall, it is important to tell the manager about the incident even if you are not in serious pain. Do not be embarrassed to simply file the report. Most people do not realize the severity of the injury until later in the day or the next morning. It is also important to realize that there are cameras throughout the store, so the slip and fall will certainly be captured on the video.
Lastly, it is important to preserve the shoes you were wearing at the time. Being in Florida, many of my clients were wearing flip-flops when they fell. Publix may ask us to preserve those shoes or flip-flops to determine whether the tread was worn down.
Publix risk management in Lakeland will likely have an incident report and the video at the time you present your claim. The Publix risk management department will be reasonable and attempt to resolve your claim without the filing of a lawsuit as long as you and your lawyers are not greedy. I have personally observed that Publix does care about their customers and their reputation, so if you were injured in one of their stores, they will try to make it right.
Contact a Publix Slip and Fall Attorney
If you or a loved one have been legitimately injured in an accident that should have been prevented by Publix, then you should take the proper measures to ensure you receive the compensation you deserve.  My office has handled Publix slip and fall cases across the State of Florida.  If you have been injured on the property of Publix and want to discuss your case in more detail, contact St. Petersburg Personal Injury Attorneys McQuaid & Douglas today and speak with an attorney. For over 60 years our firm has been successfully helping people who have been injured due to someone else's carelessness. We have been nationally ranked for decades by US News and World Reports as a Tier 1 law firm, which is the highest ranking that can be received. Sean McQuaid and Jonathon Douglas have dedicated their careers to continuing the firms legacy of superior legal representation.
Remember that we never charge a fee, unless we win. Call us today at 727-381-2300 so that we may answer your questions, help you navigate the complexities of insurance claims, and recover the compensation that you deserve.
We work hard to make sure each and every client gets the attention that they deserve. We appreciate feedback from our clients and reviews are validation of our work. Every 5 star review that we receive lets us know that our services were appreciated by our clients.
St. Petersburg Personal Injury Attorneys McQuaid & Douglas
5858 Central Ave suite a
St. Petersburg, FL 33707
(727) 381-2300