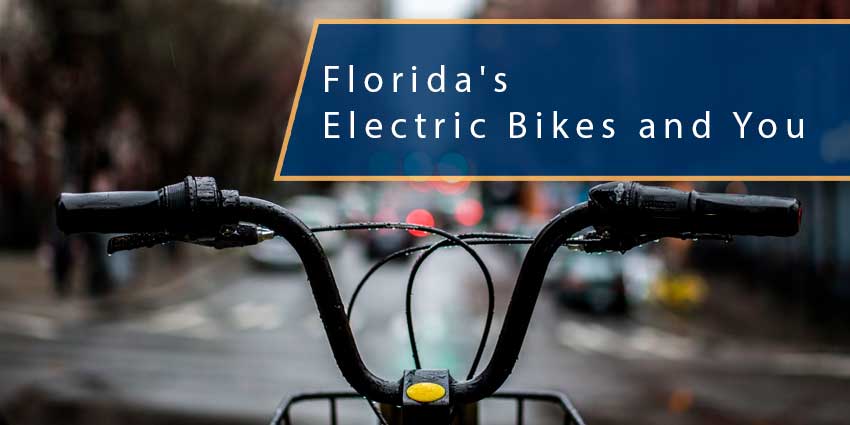 E-bikes are rapidly growing in popularity and can be seen everywhere on our roads and sidewalks. Here's what you should know about Florida's electric bike laws.
Florida, along with 35 other US states, has legislated a three-tier classification system for e-bikes.
Florida's E-Bike Classifications
Class 1: an e-bike that allows pedal assistance and can travel up to 20 miles per hour (mph)
Class 2: an e-bike that has a motor only to generate speed and can travel up to 20 mph
Class 3: an e-bike that allows pedal assistance and can travel up to 28 mph
Anything faster than 28 mph is considered a Class E Moped. Class E mopeds require a license and registration – and are not covered by e-bike laws.
What Are the Requirements for Operating an E-bike?
Age Requirement: Operational requirements in Florida for e-bikes were recently modified. Previously anyone operating an e-bike must have been at least 16 years old. The age restriction that required anyone operating an e-bike to be at least 16 years old has been eliminated. There is no longer any age restriction for e-bikes.
License & Registration Requirement: Florida does not require an operator of an e-bike to have a driver's license or registration.
Helmet Requirement: Riders are not required to wear a helmet when operating an e-bike in Florida. However, they are highly recommended.
Labeling Requirement: All e-bikes built beginning January 1, 2021, must have a permanent label attached to the e-bike. The label must state the classification level of the e-bike: Classification 1, 2, or 3. The label must also identify the motor wattage, and the top speed the e-bike can travel using the motor. If the e-bike is modified in any way, the label must also be modified to reflect the changes to the e-bike.
Do I Need Insurance for an E-bike?
Florida law does not require insurance to operate an e-bike.
However, any cyclist of an e-bike or traditional bike may purchase 'uninsured/underinsured' coverage under their automotive insurance policy. This coverage provides protection in the event you are insured or sustain damages if hit by a car and the driver does not have sufficient liability coverage.
Where Can I Ride My E-bike?
E-bikes are required to follow the same rules of the road as traditional bikes. E-bikes are not allowed on sidewalks or other paths that do not allow motorized traffic unless they are operated without the use of the motor.
The ability to legally ride an e-bike on trails varies considerably, depending on whether the trail is a local, state, or federal trail. State parks allow Class 1 e-bikes on any trail that allows traditional bicycles. Although some state parks may restrict riding e-bikes from riding on mountain bike trails.
What Should I Do After an Electric Bike Accident in Florida?
If you are involved in an e-bike accident in Florida, what you do following the accident will directly impact your ability to recover compensation from the negligent party or your own insurance policy. Here's what you should do:
Contact the Police
Notify the police of the accident immediately. They will complete an official police report, which identifies the parties involved, the location, relevant details about the scene, and the vehicles involved. The report will also include any witnesses to the accident as well. Police will collect evidence and look for any impairment from those involved in the accident, such as alcohol or drug consumption, that may prove pivotal in your claim. Police officers will listen to statements and include in the record their conclusion as to how the accident occurred. The official police report can be crucial in any personal injury claim.
Collect Evidence
If you're able to, collecting your own evidence is always advised.
Take pictures of the accident. Be sure the photos clearly show the e-bike, other vehicles, and the surrounding area. Take pictures from different angles of the accident location.
Take pictures of your injuries, and when possible, the injuries of any other party involved.
Obtain contact information from the other people involved and any witnesses to the accident.
Receive Medical Attention
Get care for injuries as soon as possible.
Keep a file with doctor's notes and medical bills.
Keep a journal of any pain or suffering you experience after the accident.Even if you are not in pain and feel fine, it is always advisable to be examined by a doctor. Many victims involved in e-bike accidents may initially feel fine or believe they only have a few scrapes and scratches. However, once the adrenaline from the accident wears off, the pain can come on quickly.
What if Someone Has Died in an E-bike Accident in Florida?
If someone has been killed in an e-bike accident in Florida, the surviving family may be able to file a wrongful death claim. Wrongful death claims provide surviving families with damages to help them cover the costs related to the death and for their economic and non-economic suffering in the future.
Contact a Personal Injury Attorney as Soon as Possible
If you or a loved one has been injured in an e-bike accident, please do not wait to get the straightforward legal advice you need. Contact us now to speak with a respected Riverview and St. Petersburg personal injury attorney who will fight for the full and fair compensation you deserve. We have handled countless cases involving e-bike accidents and have the resources, experience, and compassion that is needed to help you.