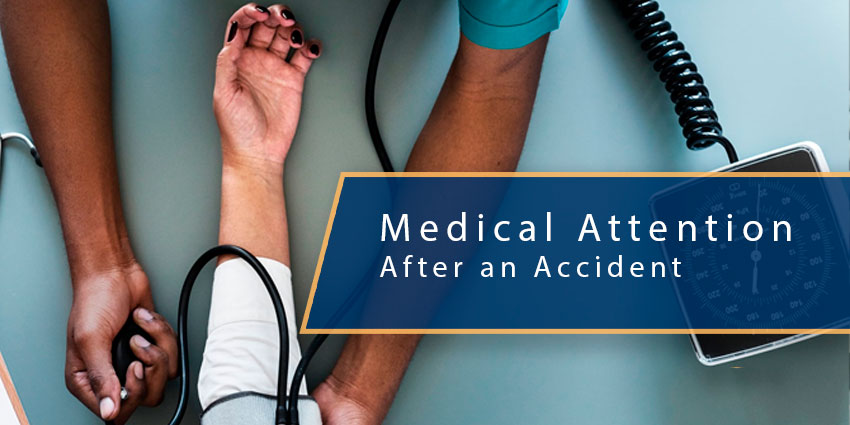 Were you or a loved one recently involved in an auto accident and questioned whether you should see a doctor? Many people do. In this article, we will share with you what you should know about getting medical attention after an auto accident injury.
Knowing what to expect after an accident can reduce the fear and uncertainty you may be experiencing, and help you heal faster and get back to being your old self again.
Depending on the severity of your injuries, it can take weeks or even months to fully recover after an auto accident. The treatment for motor vehicle accident injuries varies based on the diagnosis and the severity of your injuries. And how long it takes you to recover will be impacted by many factors, such as your age, your health prior to the accident, the injuries you suffered, how quickly you started treatment and how closely you follow the prescribed treatment laid out for you by your doctor and other medical care providers.
When to Seek Treatment After an Accident
The human body is a wonderous thing! It is designed with built-in protection controls that mask the pain until such time that the body and mind can handle and assimilate the pain and information associated with injuries. Endorphins and adrenaline are the hormones in the body responsible for this activity. And while they are a blessing in a crisis, it is important that they do not trick you into thinking that you do not need to get checked out by a doctor after an accident. It is not uncommon for an accident victim to feel fine immediately following an auto collision. If there are no obvious external signs of an injury, you may believe that you were fortunate and were not harmed in the accident. However, soft tissue injuries, concussions and back injuries often show up later. If you feel any discomfort, pain, numbness, dizziness, or even just not quite yourself after an auto accident, see your doctor right away! It is advisable to see your doctor for a thorough checkup even if you are feeling fine or unsure if you have sustained any physical damage. Your doctor can determine if you sustained any injuries, and also provide you with advice on what symptoms to watch for that may indicate a potential injury or reason for concern. Taking a "wait and see if it gets worse" approach is never a good idea. You can't be too careful when it comes to your health.
Another important reason to get medical care right away is that the insurance company will look at how quickly you sought medical care after the car accident, as they may believe it is an
indication of the seriousness of your injuries. Once you start your medical care, it is important that you complete the treatment plan from your doctor and therapists. If you miss appointments and do not complete the recommended treatment plan, it can affect the value of your claim with the insurance company.
Request and Review Your Medical Records
If you're being treated for injuries as a result of a car accident, request copies of your medical records from your doctor. Review them carefully, and if you find any inconsistencies or errors, talk to your doctor and be sure the records are up-to-date and completely accurate. Your doctor should have noted what brought you to see him or her – meaning the car accident. Pay close attention to what your doctor wrote in their description of the accident. Did they capture all the facts correctly? Does the report say the car was hit on the passenger side, but you were actually struck from the rear? Or does it say that you were not wearing a seatbelt and that your chest hit the steering wheel when you were wearing your seatbelt? These small details can make a significant difference in your auto accident claim and directly affect how liability is assigned. Compare the information in the doctor's report to the police report and ensure there is no conflicting information. If there is incorrect information, make sure it is updated to be 100% accurate.
Your medical records should also accurately describe your medical symptoms, when they started and how long they lasted.
And finally, review the medical history in your records. Check to see that your history of previous injuries or illnesses is an accurate representation of your medical condition and tells the complete story. Check the dates when treatment was started, how long it lasted and the prognosis once resolved. The defense will most certainly look for anything they can say was a pre-existing condition and use it to try and prove the previous injury or illness was a prime factor for your current condition and caused or contributed to your injuries following the car accident. If they can tie your injuries to a pre-existing condition, their liability for the accident injuries would be reduced. Do not make the assumption that you will have an opportunity to answer any questions about your medical records or provide clarity if there are any discrepancies. Your medical records should be complete and able to provide a stand on their own without interpretation or explanation from anyone.
Contact a Personal Injury Attorney Today
If you or a loved one has been injured in an accident, then you should take the appropriate steps to ensure you receive the compensation you deserve. Contact a trusted, respectable personal injury attorney today.
For over 60 years our firm has been successfully helping people who have been injured due to someone else's carelessness. We have been nationally ranked for decades by US News and World Reports as a Tier 1 law firm, which is the highest rank that can be received. Sean McQuaid and Jonathon Douglas have dedicated their careers to continuing the firm's legacy of superior legal representation.
Remember that we never charge a fee unless we win. Call us today so that we may answer your questions, help you navigate the complexities of insurance claims, and recover the compensation that you deserve.
We work hard to make sure each and every client gets the attention that they deserve. We appreciate feedback from our clients and reviews are validation of our work. Every 5-star review that we receive lets us know that our services were appreciated by our clients.