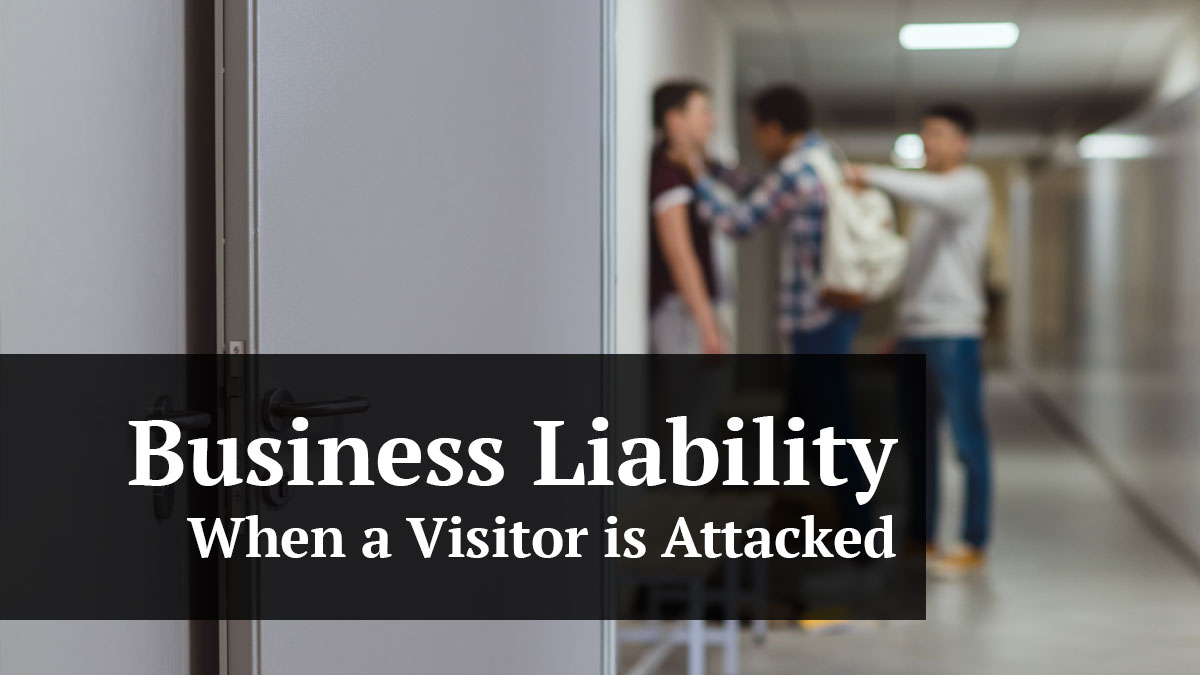 A New Case Provides Guidance
It is unfortunately nothing new that a patron or visitor to a business is attacked either inside the establishment or in the parking lot. The police and the State Attorney's Office are set up in order to punish the perpetrators of these criminal acts. Unfortunately for the victims of these cases, putting people in jail or prison does not compensate them for their injuries, their medical bills or their lost wages. That is why many people turn to a personal injury lawyer to determine whether the business or property owner may be held liable for the damages.
These cases are considered to be premises liability cases. A premises liability case against a business or landowner is founded on negligence. While the theory of negligence can be different depending on the case, the elements needed to be proven are all the same. There must be a duty, a breach of that duty, and the breach of that duty must cause damages. Duty, breach, causation and damages for short. This is the same for a business, a landowner, or even in a car accident. In most cases involving a criminal attack, assault, battery, or murder/homicide, there are allegations blaming the security, or lack thereof. In many cases there are allegations of improper hiring or training of staff or even inadequate crime prevention devices. But, in a recent case from South Florida, a business was found to be potentially liable to the victim of an aggravated battery even when the guests were on the property to socialize, not conduct business. This unique set of circumstances provides guidance for victims of crimes that may be looking to file a claim against a business or property owner and have questions about the viability of a claim. In the following premises liability case, the court makes it clear that a lawsuit can proceed against a closed business to protect its guests and render aid if they have been attacked and injured.
Facts of the Case:
In Bryan v. Galley Maid Marine Products. Inc., Florida 4th District Case #4D18-3699 decided on January 15, 2020, the Plaintiff, Mr. Bryan sued the Defendant, Galley Maid, for negligence after he was the victim of an aggravated battery on the premises. The facts of the case are unusual. Mr. Bryan and the owner of Galley Maid were drinking at a bar with James Long and some other acquaintances. When the bar closed, the owner of Galley Maid invited them back to his shop to continue to socialize. While the group was at Galley Maid, they continued to drink. Some of the people started using cocaine, including Mr. Long. About 15-20 minutes after the group arrived, out of the blue, Mr. Long violently attacked Mr. Byan as he came out of the bathroom. Mr. Long hit him over the head, pulled him out of the bathroom, picked him up and slammed him to the concrete. As a result of this attack, which we will call the first attack, Mr. Bryan lost a tooth, was bleeding from the mouth and lost consciousness for seventeen minutes. (there were apparently video cameras at Galley Maid, so the exact time he was knocked out was able to be timed). While Mr. Bryan was "out," one of the women in the group went over to see if he could sit up, but he couldn't. Surprisingly, no one helped him and no one called for the police or for an ambulance. During the seventeen minutes, the owner even went outside to his truck and got his ipod to play music for the group, but never bothered to call for help. I mentioned earlier that the facts of the case were unusual. There is no wonder that Mr. Bryan was upset and sought to sue. The facts now get more unusual.
When Mr. Bryan regained consciousness, he asked what happened and talked to the owner of Galley Maid. During the talk, he appeared to be disoriented and did not know what was going on. Still no one helped him. Mr. Bryan then walked outside to the parking lot where he was attacked for the second time by Mr. Long, or the second attack. During this attack, Mr. Bryan was again knocked unconscious. Eventually, Mr. Long helped Mr. Bryan to his feet they headed back inside the building. One of the women helped Mr. Bryan put his shirt back on, but still no one called for help. Eventually, the owner of Galley Maid asked everyone to leave and he went to bed in his RV, which was parked outside.
Mr. Bryan and Mr. Long left the business together. Once law enforcement was called, they arrested, charged and convicted Mr. Long of aggravated battery. As a result of the two attacks, Mr. Bryan was seriously injured. He sustained a broken neck, facial fractures, nerve damage, and lost a tooth.
The Lawsuit:
Mr. Bryan filed a lawsuit against Galley Maid based on negligence, as was discussed in the above. In his theory of the case, Mr. Bryan claimed that he was an invitee of Galley Maid and that it had a duty to exercise reasonable care to keep him safe and to provide him first aid. He also alleged that Galley Maid knew or should have known that Mr. Long was dangerous (even though the record did not reflect a history of violence).
Trial Court Decision:
Galley Maid filed a Motion for Summary Judgment, which is essentially a request to have the judge enter an order dismissing the case. Galley Maid claimed that Mr. Bryan was not on the premises for business purposes, only for social purposes, so he was a licensee, not an invitee. This means that they claimed Galley Maid did not owe a duty to him. It claimed that because the first attack was not foreseeable, there was no duty owed to Mr. Bryan. And, as to the second attack, it claimed it had no duty to protect him because he wasn't there for business, it did not control the premises, and like the first attack, the second attack was not foreseeable.
The trial judge ruled in favor of Galley Maid and granted the Motion for Summary Judgment. The judge said that although it was morally bothersome that no one tried to help Mr. Bryan, she agreed that since he was there only for social purposes, there was no duty for the owner to protect him. The judge further found that both of the attacks were not foreseeable since they were both so shocking. Mr. Bryan appealed the decision to Florida's Fourth District Court of Appeal.
Appeal:
In the appellate court, Mr. Bryan argued that the trial judge was incorrect and that the case should be sent back to the lower court to proceed to trial. The Fourth District Court of Appeal went through a thorough analysis of the law as it pertains to the facts of this case.
The first issue had to do with whether Mr. Bryan was a licensee or invitee. The answer to this question would then determine the duty that he was owed from Galley Maid. The appellate court cited its prior decision in Charterhouse Assocs., Ltd., Inc. v. Valencia Reserve Homeowners Ass'n, Inc., 262 So.3d 761 (Fla. 4th DCA 2018). In Charterhouse, the court found that an invitee includes anyone present on the premises via express or reasonably implied invitation of the property owner. It further cited the Florida Supreme Court in Wood v. Camp, 284 So.2d 691 (Fla. 1973) that eliminated the distinction between commercial visitors and social guests on the property. Therefore, the appellate court made it clear that Mr. Bryan was an invitee of Galley Maid since he was expressly invited on the property for social reasons.
Once the court determined Mr. Bryan was an invitee, it spelled out the duty of a property owner to protect him from a criminal attack. It stated that a property owner has no duty to protect someone on his premises from a criminal attack unless the attack was reasonably foreseeable. In order to prove it was foreseeable, the landowner must have actual or constructive knowledge of prior similar criminal acts committed on invitees. The appellate court thus concluded that the first attack was not foreseeable and agreed with the trial judge that there was no duty to protect Mr. Bryan from that incident. But, they arrived at a different conclusion for the second incident. Because the evidence showed that after the first attack, Mr. Long continued to taunt, bully, and harass Mr. Bryan, the court concluded there was enough evidence that the case should not have been dismissed as to that incident.
The next issue was whether Galley Maid had a duty to render medical care or call for help after the attacks. The court cited Estate of Starling v. Fisherman's Pier, Inc., 401 So. 2d 1136 (Fla. 4th DCA 1981) that held that a business is not required to take any action until it knows or has reason to know that a person is endangered, ill, or injured. But, once the property owner or business is aware of the issue, it must give reasonable first aid or assure that the person is in the hands of competent people that will provide aid. The appellate court in this case determined that the owner of Galley Maid was well aware of the danger and injury to Mr. Bryan and failed to render aid or call for medical assistance. Thus, the appellate court stated that the trial court was incorrect in dismissing the case on these additional grounds and that the case should be sent back for further proceedings.
Thus, the case was reversed and remanded back to the trial court.
Conclusion on Premises Liability Cases:
Although the case involving Mr. Bryan was truly disturbing and he was obviously seriously injured, it goes to show how trial judges view lawsuits against property owners and businesses when a third party was responsible for inflicting the injuries. Remember, even though the trial judge found the case shocking and morally wrong, she still decided to dismiss the case. In my opinion, the reason why Mr. Bryan was able to succeed in his lawsuit up to this point was based on certain factors. He was seriously injured, there was a video of the beating, and Mr. Long was arrested and convicted of the criminal act of battery. Without any of these factors, I do not believe that this case would have been viable. That being said, the decision of the trial court assists other business guests in pursuing claims when the circumstances are right.
Contact a Premises Liability Attorney:
At St. Petersburg Personal Injury Attorneys McQuaid & Douglas, we specialize in premises liability cases and have a proven track record of success. As you can tell from the above, we stay updated on any changes in Florida law. We have handled countless cases against businesses and property owners when our clients were injured on the premises.
The bottom line for a case to be successful against a business when someone is the victim of a crime is to be able to prove the incident occurred and to have serious damages. You can imagine that an insurance company is going to try and blame the criminal, not the owner or operator of the business, so you have to lay it out clearly. These cases are not easy, but with experienced and aggressive personal injury attorneys, you will have a much better chance at recovering compensation. If you have any questions about an incident at a business involving a criminal act, please contact us for a free consultation.