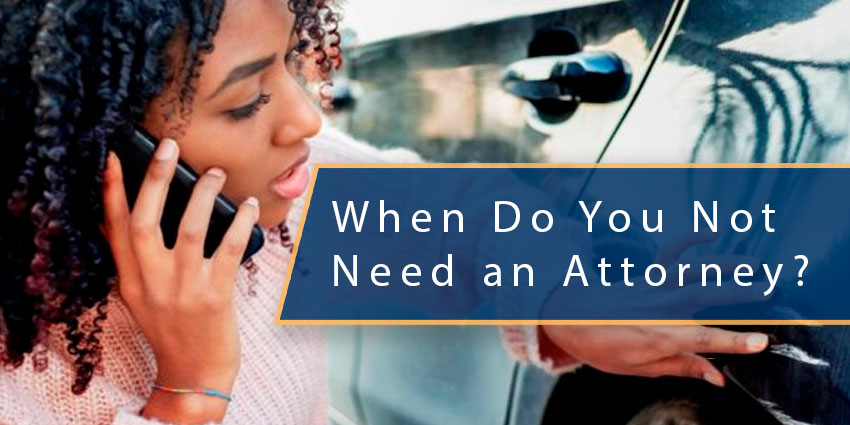 Most attorneys will tell you "Hire a lawyer, hire a lawyer" after any car accident. But do you really need to? The below information will guide you on When NOT to Hire an Attorney.
Do NOT Hire an Attorney…
If there were no injuries, or the injuries were minor, and you are fully recovered
If there was no property damage, or the property damage was minimal
If you were at fault for the accident
If you know with certainty the full amount of compensation you are entitled to recover
If the insurance company provided a settlement payment to fully cover all your costs for damages, and accepted liability
If you are well-versed and knowledgeable about the applicable laws, proper legal procedures, deadlines, and documentation requirements
If you are completely comfortable discussing the legal merits of your case with other attorneys, or insurance adjusters
Damages
If no one was injured in the accident, or the injuries were such that there are no lingering issues requiring ongoing treatment, you probably do not need to hire an attorney. When considering if this applies to your situation, you should talk with your medical providers to confirm that there are no foreseeable further complications from the accident. Additionally, if you did not miss more than a few days of work and lose wages as a result of the accident, an attorney is probably not needed to fight for your case.
In most instances, if there was minimal property damage as result of the accident, and sufficient coverage through your own car insurance policy, then hiring an attorney is not needed.
Insurance Company
When trying to recover compensation for injuries or property damage, it is helpful to keep in mind that you are dealing with the insurance company, and not going after the at-fault driver. The other driver has no say in how their insurance company settles any claim you may have against them. Just as you cannot tell your insurance company how and when to pay out any settlement.
Also, keep in mind that it is the insurance adjuster's job to save their company money, and they do this by paying as little money as they can for any claims. The insurance adjusters do this all day long, and the insurance companies have vast resources at their disposal including teams of lawyers and medical and forensic experts, all of whom are working to limit the money that is paid to you for your car accident claim.
After an accident, the insurance company may offer to settle your case quickly. Do not believe that this is for your benefit. When insurance companies want to settle quickly, many times it is to close the matter, and have you release them from any further liability before any additional medical issues arise. In fact, the insurance company does not feel the time pressure or urgency to settle the case in the same way you might. You have mounting medical bills, vehicle repair costs, and perhaps lost wages, all of which can make you accept a lower settlement offer, just to give you some relief from the financial strain.
Once you accept the settlement offer and receive the money, the medical providers and any other lien holders will be waiting for payment. If you have an attorney, they will work to reduce the amount you have to pay by negotiating with those lien holders for a lower payment amount and get you the best possible results.
An experienced car accident attorney will be familiar with the tactics many insurance companies use to minimize any settlement payment, which will even the playing field when dealing with the insurance company.
You Should Hire an Attorney…
If you were seriously injured or permanently disabled
If you had a medical injury or condition that was pre-existing
If you require long-term or ongoing medical treatment or future care
If there were multiple people injured in the accident
If there is more than one other party that could be liable for the accident
If you are not getting a response from the insurance company or if they denied your claim
If the insurance company offers you a low settlement that will not cover your losses
If the at-fault driver was uninsured or underinsured
If any documentation contains inaccurate or false information, (e.g., police report, insurance policies, or communications)
If you believe that you might be entitled compensation for pain and suffering, loss of companionship, or punitive damages
If you missed more than a few days of work, school, or normal activities
If you or a passenger in your vehicle were arrested
If someone died in the accident
Knowledge and Experience
Most car accident claims are settled out of court, however that does not mean that the law is irrelevant. You need to have a strong legal case to successfully negotiate with the insurance company. Knowing the law is the key to a successful resolution of your personal injury claim. Your attorney and their support staff will handle all of the paperwork, and there are usually volumes of it, as well as deal with phone calls and email messages, discussing your options every step of the way. This will allow you to focus on recovering physically and mentally after your accident.
It is never a bad idea to talk with an attorney. Most initial consultations are free. And believe it or not, most attorneys will give you an honest opinion on whether or not it is worthwhile to hire an attorney for your situation.
Contact Us Today
If you or a loved one has been injured and suffered after an accident, then you should take the appropriate steps to ensure you receive the compensation you deserve. Contact a trusted, respectable personal injury attorney today.
For over 60 years our firm has been successfully helping people who have been injured due to someone else's carelessness. We have been nationally ranked for decades by US News and World Reports as a Tier 1 law firm, which is the highest-ranking that can be received. Sean McQuaid and Jonathon Douglas have dedicated their careers to continuing the firm's legacy of superior legal representation.
Remember that we never charge a fee unless we win. Call us today so that we may answer your questions, help you navigate the complexities of insurance claims, and recover the compensation that you deserve.
We work hard to make sure each and every client gets the attention that they deserve. We appreciate feedback from our clients and reviews are validation of our work.
Every 5-star review that we receive lets us know that our services were appreciated by our clients.